Update 20th Oct 2017
SIE Singapore just confirmed that the suggested retail price for the PS4 Pro Battlefront II Bundle to be at MYR 1,999. The bundle will come along with 1TB hard drive, one special edition DualShock 4 controller and a 3-months PlayStation Plus subscription. In case you are asking – what about the price for the PS4 Slim bundle?
We are sorry to inform you that according to official SIES sources, they will only be shipping the Pro bundle for Malaysian markets.
It will hit shelves 17th November 2017.
---
Sony has unveiled two new bundles for Star Wars Battlefront II, including a standard slim model and a special edition PS4 Pro model.
Just like the bundle released for the 2015 Battlefront, the Battlefront II Pro bundle will include a customized console and DualShock 4 controller along with a physical copy of Star Wars Battlefront II Deluxe Edition. The Deluxe Edition comes with premium digital content, including upgraded versions of all trooper classes, instant access to elite hero and Starfighter epic Star Cards.
[youtube https://www.youtube.com/watch?v=-EGaJ3FQKok&w=560&h=315]
If the Pro isn't your cup of bantha blue milk, then you can go for the PS4 Slim bundle option but you won't be getting all the fancy customization on the console nor the controllers. You will also only get a Standard Edition copy of the game in the bundle, instead of the Deluxe Edition which comes with the Pro.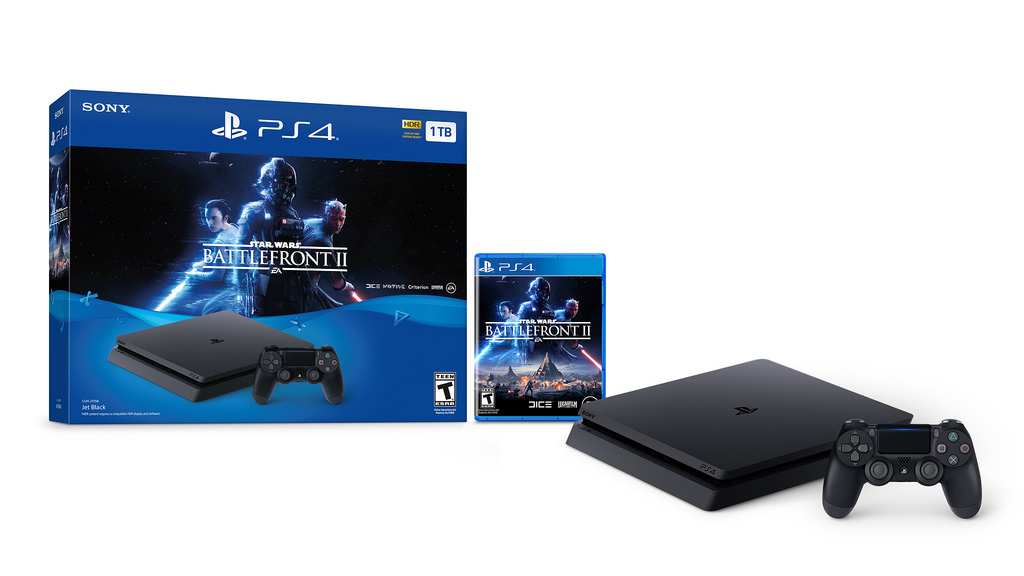 While Battlefront II will not be available to the public until November 17, the Deluxe Edition of the game that is included in the Pro bundle allows players to jump into the action three days earlier than Standard Edition owners. So choose wisely.
No official news yet on pricing for both bundles from PlayStation Asia but the Pro bundle will be priced at $US449.99 in NA markets – about MYR1900 – while the Slim bundle is set to retail at $US299.99 – about MYR1270. We will update this with the official pricing once we have them.
While we are indeed stoked with the release, especially the cannon story mode and bigger, wider selection of heroes and vehicles, we cannot help but have our own reservations about the game, mostly due to the microtransactions in the multiplayer section of it. You can read more about it in our review of the beta here.
---