GameStart 2018 Dates Announced So We Can Forget About Last Year's Lacklustre Showing
The biggest game convention in Southeast Asia (apart from ESGS and Thai Game Show) is back again for another year. Yep, GameStart 2018 is made official and will happen on October 13 and 14 in Singapore, with a theme on "fantasy".
Just like the past few GameStarts, the South East Asia Major (SEAM) tournament will also be happening. For those who don't know, SEAM is where the best in Southeast Asia and Japan duke it out in fighting games. Titles featured include Street Fighter V: Arcade Edition, Dragon Ball FighterZ, Tekken 7, Marvel vs. Capcom Infinite, Guilty Gear Xrd, BlazBlue, and Windjammers.
That last one needs mentioning because there hasn't been any official Asian Windjammers tournament, so that's nice. So if you want your high-level fighting game fix, mark those dates too.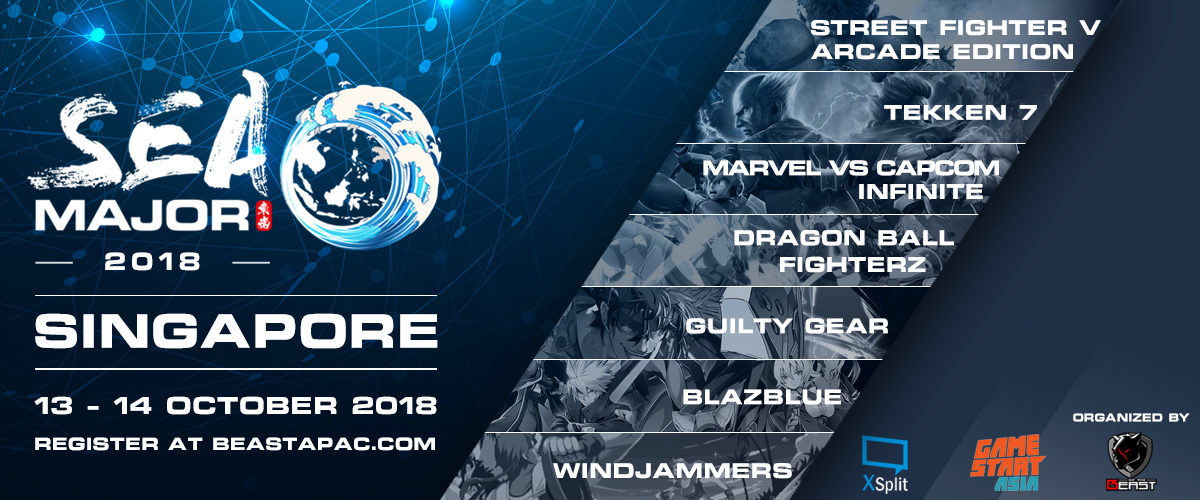 Apart from that, not much is known and no location is determined yet, but we're sure GameStart Asia will start announcing more things and featured guests/publishers closer to the October date.
But let's address that elephant in the room: GameStart 2017. It's not exactly good.
But Why?
Keep in mind that I'm holding this event to a really, REALLY high standard. The past few GameStart events from 2014 to 2016 were simply amazing; we'll go as far as to call them the Southeast Asian equivalents of Tokyo Game Show and Penny Arcade Expo.
Off the top of my head, the only highlights I remember from last year's show are:
-South East Asia Major 2017 Street Fighter V and Tekken 7 hype. That's good.
-Yoko "Moonface" Taro and some NieR Automata cosplaying. That's…something.
-Shadowverse and Vainglory tournament hype. That's good, though that's more of a B-list event than the main event.
-An indoor bar. That's good.
-A PUBG showcase that you might as well tune into online and not on stage, because why not cash in on a trending streamer-friendly free-for-all shooter?
-A major tabletop gaming spectacle. I guess that's fine for the analog gaming folks, but is it really in line with what GameStart Asia established the past four years? Or are they just cashing in on the current fad of people suddenly finding tabletop gaming hip?
-Some new games and some PlayStation VR "experiences". All well and good, until you realize that your headsets cost half as much as the console it's used on.
That last point is damning. The past GameStart Asia events were hell-bent on showcasing the latest games for the following year or even brand new game titles. There were also community efforts like the cosplay groups and the retro gaming group, and even the indie game showcases. But that's all icing on the triple chocolate fudge cake that is the main GameStart Asia events & new upcoming games.
Alas, we got less of that and more community-driven efforts, which is fine but that's not going to turn heads in the long run and attract the rest of Asia to the little red dot that is Singapore.
In Their Defense…
The state of video game publishers within the second half of 2017 has been a tad awry, so it's not like GameStart Asia had much to work with.
–PlayStation had a great first half with new releases like Nioh, Persona 5 (in English) Horizon Zero Dawn, and NieR Automata. The second half? Not so much. What about the 2018 catalogue they had like God of War, Days Gone, and Marvel's Spider-Man they could have shown? We didn't get that.
–Xbox did far worse in the first half, but at least had a new version of its Xbox One console to show for it. They had 2018 games they could have shown at this year's GameStart like Crackdown 3 and Sea of Thieves, but alas we didn't get that.
–Nintendo's 2017 was amazing. But yeah Southeast Asia isn't going to get any support from the Big N. A shame really, as the Switch and its slew of games could get the crowd going.
All I'm saying in the end is that I'm happy that there's a GameStart 2018, but I'm calling it like it is about what 2017's iteration is lacking: a cohesive vision.
Obviously, I'm not speaking for the gaming community here. I'm sure they had good things to say about GameStart 2017. The media in Singapore sure as hell did.
But all I'm saying is: never settle. Don't blindly accept lacklustre results at face value and demand better from them, especially if you know they can. We criticize because we love and we want it to grow and be better. It's fine to have one bad lemon in a basket full of awesome fruits. GameStart 2017 is that lemon.
I'm sure the GameStart team knows this way before I even starting typing furiously on my mechanical keyboard. Like a phoenix rising from the ashes, I'm sure they're going to make me eat crow with a splendid 2018 showing later this October.
For their sake in being relevant, they'd better.
Related