Platforms: PC, PS4, Xbox One, Nintendo Switch
Genre: Action game mixed with roguelike & Dark Souls elements
Price: RM44-ish
You don't need us to give you a score for the recent indie wunderkind Dead Cells, a 2D action adventure hack-and-slash game that's part multi-tiered Metroidvania, and part random level generator-filled roguelike. It's going to see 9s and 10s from major publications, especially respectable ones like IGN who in no way plagiarize smaller game review sites to cover up their own inadequacy.
In all seriousness, Dead Cells rock. You remember roguelikes, right? RPGs that reset part of your progress if you die halfway while dungeon-crawling, yet you retain the stats that matter so that you can tackle obstacles easily the second or umpteenth time.
Developer Motion Twins decide to take that concept, add in some hardcore "soul-collecting & progression" methodology from Dark Souls, and turn it into a 2D pixelfest that looks ace in motion. I'm getting huge Prince of Persia rotoscoping vibes here just seeing our headless protagonist kicking zombie and monster ass while also blowing up in a blaze of glory when that teleporting midget assassin from the Clock Tower takes a free shot.
I'll tell you why this title is worth the US$20-30 price tag right now.
Hyper Action Gaming Controls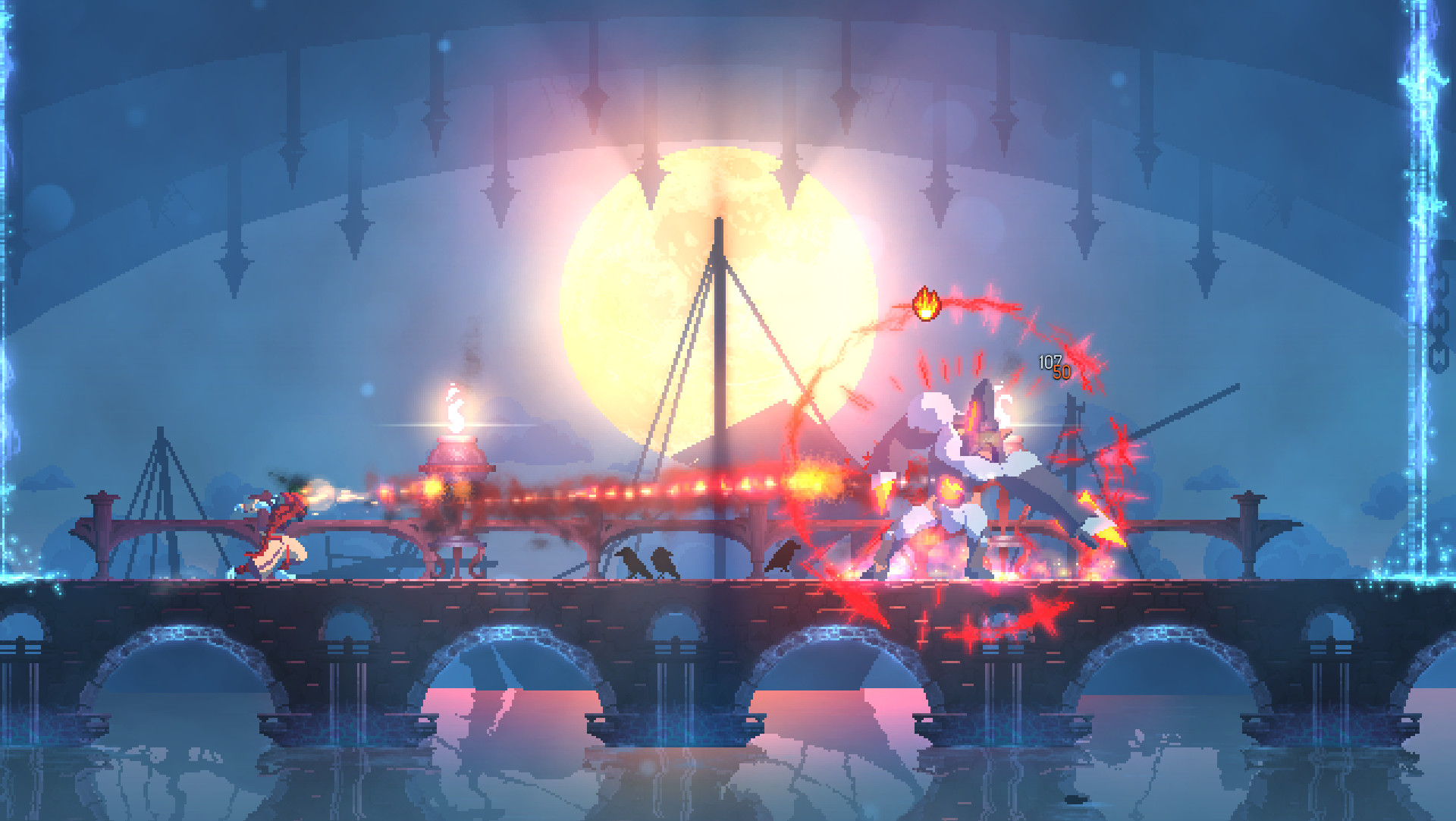 In Devil May Cry, Ninja Gaiden, and Bayonetta, all actions and attacks you do can be cancelled into dodges. You also have a limited amount of dodges to spare before going into a recovery state. Furthermore, you have to sort out the mess of enemies you're fighting, and that requires you to pay attention to the "!" marks and telegraphing prompts.
Dead Cells has perfect controls just like the aforementioned games. You can dodge multiple times, you can block (if you have a shield equipped), you can cast spells for mid-ranged and long-ranged options, and double jump. New upgrades allow you to summon vines out of grass patches and even ram through marked obstacles. These open up new pathways that lead to even tougher challenges which will test your reflexes.
And having spot-on controls do help; when you die, it's basically your own damn fault for not being careful and methodical about your approach.
Constant Changes & Shifts
You also have to adapt very well to your surroundings. Since each stage is randomized in layout, enemy placements are different yet the pathway and enemy types are constant. You'll still fight the teleporting skeleton knights in the Promenade of the Condemned. You'll still have to deal with surprise mutant scorpions in the Toxic Sewers.
Having said that, the new enemies you encounter can frustrate you especially if you aren't careful and if it's your first time dealing with them. Upon reaching areas like the Clock Tower, I was waylaid by new bad guys with little time to figure out their patterns. Before I knew it, I'm back in the Prisoner's Quarters. Still, I have permanent upgrades to make it out better in my next run.
Speed Thrills?
Dead Cells plays with your expectations and add some design challenges to make your run a little more exciting. Cursed chests can give you high-level items and weapons, but you have to kill 10 enemies to lift the one-hit-and-you're-dead curse granted upon your character. Hourglass gates automatically lock after some time has passed, so if you feel like you're in a hurry to get to a boss, you can just blaze through the first stage and get the cells you want.
This also presents you with an interesting dilemma: do you choose to explore every nook and cranny on a random stage, or do you speedrun through it? It depends on whether you want the best gear and best item setup that synergize with each other.
All these three elements help make Dead Cells stand out as a great example of mish-mashing a number of familiar genres to form a lovely and challenging 2D experience. If you're a fan of Metroidvanias and old-school roguelikes with a huge tinge of reflex and twitch-reliant challenges, you owe it to yourself to play Dead Cells through and through.
Besides, Bloodstained: Ritual of the Night is only coming out next year; you might as well settle for an arguably better substitute.
FINAL RATING: 9/10