A new Spider-Man Far From Home trailer has arrived, and this one is a game-changer. If you haven't seen Avengers Endgame, it'd better if you avert your eyes for this one.
[youtube https://www.youtube.com/watch?v=Nt9L1jCKGnE&w=560&h=315]
The new trailer starts on a somber note, depicting a grieving Peter Parker AKA Spider-Man still haunted by the death of his mentor, Tony Stark AKA Iron Man. Tony's best friend, Happy Hogan, comforts him, saying:
"I don't think that Tony would have done what he did, if he didn't know you were going to be here after he was gone.
A scene with Peter in his Iron Spider suit saving a restaurant from a bunch of criminals elicits a somewhat insensitive response from the police. Also, who the heck fixed the Iron Spider suit after it was torn to shreds in the final battle of Avengers Endgame?
"Are you going to be the next Iron Man now?"
Anyways, Peter keeps ignoring Nick Fury's calls to focus on his vacation instead. This is where the biggest bombshell drops. The rumors were indeed true, it seemingly confirms the existence of the Marvel Multiverse within the Marvel Cinematic Universe (MCU) with Quentin Beck AKA Mysterio claiming that he's from another Earth. Not another timeline, but another Earth from an alternate reality or dimension.
Mysterio says:
"We could use someone like you on my world."
This line indicates that the Earth that this Mysterio is from doesn't have its own version of Spider-Man or probably any other superhero. This is what differentiates an alternate Earth from that of simply another timeline. What existed on one world may never have existed or have yet to exist on the other, and vice verse.
However, I have a working theory on all this, so hear me out.
It Could All Be A Trick
The situation is already pretty fishy and questionable from the start. Even if Mysterio is indeed from another Earth like he claims to be, it still doesn't explain why this 'Nick Fury' is so eager to trust this man he presumably recently met. Fury was the director of SHIELD, making him the most cautious and meticulous person in the MCU.
The real Nick Fury wouldn't trust in someone like Mysterio so easily, and that's why I think that this 'Nick Fury' is actually the villain Dmitri Smerdyakov AKA the Chameleon, who has the ability to imitate or impersonate anyone almost perfectly.
Mysterio is probably working together with this 'Nick Fury' (read: the Chameleon), and portraying himself to be a hero to both Spider-Man and the general public. Mysterio is the master of illusion and special effects, so what if the Elementals (including Hydro-Man and Molten Man) that we've seen in the trailers are actually fake?
Mysterio of all people could never possibly be strong enough to take on an Elemental on his own, unless he has actual magical powers like Doctor Strange (which is unlikely).
If It's Not A Trick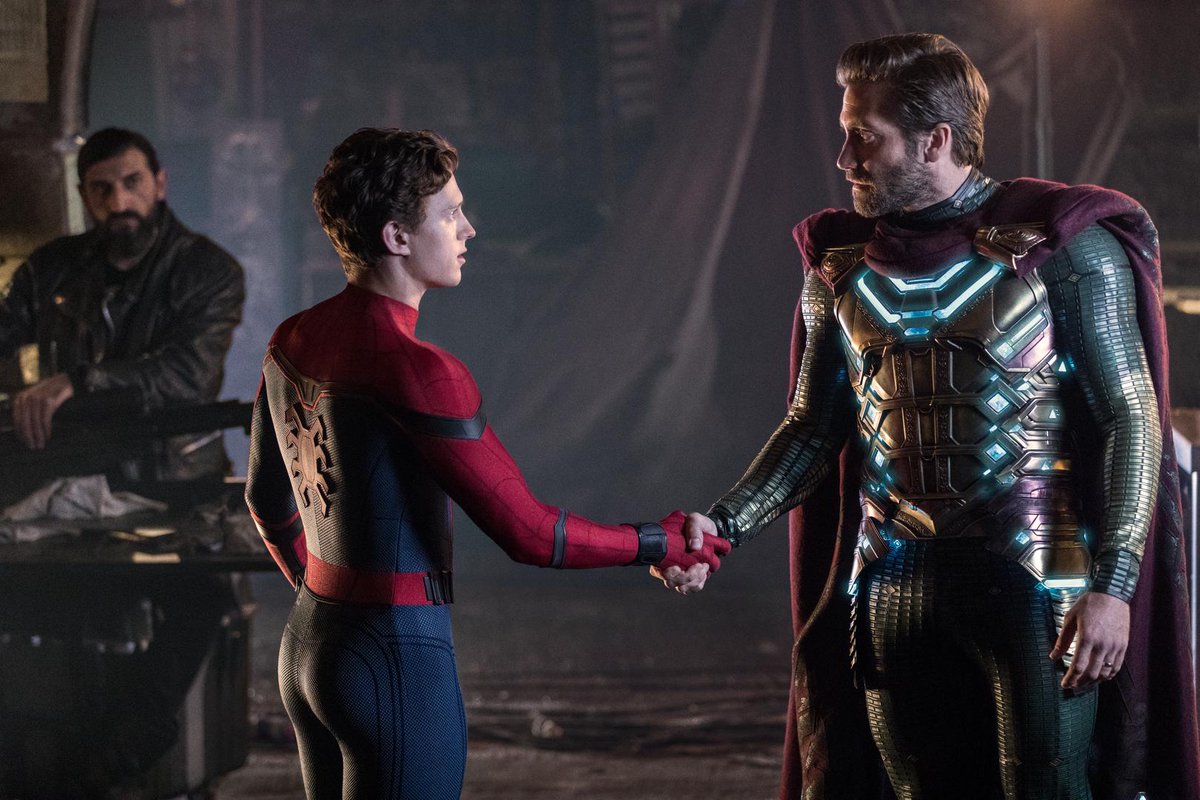 Every comic book fan knows that Mysterio will always be a bad guy, no matter the circumstances. Let's say that this Mysterio is speaking the truth and that this Nick Fury is the one true former Director of SHIELD (and not the Chameleon), then it would change the face of the MCU as we know it.
The Multiverse has actually been explicitly mentioned in the MCU once before by the Ancient One in 2016's Doctor Strange. During Stephen Strange's iconic acid trip scene in the movie, she said, "Who are you in the vast Multiverse, Mr. Strange?", confirming even back then that the Multiverse exists.
In Marvel Comics, the MCU is unofficially designated Earth-199999, while the 'prime' Marvel universe is based in the reality of Earth-616. Directly referencing other Earths and universes could change the fabric of the MCU forever, bringing infinite possibilities to future stories.
Marvel Studios could even potentially use the Multiverse concept as a simple backdoor excuse to introduce mutants or the X-Men, and the Fantastic Four into the MCU, not to mention all the new potential villains like Galactus, Kang the Conqueror, or Annihilus.
MJ Knows Spider-Man's Identity
In a scene that's supposed to be mushy and romantic (where Peter is preparing to reveal his feelings for her), MJ unexpectedly reveals that she's known that Peter is Spider-Man all along. This is not surprising considering how notoriously bad Tom Holland's Peter is at keeping his secret identity (case in point, Aunt May stumbling in on him in his costume at the end of Spider-Man Homecoming).
This Peter May Be More Than Meets The Eye
I personally didn't like Spider-Man Homecoming because it depicted a Spider-Man that's overly dependant on Tony Stark for his costume and gadgets, instead of relying on his own brilliance and skills. We might finally see that other side of Peter in Spider-Man Far From Home.
In the new trailer, Peter says:
'The world needs the next Iron Man."
Then, we see Peter tinkling about with a holographic interface on his arm, presumably tinkering about creating a new suit. This is a huge deal, as we will be able to see what this Peter is really capable of in showing his brilliance. This might turn out to be that new red and black suit we've seen in official promotional images, like the one below.
In the comics, there were several high-tech Spider-Man suits that Peter built to for specific threats. However, there was one suit, in particular, that's essentially what if Spidey's costume is just as advanced as Iron Man's without being influenced by Tony Stark in any way, the Spider-Armor Mark IV (which was also featured as one of the alternate skins in Insomniac's Spider-Man on the PS4).
What do you think of the new Spider-Man Far From Home trailer? Let me know in the comments below. Spider-Man: Far From Home is slated to arrive in cinemas on 4 July 2019.
---
Related