Starting off at level 11, we thought our hour-plus experience in Obsidian's latest RPG The Outer Worlds would be way too much to cram into that short preview experience. And in some ways, that is true.
The Outer Worlds require time to explore. Exploring the reaches of Monarch felt limited due to time constraints, but at least it gives many of us a taste of what a sci-fi art deco-laden Bioshock-like world would be like if it had a dark sense of humour and the sharp writing from the folks that brought us Fallout 2 and Fallout: New Vegas.
And just like those games, you can lie your way out of anything. Or shoot. Do lots of shooting.
Calling Bluffs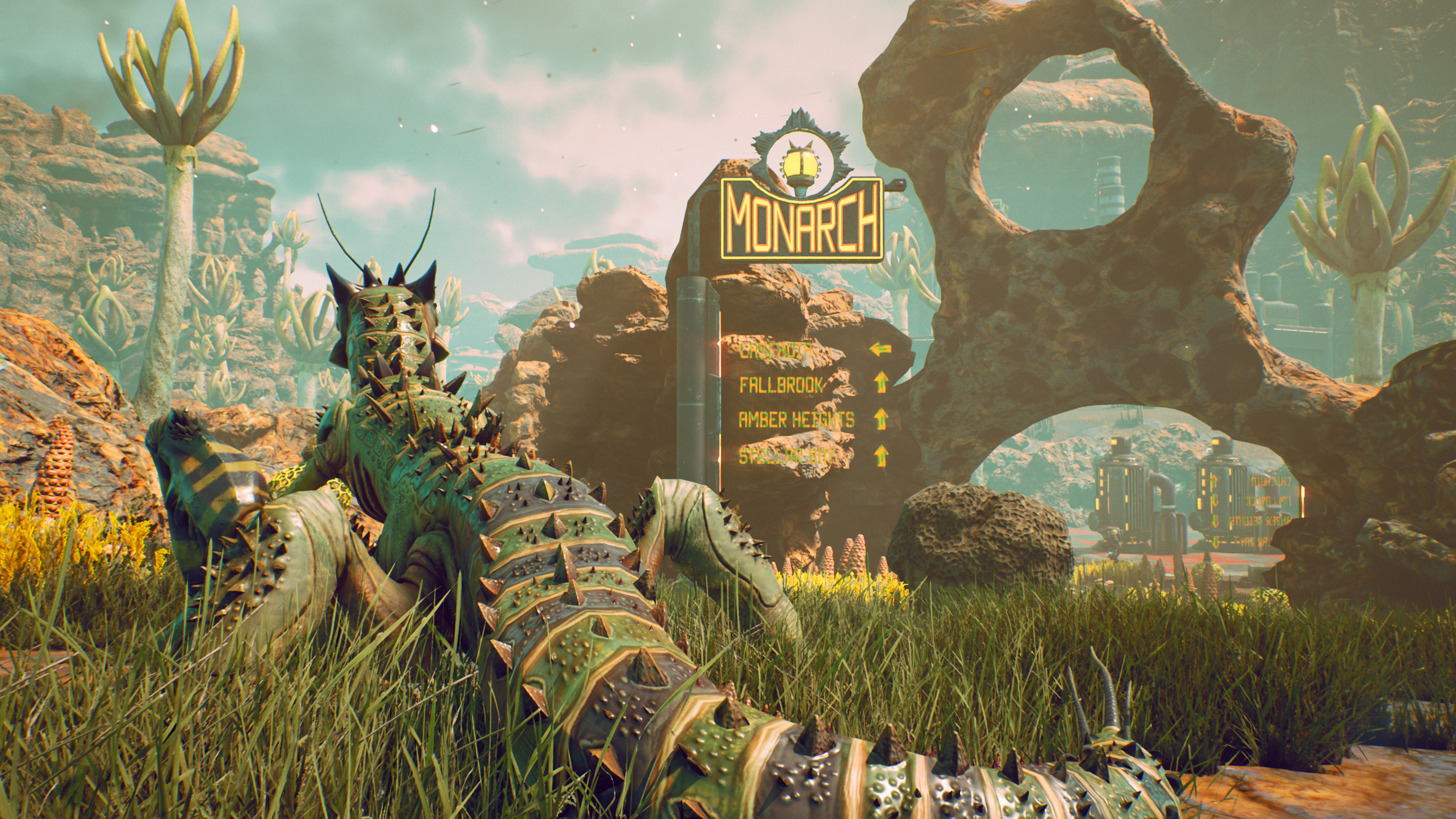 Truth be told, this game will be quite an ordeal if you play through if you don't tell a lie. So far in the town of Fallbrook, we've lied to a drug dealer about a missing stash (we kept it for ourselves), lied to a corporate security guard and shop vendor to get a key item, and even disguised ourselves as a factory worker to kill its owner. And to get the disguise itself? We lied to someone to get it.
How does the latter work? Via the Holographic Shroud. It gives you a crude holographic disguise that's enough to fool people from a distance. You will get three pips on your HUD; these are your speech checks whenever you're confronted by a guard or authority figure. Three successful checks and your disguise won't work. However, using up one fills up the Hologram's energy meter and keeps you hidden. This hologram mechanic adds a bit of challenge with its ticking clock and a chance to flex your speech checks. While it's not as streamlined as doing stealth missions in New Vegas, it's just one of the many ways the devs spice up that aspect, because the way of the gun(s) feels a lot more straightforward than it should. Which brings us to…
Blast Check
Sure, you can talk your way out of subterfuge missions. But you can't do that when you're off the beaten path exploring Fallbrook. There are marauders, their pets, giant caterpillars, and giant alien lizards that can overwhelm you. Fortunately, our character is equipped with an assault rifle with a custom scope, a pistol, and a sword that deals toxic damage.
Combat overall feels like a modded Fallout: New Vegas made for 2019: a bit stiff with the guns, and weightless with its melee. Instead of New Vegas' V.A.T.S, Outer Worlds let you slow down time in short bursts so that you can land those headshots easily. You can also command your companions to unleash their special attacks to deal big bursts of damage; doing so lets you see their special animations play out while you take a break from the fighting. While serviceable and filled with the latter features, fighting by yourself may not be as fun if the weapons do not get more experimental later in the game.
The best part for kill-savvy sociopathic RPG players? You can kill everyone in the game and finish it. According to a Polygon interview, the game's senior designer Brian Hens said that there are back-up systems in place to protect your ability to complete quests. This also means more bugs for the team to work through because of the added wrinkles to the story.
Just like Fallout: New Vegas, there will come a time where you can either support a particular story-focused faction and piss off the rival team. Or just be a lone wanderer of sorts. Whether you kill your way to the game's end or just play it cool and just lie your way through it, it seems that Obsidian's latest may be the RPG that is sure to succeed the depth and breadth of Fallout: New Vegas.
The Outer Worlds will be out 25th October for PC, PS4, Xbox One, and Switch.