If you're hankering for more Imperial Combat Revue action and some fancy stage music, you may want to pay attention to Sakura Kakumei: Hanasaku Otome-tachi. Or "Sakura Revolution: Blooming Maidens" if you want a literal translation. 
Publisher Sega and developer Delight works (of Fate GO fame) are teaming up to release a mobile "dramatic RPG" that uses the Sakura Wars/Sakura Taisen property while turning it upside its head with Sakura Kakumei. Instead of controlling girls who pilot mechas who happen to in theatre, you now control J-pop idol girls (and their hakata-wearing equivalent) who "wear" suits of steampunk armour who fight hard.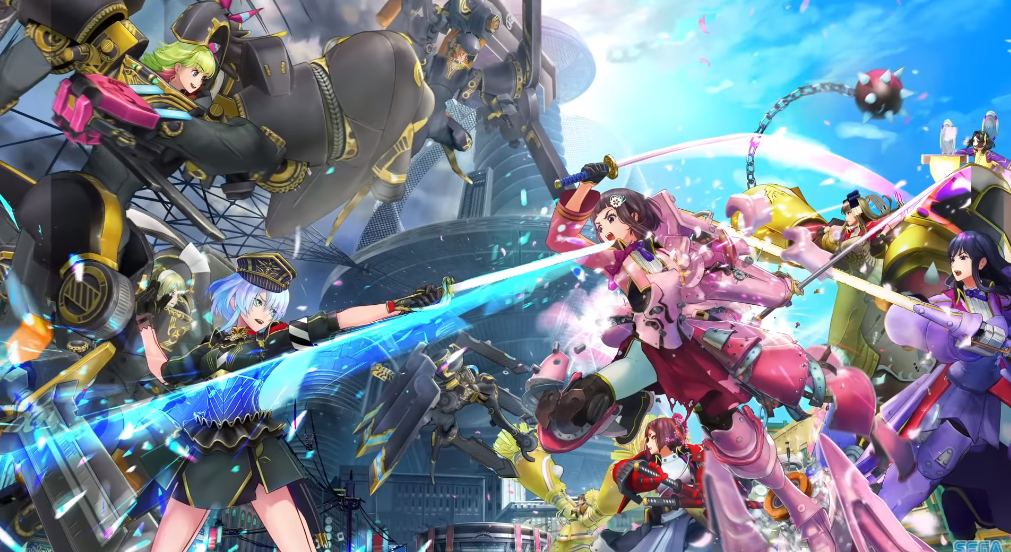 Here's the official story description:
Taisho era year 100. Japan, which suffered devastating damage in the "Capital Catastrophe" that occurred 16 years ago, has been reconstructed thanks to a new type of energy based on spiritual power, "Mirai."

However, with the activation of the "New Capital Tower," the cherry blossoms no longer bloomed and demons called Kouki started to increase in numbers, attacking people all over the country. During this time, the guardian of the people was a government organization called "Great Imperial Combat Revue B.L.A.C.K." These girls took the country by storm with their awesome live performances while protecting the lives of citizens.

With Mirai and B.L.A.C.K., the people thought that placing their trust in the government will bring continued peace. Although a few have realized that this prosperity was a lie. They call themselves "Imperial Combat Revue." Bring the government's real plan to light, and take back Japan!
The game itself will use a "command line battle system" where you command your army of mecha armour-suited-up girls to fight in turn-based form. Gameplay teases below; this will remind you of current mobile game RPGs right now.
https://youtu.be/NrtGeE8ZIFw
Sakura Kakumei will be out in Japan this 2020 for iOS and Android phones. You can preregister for the game now via App Store and Google Play. 
In the meantime, here's a teaser and a special animation. For the latter, the good stuff's at 17:08.
https://youtu.be/XAx1V3Bpw0A
Looks promising, and it may be Japan's latest in the long line of time-sink contributions that may be localized if Sega can find good partners who can help spread the love in late 2021. Hopefully, they've learned their lessons since Chain Chronicle.