E3 2021 officially kicks off with the Ubisoft Forward 2021 live stream, featuring various release date announcements and new game reveals.
Check out the games below:
Avatar Frontiers Of Pandora
Avatar Frontiers Of Pandora is a first-person, action-adventure game developed by Massive Entertainment – a Ubisoft studio, in collaboration with Lightstorm Entertainment and Disney.
Built using the latest iteration of the Snowdrop engine, and developed exclusively for the new generation of consoles and PC, Avatar Frontiers Of Pandora brings to life the alluring world of Pandora with all of its beauty and danger in an immersive, open-world experience.
In this new, standalone story, play as a Na'vi and embark on a journey across the Western Frontier, a never-before-seen part of Pandora. Explore a living and reactive world inhabited by unique creatures and new characters, and push back the formidable RDA forces that threaten it.
Avatar Frontiers Of Pandora will be powered by the new Snowdrop Engine and launch for the PS5, Xbox Series X/S and PC sometime in 2022.
For Honor
You can now play the new season Mirage in For Honor. A new hero will arrive on 22 July 2021.
Brawlhalla Teenage Mutant Ninja Turtles
The Teenage Mutant Ninja Turtles will be playable characters in Brawlhalla on 16 June 2021.
Watch Dogs Legion Bloodline Expansion
Players will be able to play as the first game's protagonist, Aiden Pearce, in the upcoming Bloodline expansion, which will launch sometime in early July 2021.
Riders Republic
Riders Republic is launching for PS4, PS5, Xbox One, Xbox Series X, and PC on 2 September 2021. You can register now for the chance to take part in upcoming betas.
Rainbow Six Siege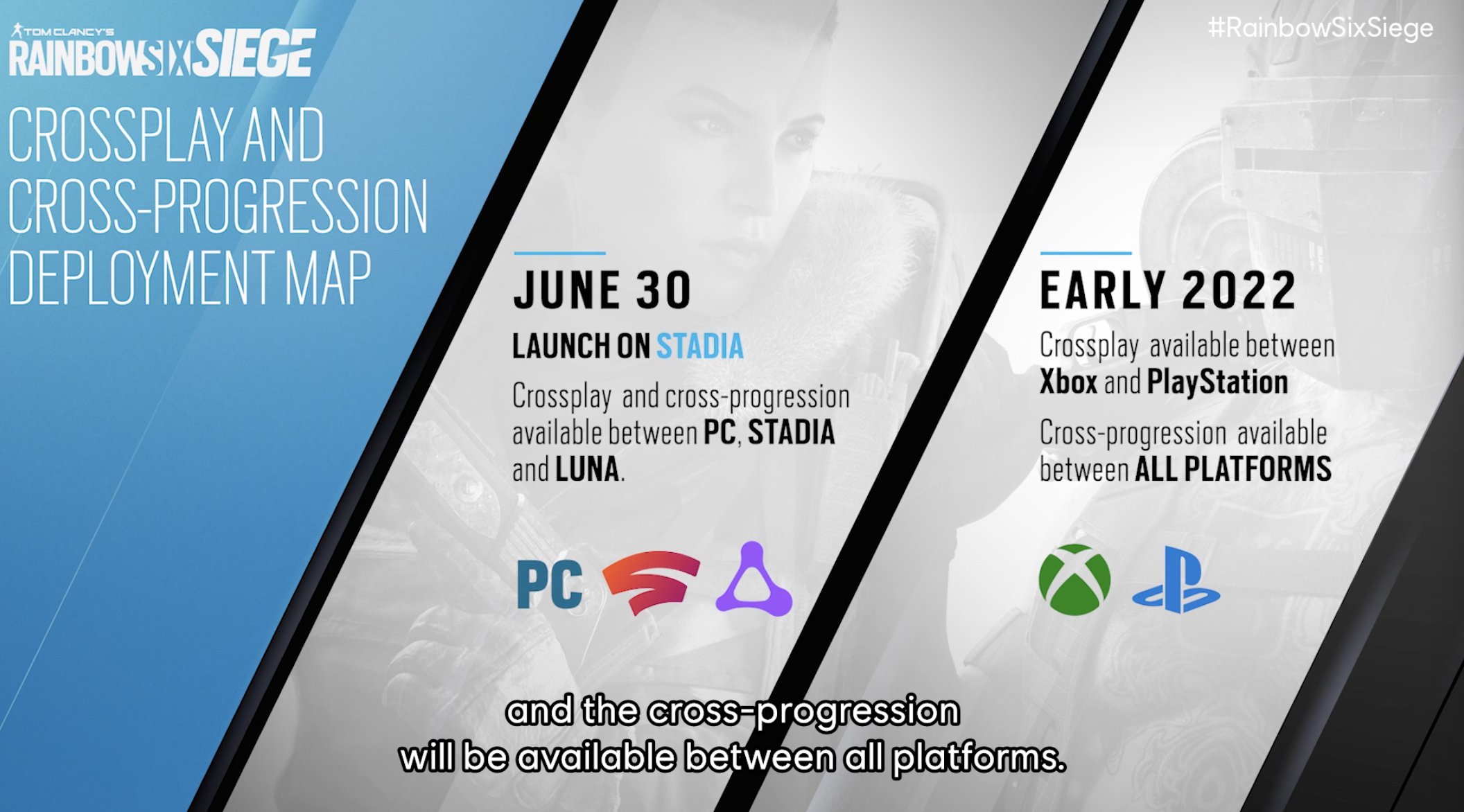 Rainbow Six Siege is getting cross-play between PlayStation and Xbox consoles in early 2022.
The new season North Star and Operator Thunderbird will arrive on 14 June 2021.
Just Dance 2022
Just Dance 2022 is coming to many platforms on 4 November 2021.
Assassin's Creed Vallhalla Siege Of Paris
Assassin's Creed Valhalla Siege Of Paris DLC will launch sometime in summer 2021.
Werewolves Within
Werewolves Within is a feature film based on the Ubisoft VR title of the same name. Directed by Josh Ruben ("Scare Me"), and written by screenwriter, bestselling author, and Ubisoft Women's Film Fellowship Recipient Mishna Wolff ("I'm Down"), "Werewolves Within" is set in the small town of Beaverfield. When a killer terrorizes the snowed-in residents of the small town, it falls to the new forest ranger to find out who – or what – lurks among them in this hilarious horror whodunnit
The ensemble cast includes Sam Richardson, Milana Vayntrub, George Basil, Sarah Burns, Michael Chernus, Catherine Curtin, Wayne Duvall, Harvey Guillén, Rebecca Henderson, Cheyenne Jackson, Michaela Watkins, and Glenn Fleshler. Werewolves Within opens in theatres on 25 June 2021 and on VOD on 2 July 2021.
Far Cry 6
Let Antón Castillo teach you a dictatorship lesson… With his 13-year-old son Diego following in his father's bloody footsteps, Antón has the future of Yara clenched tightly in his hands.
Far Cry 6 will launch on 7 October 2021 on PS4, PS5, Xbox One, Xbox Series X and PC. The Season Pass will come with villains and Far Cry 3 Blood Dragon.
Check out the brand new cinematic clip below:
Rainbow Six Extraction
Rainbow Six Extraction will launch for the PS4, PS5, Xbox One, Xbox Series X and PC on 16 September 2021. It will also feature cross-play across platforms at launch.
As the threat grows, our Operators rise to meet it. In Extraction, Rainbow Six has been united under REACT. Their mission: learn about the enemy, stop it spreading at all costs . . . and leave no one behind.
Hibana has gone Missing in Action. See Operator Ela, Lion and Nomad under the command of Eliza "Ash" Cohen, mount a daring rescue mission, as they use intel, teamwork and improvisation to save one of their own from a dangerous new enemy.
Check out the cinematic and gameplay trailers below:
Mario + Rabbids Sparks Of Hope
Mario + Rabbids Sparks Of Hope is a sequel to turn-based tactical strategy game 2017's Mario + Rabbids Kingdom Battle.
Cursa, a mysterious and malevolent entity seeks out energy to further its nefarious plans, plunging the galaxy into chaos. Twisting the planets with its evil influence, it's determined to consume all the energy of the Sparks, uncanny creatures formed by the fusion of Lumas & Rabbids, and destroy all who stand in its way. To bring order back to the galaxy and save the Sparks, Mario and friends team up with Rabbids heroes in a journey through mysterious and ever-surprising planets.
It's coming sometime in 2022.
Check out the cinematic and gameplay trailers below:
Rocksmith+
Rocksmith+ is described as the only subscription service that offers interactive music learning using official song masters and personalized real-time feedback. You can register for the closed beta on PC starting today. However, there is no release date as of yet.
You can check out the full live stream below: