Platform: Nintendo Switch
Genre: OG Search Action Game
It's been a decade since we've seen a proper follow-up for the 2D Metroid action-adventure games. Sure, we got Metroid: Other M, but that just felt like a slap to the face for fans of bounty hunter Samus Aran and her power suit and morph ball legacy.
With Metroid Dread, developer Mercury Steam basically brought back the then-tainted legend back into the limelight, and with such a strong showing to boot.
Curl Up And Listen
Metroid Dread pits you as Samus Aran as she ends up trapped at the bottom of an unknown planet by a powersuit-bearing assailant. Her previous game powers are now gone, and she pretty much has to work her way to the top where her spaceship is. Thus starts the search action and heavy exploration adventure as she regains her powers, explore every nook and cranny of the planet she's stuck in, and fend off aliens and space pirates.
And I must say: I am very impressed with this sequel and tribute, and this is from the guys who made the terrible Castlevania: Lords of Shadow: Mirror of Fate for the 3DS. They've come a very long way, especially since they did the Metroid 2 remake a few years ago. The levels and map here are immaculate, well-crafted, properly combined, and just ooze mystery and creepiness. It's clear as day that Mercury Steam has learned from its past mistakes in order to deliver a search action layout that's worthy to sit alongside your Super Metroids and Symphonies of the Night.
It obviously helps that the action, the power scaling of Samus from weakling to badass, and challenges are all well-developed. Samus herself will be barred from many areas from the get-go, but the powerups she gets that let her explore more of the place are part classic skills -Screw Attack, the really fast run she does- and part new powerups like the grappling hook, a melee parry move with a hard-hitting counter-attack, and the ability to climb special electrical surfaces. That unreachable blue ceiling thing you couldn't reach before? In about a couple of hours, you'll be up there and exploring a brand new part of the same stage, now with new challenges and platforming sections to contend with.
Metroid Dread's way of opening up layers of its level design just works well and is paced well, surprising you with boss fights and even new environmental changes.
Mech With The Killing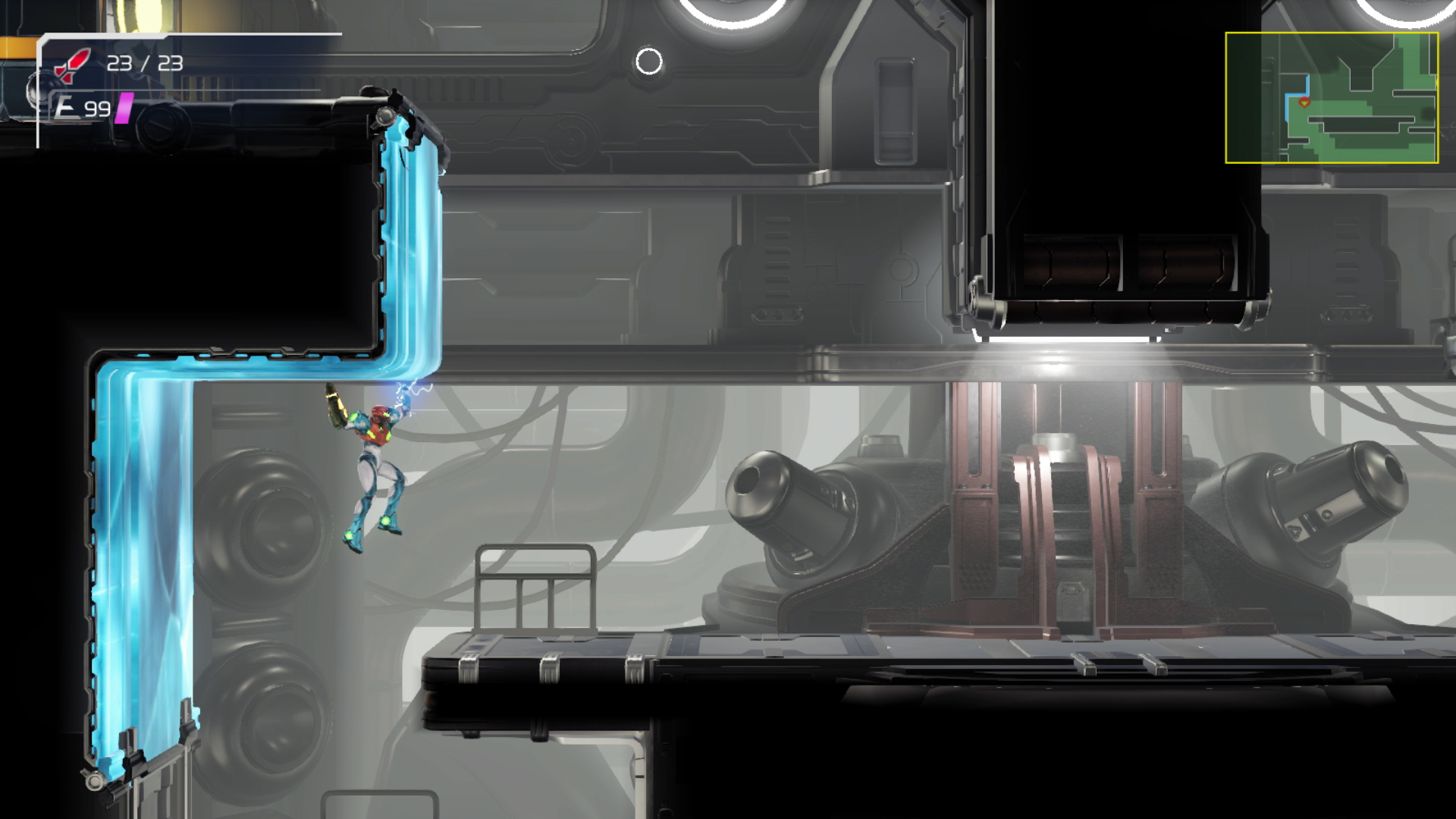 To throw your exploration into a tizzy, Metroid Dread brings in a new kind of adversary: hunter-killer robots called E.M.M.I. They cannot be killed by conventional means, are just as fast and agile as Samus, and can kill you when they grab you. Even getting out of that grab requires strict timing. Thankfully, these killer bots are confined to special E.M.M.I zones, but you still need to play 2D sneak and escape to get around them before getting a specific weapon that can kill them.
These parts are tense and add a lot of challenge to an already tough game, though they do jarringly break up the exploration pacing by a tad. It's not enough to kill the entire mood of the game, but if you're going for a no-death exploration streak, these random behaviour bots will break that in no time flat.
Also, a challenging and perfection-inducing title like Metroid Dread demands the best kinds of controls, and honestly the default JoyCons aren't going to cut it. If you are able to shell out for a proper Pro controller from your favourite online store with better analog controls, trigger buttons, and face buttons, it's worth investing in those instead. Many of my deaths are due to mistimed and out-of-angle shots from my JoyCon aiming of the missile and general plasma shots.
Prime Directive
Still, all is forgiven when you take Metroid Dread as a whole: a worthy follow-up to the legacy established by Super Metroid and Metroid Fusion. It looks and sounds great and atmospheric, Samus' power-ups and playstyle is tailored and laid out well, and the stages are fun and challenging to play through and experience for the 8 to 10 hours you'll be spending.
All I'm saying is welcome back, Samus. We've missed you. While your latest escapades are just a step below the original Super Metroid, it's still a noteworthy adventure that's definitely above the rest of its peers.
Pros
Amazing controls and gameplay.
Challenging boss fights that are mostly fair, especially the final boss.
Creative and expansive interconnected level design.
Samus' power-ups are both familiar, fresh, and fun to use.
Lovely aesthetics and consistent frame rate.
Cons
E.M.M.I. robot sections break exploration flow.
Some iffy aiming issues thanks to JoyCon.
Pricey for an 8-hour 2D game.
Final Score: 80/100
Related