JoJo's Bizarre Adventure is one of the longest-running manga series out there and a staple name that has been around for the past three decades. The series is popular for its uniquely absurd battles, often depicting supernatural showdowns between good and evil with the most insane gimmicks you could possibly think of.
Though the series has been around for quite a while, it's also divided into more digestible individual story arcs, with each arc focusing on a different protagonist who takes up the JoJo moniker. Stone Ocean, otherwise known as Part 6 in the series, features Jolyne Cujoh, a young girl who is sent to prison for a murder she did not commit.
With the advent of Part 6's anime adaptation, it's understandable that newcomers will wonder whether Part 6 makes for a good entry point into the series.
A Brief History Of JoJo's Bizarre Adventure
Before we get into the nitty-gritty, though, let's establish some of the things that you should expect from a series like JoJo. JoJo's Bizarre Adventure follows various protagonists from the long lineage of the Joestar bloodline, and each new story arc progresses in chronological order as it follows a new descendant.
Like we mentioned previously, the series thrives on its concept of outrageous battles, where characters are constantly outwitting their opponent through ridiculous means. It can't be understated that this is a series where beetles do battle, rain can kill, and a game of poker can suck the living soul out of your body.
JoJo originally featured characters using an innate spiritual energy called Ripple to fend off vampiric opponents. However, beginning from Part 3, the series has since moved on to entities called Stands. Stands are the bread and butter of what makes JoJo so popular. These are manifestations of the soul, and each of these entities possess their own special power. As for the kind of powers they have, the world's your oyster on this front.
From simple traits such as enhanced strength and speed, to wacky powers like… a shape-shifting car, age regression, and more. Part of the fun of JoJo is experiencing all of the crazy things that these Stands can do, and then seeing the creative – and often nonsensical – solutions that our heroes come up with to overcome them. To put it mildly, this isn't a series where people engage in the usual fisticuffs – far from it.
Is Part 6 Friendly For Newbies?
Considering this is the sixth part of a long-running series, it's no surprise that some newcomers are hesitant to use it as a launching pad for JoJo. No worries though, you don't need knowledge of previous parts to enjoy Part 6. There's some sense of continuity between the parts, and you'll find cute references here and there to previous stories, but Part 6 is very much newbie-friendly as it is its own standalone story.
Part 6's story even begins under the assumption that you know nothing about Stands, and slowly introduces the concept as the protagonist Jolyne discovers her newfound powers.
Reasons To Watch Stone Ocean
JoJo's Bizarre Adventure's First And Only Female Protagonist
Each part has its own thing that makes it special, and Part 6 is no different. Among the JoJo protagonists, Jolyne is the only female protagonist in the series, and though she starts out a little mellow, she soon evolves into a powerful fighter, with enough sass and willpower to rival even her father, the Stardust Crusader Jotaro Kujo.
As is customary for all JoJo protagonists, Jolyne's Stand, Stone Free, is a standard close-ranged Stand with both destructive strength and precise speed. Its main ability, however, allows Jolyne to unravel her body into string, which can then be manipulated to slip through small spaces, extend her arms, and much more.
Everyone Loves An Underdog
Stone Free's ability is fairly simple and straightforward, and might even pale in comparison to other Stand abilities in the series' history. After all, the power to turn into string? Yeah, how does that work?
The fun, then, comes from seeing how she utilizes her strings to overcome some of the crazier enemy Stands. It's always fun to root for an underdog, and what Stone Free lacks in the threat department, it makes up for with versatility.
Adding further to the underdog angle is Part 6's setting. Unlike its predecessors, which often involved treacherous journeys around the world or bizarre incidents in quiet suburbs, the story of Part 6 takes place mostly inside a cramped prison.
But this isn't an ordinary prison – it's filled with plenty of other Stand users that Jolyne must survive through. Though Jolyne does eventually find allies, there's a sense of constant impending danger as Jolyne is trapped in close proximity with other potentially dangerous inmates.
A Diverse Main Cast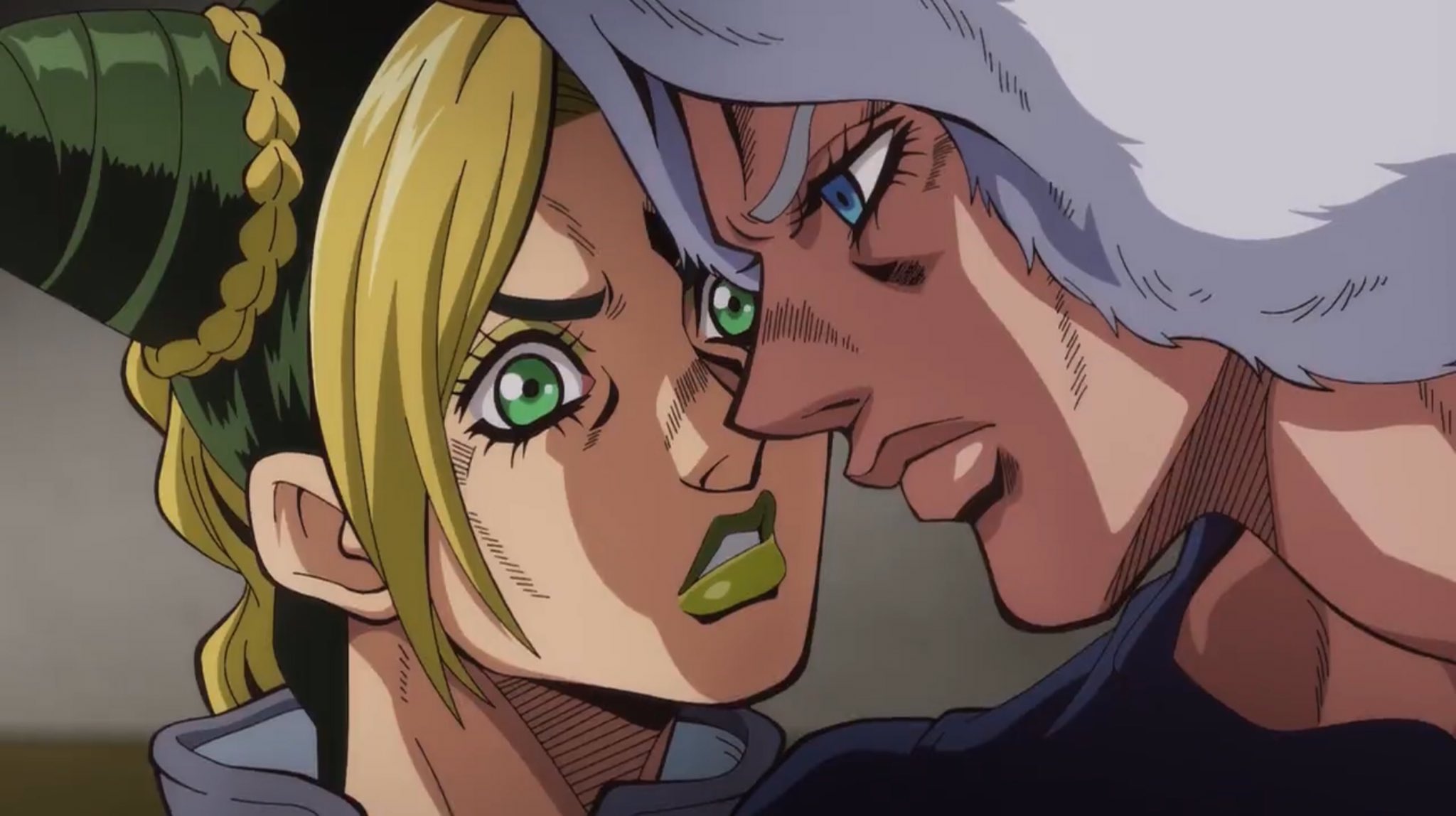 Speaking of allies, Jolyne isn't the only female character in the story. In general, Part 6 features a more diverse gender ratio for its main cast which, at the time when Stone Ocean was being published, was unheard of for a shounen manga.
There's no doubt that Part 6 is an important series when it comes to representation in support of female-led shounen titles, especially since the author himself, Hirohiko Araki, had pushed for this during the publication of Stone Ocean. In a similar vein, the anime adaptation of Part 6 serves to bring the same topic up again.
Experience The Madness With Friends
Part of the fun of experiencing JoJo has to do with its over-the-top nature characters and ludicrous scenarios. This fun is amplified further when enjoying the series with friends and other like-minded people, where discussions and memes can truly take off in the moment.
For many long-running media, you're asked to experience all, or some, of the previous content so that you can truly understand the new stuff, but this is only marginally true for a series like JoJo. Part 6 is a mostly standalone romp, and the exaggerated battles are where the series shines anyway, so it's a perfectly solid entry point if you're excited to experience the story with friends.
"But what if I still want to know the important bits?"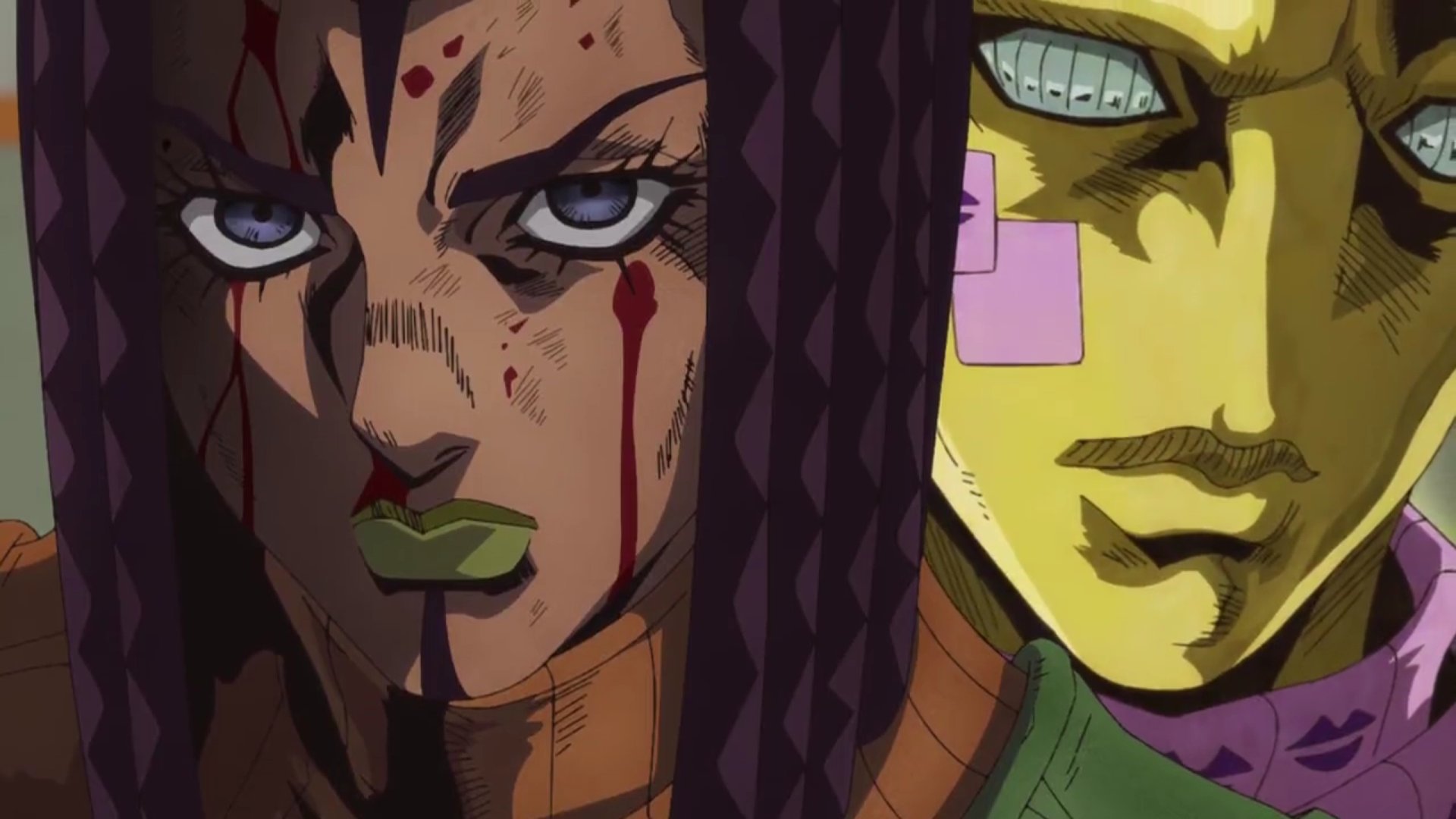 Alright, if you're adamant about knowing all of the relevant lore before diving into Stone Ocean, there are a couple of arcs that are relevant to Part 6.
The first is Part 1: Phantom Blood, which follows Joseph Joestar as he faces off against his adoptive brother Dio Brando. There are no Stands here, and a fair amount more vampires, but some of the lore may prove enlightening as it sets the stage for the events of Part 3. 
Of course, Part 3: Stardust Crusaders is a no-brainer, seeing as it stars none other than Jolyne's own dad, Jotaro Kujo. In this part, Jotaro embarks on a journey across the world to save his mother from a supernatural affliction. The story arc serves as the series' first introduction to Stands, while also being intimately related to some of Part 6's own character and story beats.
Don't Sweat The Details
With Stone Ocean's debut on Netflix, this part may very well serve as the gateway into the JoJo series for a lot of newcomers. But even if you don't know what a Stand is or the significance of certain characters, Part 6 also works as just an extremely "bizarre" prison break story.
And if you like what you see, then the series isn't short of other parts that you can check out, each featuring a different protagonist that, like Jolyne, sport their own unique powers and circumstances.