At long last, the highly anticipated gaming laptops coming out of ASUS Republic of Gamers (ROG) have finally been locally priced!
The ROG Flow X13, ROG Zephyrus Duo 16, ROG Zephyrus G15, and ROG Zephyrus G14 are now available in the Malaysia market and are fully equipped with AMD's latest Ryzen 6000 Series processors, NVIDIA's GeForce RTX 3080 Ti GPUs and AMD Radeon RX 6000S Series graphics to deliver the best performance.
ROG Flow X13 (2022)
This year's version of the ROG Flow X13 has been updated to be powered by an AMD Ryzen 7 6800HS processor and NVIDIA GeForce RTX 3050 Ti laptop GPU.
Both ultra-light and slim for maximum portability, the Flow X13 boasts a 360° hinge allowing for a console-like gaming experience with a controller or as a drawing pad with its optional stylus for those digital artists out there. Furthermore, Gorilla Glass protects the touchscreen, which comes in both 4K 60Hz and 1080p 120Hz options for either ultra-crisp or ultra-smooth gaming. Despite the incredibly portable design, the Flow X13 still sports a robust port selection including HDMI, USB Type-A and Type-C, and our own XG Mobile interface for connecting to our ultra-portable family of external GPUs.   
For those who aren't as familiar, introduced in 2021 XG Mobile works as an external GPU adapter if you want to add an extra "oomph" to the Flow's already impressive arsenal.
Model Name
Main Specifications Comparison
SRP
GV301R-ELI192W
CPU: AMD Ryzen™ 7 6800HS
GPU: RTX™ 3050 Ti 4GB GDDR6
Panel: 13.4″ 4K60Hz 16:10
RAM: 32GB LPDDR5
Storage: 1TB M.2 NVMe™ PCIe® 4.0 SSD
Bundle: ROG Sleeve, ASUS Pen, ROG Impact Gaming Mouse, XG mobile (RX6850MXT)
RM13,999
GV301R-CLJ056W
CPU: AMD Ryzen™ 7 6800HS
GPU: RTX™ 3050 4GB GDDR6
Panel: 13.4″ FHD 120Hz 16:10
RAM: 16GB LPDDR5
Storage: 512GB M.2 NVMe™ PCIe® 4.0 SSD
Bundle: ROG Sleeve, ASUS Pen
RM6,599
ROG Zephyrus Duo 16 (2022)
The future is here, as shown with the ROG Zephyrus Duo 16 and ROG's ScreenPad Plus as it adds a secondary screen for extra productivity real estate, streaming gameplay, or even controlling supported games such as Dying Light 2.
The ScreenPad Plus rises and slides back to meet the primary display as the laptop opens, thanks to a new 4-directional hinge.
Compared to the previous generation, this closes the gap between the two displays, providing a nearly bezel-less experience for the best immersion.  Running Windows 11, this machine is powered by an AMD Ryzen 9 6980HX CPU and an NVIDIA GeForce RTX 3080 Ti laptop GPU at 150W with Dynamic Boost for high-end horsepower, bolstered by an upgraded Liquid Metal Conductonaut Extreme that decreases CPU temperatures by 15 degrees compared to traditional thermal pastes.
The AAS Plus 2.0 air intake created by the raised secondary screen creates 30% more airflow above the fans, allowing these top-tier components to stay cool for better-sustained performance in games and creative apps. A MUX Switch ensures you get every frame possible in competitive scenarios.
On top of all of this, the Zephyrus Duo offers two groundbreaking panel choices for the main display and supports Dolby Vision in both choices. First is ROG's new Nebula HDR, which has all the specs of ROG's standard Nebula Display but with 512 Mini LED dimming zones, able to reach 1100 nits of peak brightness for stunning levels of contrast and colour. Boasting a refresh rate of 165Hz and is VESA Display HDR 1000 certified with a 100,000:1 contrast ratio.
Second, co-developed with BOE, is a brand-new ROG-exclusive display called a Dual Spec panel, which can switch between 4K 120Hz and Full HD 240Hz, allowing gamers can choose whether to prioritize resolution or framerate on a game-by-game or app-by-app basis. Pixel Acceleration Technology ensures lightning-fast upscaling in the Full HD mode, for crystal clear images at competitive framerates. Moreover, the device also comes with ROG's NumberPad technology on the trackpad, a keyboard with 1.7mm of travel and per-key RGB, six speakers with Dual Force-Cancelling Woofers, Dolby Atmos, Hi-Res Audio, and two-way AI Noise Cancellation to round out ROG's flagship for 2022.
Despite this much tech and two displays, the 2022 Zephyrus Duo 16 has a smaller footprint than the previous generation, fitting a 16-inch display into a chassis traditionally sized for 15" laptops.
Model Name
Main Specifications Comparison
SRP
GX650R-XLB199W
CPU: AMD Ryzen™ 9 6900HX
GPU: RTX™ 3080 Ti 16GB GDDR6
Panel: Dual Spec 16″ 16:10 UHD 120Hz / FHD 240Hz
RAM: 64GB DDR5-4800
Storage: 2TB + 2TB M.2 NVMe™ PCIe® 4.0 (RAID 0)
RM22,999
GX650R-WLO106W
CPU: AMD Ryzen™ 9 6900HX
GPU: RTX™ 3070 Ti 8GB GDDR6
Panel: Mini LED 16″ 16:10 QHD 165Hz
RAM: 32GB DDR5-4800
Storage: 1TB M.2 NVMe™ PCIe® 4.0
RM15,999
ROG Zephyrus G14 & G15 (2022)
The critically-acclaimed ROG Zephyrus G14 is a powerful gaming machine in a stylish, ultra-portable form factor with a host of new improvements for 2022.
With Windows 11 onboard, an AMD Ryzen 9 Series processor and AMD Radeon RX 6000S Series mobile GPUs and also features a MUX Switch to deliver outstanding performance and the best possible framerates. ROG Intelligent Cooling with liquid metal and a custom vapour chamber ensures excellent sustained performance from these high-end components, while DDR5 RAM and a 1 TB PCIe SSD enable responsive multitasking across the system.
Available in Eclipse Gray or Moonlight White, the G14 has a sleek design for maximum portability featuring a Prismatic Logo nameplate with a holographic, reflective hue that's sure to turn heads. The G14 is also one of the first ROG laptops to feature ROG's brand-new Nebula display, which offers 120 Hz at QHD with 500 nits of peak brightness, 100% coverage of the DCI-P3 colour gamut, and a 3ms response time — with Dolby Vision, Adaptive-Sync, and Pantone validation for a stunning, colour-accurate experience that minimizes stuttering and tearing.
The display has been expanded to a 16:10 aspect ratio, which increases screen real estate without sacrificing portability since its small bezels offer a 91% screen-to-body ratio. Dolby Atmos, a 3D mic array with two-way AI Noise Cancelation, and blazing-fast WiFi 6E round out this portable powerhouse.
Model Name
Main Specifications Comparison
SRP
GA402R-KL8201W
CPU: AMD Ryzen™ 7 6800HS
GPU: Radeon™ RX 6800S 8GB GDDR6
Panel: 14″ 16:10 QHD 120Hz
RAM: 32GB DDR5-4800
Storage: 1TB M.2 NVMe™ PCIe® 4.0 SSD
Bundle: ROG Chakram Core mouse, TYPE-C 100W AC Adapter
RM9,999
GA402R-JL8173W (Moonlight White)
GA402R-JL8174W (Eclipse Gray)
CPU: AMD Ryzen™ 7 6800HS
GPU: Radeon™ RX 6700S 8GB GDDR6
Panel: 14″ 16:10 QHD 120Hz
RAM: 16GB DDR5-4800
Storage: 1TB M.2 NVMe™ PCIe® 4.0 SSD
Bundle: ROG Impact Gaming Mouse, TYPE-C 100W AC Adapter
RM8,499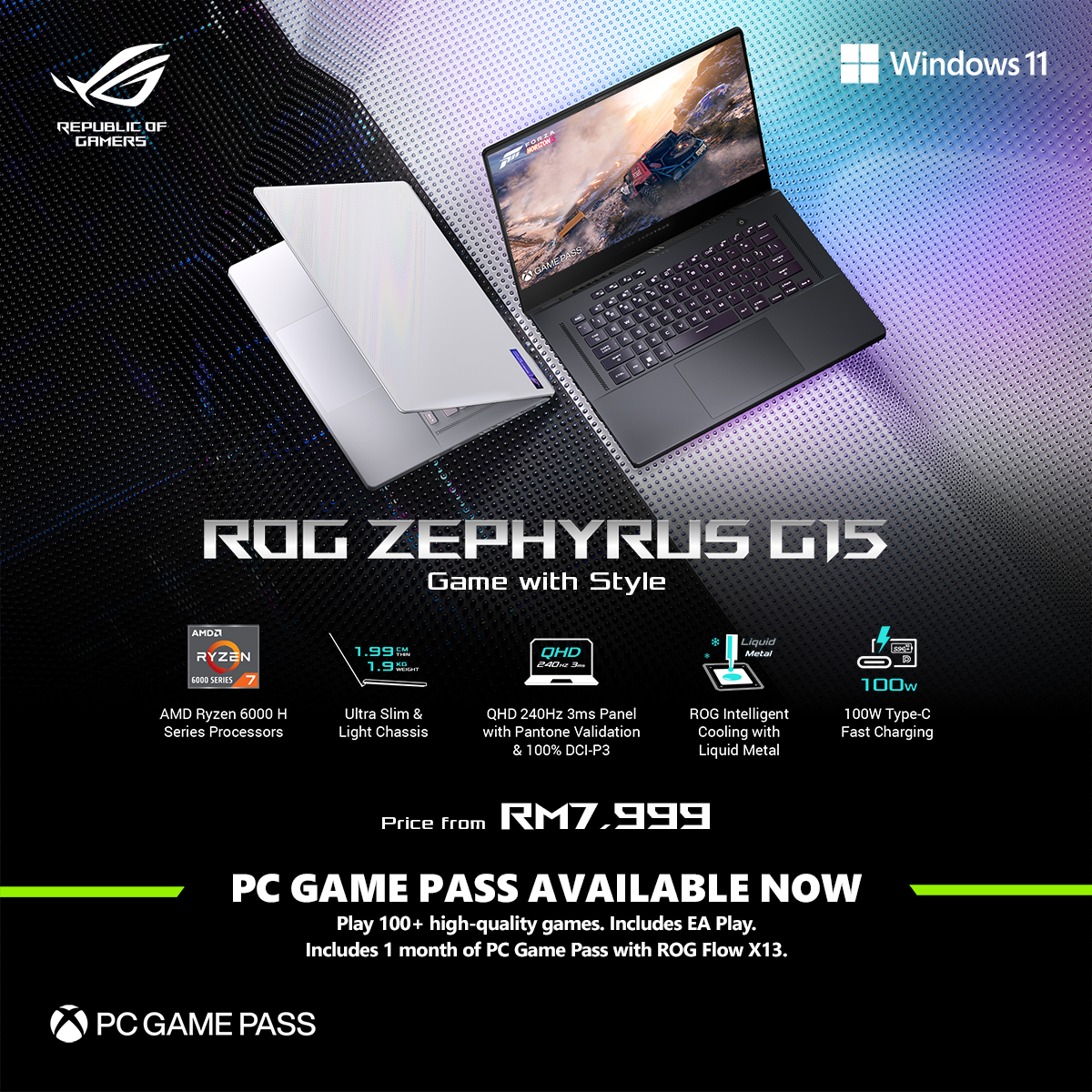 Joining the G14 is the Zephyrus G15 with a host of upgrades for 2022. The G15 comes equipped with up to an AMD Ryzen 9 6900HS, and both sport up to an NVIDIA GeForce RTX 3070 Ti Laptop GPU.
Zephyrus G15 features the latest ROG improvements, including a dedicated MUX Switch for increased graphics performance, as well as DDR5 4800Mhz memory and Wi-Fi 6E support.
Model Name
Main Specifications Comparison
SRP
GA503R-WLN102W
CPU: AMD Ryzen™ 7 6800HS
GPU: RTX™ 3070 Ti 8GB GDDR6
Panel: 15.6″ 16:10 QHD 240Hz
RAM: 32GB DDR5-4800
Storage: 1TB M.2 NVMe™ PCIe® 4.0 SSD
Bundle: ROG Chakram Core mouse, TYPE-C 100W AC Adapter
RM9,999
GA503R-MHQ138W (Moonlight White)
GA503R-MHQ139W (Eclipse Gray)
CPU: AMD Ryzen™ 7 6800HS
GPU: RTX™ 3060 6GB GDDR6
Panel: 15.6″ 16:10 QHD 165Hz
RAM: 16GB DDR5-4800
Storage: 1TB M.2 NVMe™ PCIe® 4.0 SSD
Bundle: TYPE-C 100W AC Adapter
RM7,999