Frost Giant Studios is not a game company name you hear too often, but its pedigree is huge. The company is made up of former Blizzard staff who worked on StarCraft 2 and WarCraft 3, two of the most influential real-time strategy games in the realm of PC gaming. And now the team is planning to bring the RTS genre back to its glory days with its new game: Stormgate.
Stormgate is a top-down real-time strategy that hits all the late 90s/2000s notes: the top-down perspective and familiar-yet-sleek UI for base-building and unit-churning, different factions fighting each other through real-time strategy combat, a cool world with a distinct art style that isn't too cluttered, and a number of features that is reminiscent of Blizzard's past glory games. These include focus on user generated content, competitive play (2v2), a 3vE co-op game mode, and the game being built for esports from the ground-up. Aesthetics-wise, it's sci-fi meets demons from Hell. Like Doom, but more hopeful and saturated, as well as less gorey and grimey.
It's also going to be a free-to-play game, but done in a fair manner.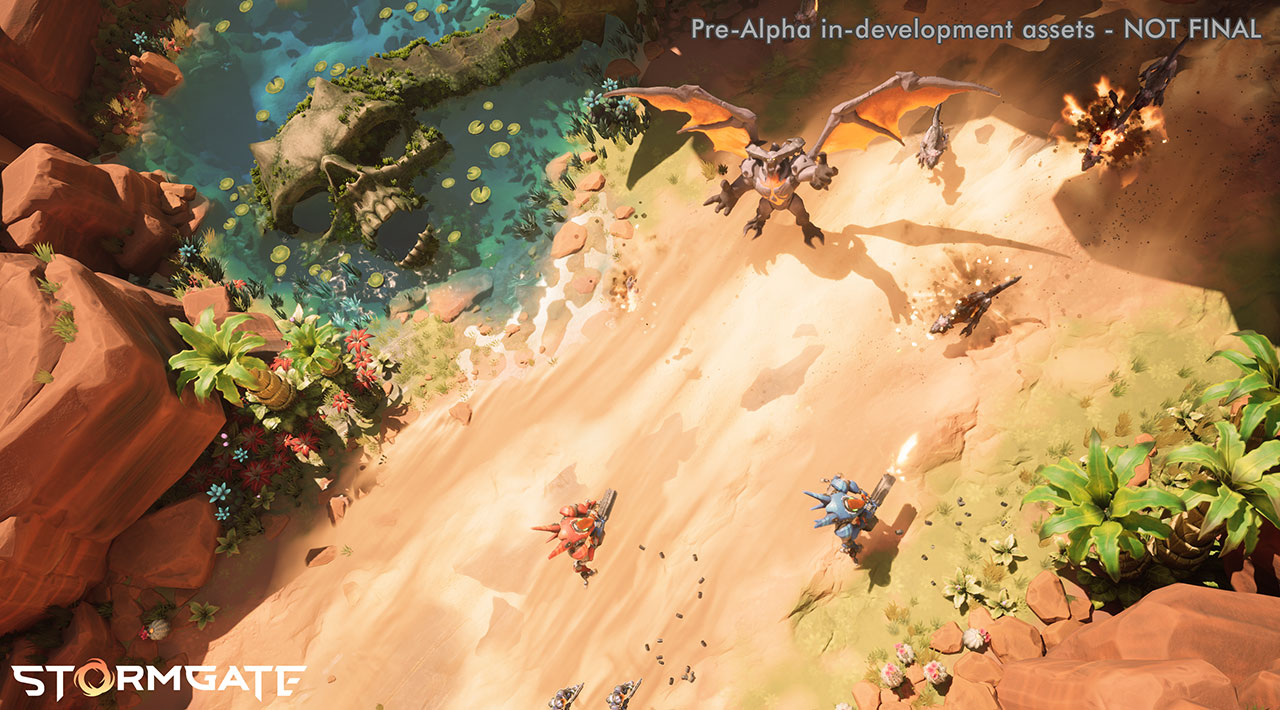 The game's main hook is to carry forward the feel of Blizzard RTS titles, but in a completely new universe and a slew of new features made for this generation of PC gaming. Here are the game's core features:
A Science Fantasy Story for the Ages: Stormgate is set on a post-apocalyptic Earth, hundreds of years in our future. The epic conflict between the human peacekeepers and the Infernal
host will unfold as new campaign chapters are released. In-game events will include balance changes, new units, cosmetic content, and new esports seasons.
Only Two Races? Nah, we're just getting started! In addition to the mech-riding human resistance and the demonic Infernal host, one (or more?) other factions will enter the fray. The two factions are the Human Resistance and the Infernals.
Powered by SnowPlay: An RTS can't be great if it doesn't feel great to play. SnowPlay, a custom-developed simulation technology, ensures that Stormgate players will enjoy crisp, responsive gameplay with smart pathfinding and rewarding unit control.
 Built in Unreal Engine 5: Stormgate will feature HD visuals in 4K and support hundreds of units engaged in epic no-holds-barred battles across a wide variety of maps and tilesets.
Next-Generation Esports: In addition to traditional high skill ladder matchmaking, competitive tournaments will be accessible directly from within the game, ranging from the local grassroots level all the way up to professional esports.
The First Truly Social RTS: Stormgate will feature several ways to play with friends, including a 3vE co-op game mode, where three players band together to take on increasingly
challenging AI opponents. This mode will feature meta progression, unique and powerful leader characters, and ways to customize your army's capabilities.
The Editor: The in-game Editor empowers UGC creators with the same tools Frost Giant is using, in a creator-friendly ecosystem where creativity and effort will be rewarded.
Stormgate's beta test period will start in 2023. Right now, it's slated just for PC (via Steam).