If you're hoping that the Cobra Kai series, the worthy follow-up to the Karate Kid series of martial arts drama films, has finally lost steam in its fifth season, keep hoping. In fact, this may be the series' best and is only going upward.
Zarei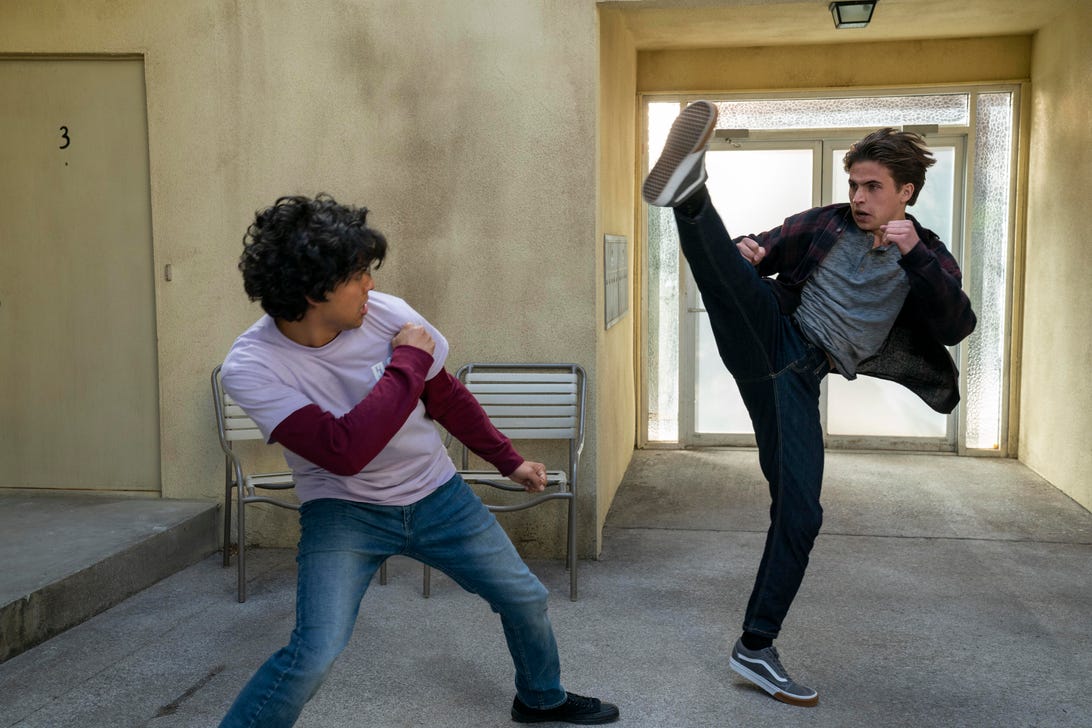 After the events of Season 4, both heroes Johnny Lawrence (William Zabka) and Daniel LaRusso (Ralph Macchio) are forced to close their dojos. At the same time, sneaky businessman-slash-karate-master big bad Terry Silver (Thomas Ian Griffin) takes over Cobra Kai and all Valley dojos in the area. Daniel gets help from ex-bad guy-now-wise-karate-teacher Chozen (from Season 3, played by Yuji Okumoto) while Johnny reconnects with his son Robbie (Tanner Buchanan) and also heads to Mexico to search for his other runaway "son"-slash-Cobra-Kai-student Miguel (Xolo Mariduena).
We have new enemy dojo leaders in the form of Terry Silver's sensei's daughter Kim Da-Eun (Alicia Hannah-Kim), though she's more of a force of nature to complement Silver than an actual character. That's fine and dandy, because Terry's charisma and evil ways are what keeps the show intriguing and engaging, attempting to rally new Cobra Kai students for his grand plan to make all other forms of karate in The Valley obsolete. The showrunners have also given ex-Karate Kid 2 villain Chozen a bigger support role. Suffice to say, he's a great addition due to his comedic timings balanced out with his sage wisdom and badassness fights-wise, especially with Daniel and Johnny. If there's a character in need of a spin-off from a, well, spin-off, it's definitely Chozen.
Cobra Kai is still shining its spotlight on both Johnny and Daniel; the former dealing with new family matters and the latter trying to solve the Terry Silver problem while keeping his sanity in check. Both arcs tie up and pay off really well, with a few set of conflicts that round it up in style, stakes, and gravitas.
Even with all the cast members running around, and there are a lot of story arcs, each of them gets ample screen time within its 10-episode run. These range from Robbie and Miguel's animosity against each other to Samantha LaRusso (Mary Mouser) sorting her issues out post-Season 4 tournament. The best part is that it somehow takes the few highlights and throwaway lines from the second-worst Karate Kid movie, and turned it into a lore goldmine with ample results for this season. Yes, you get to see part 3's Mike Barnes (Sean Kanan) and Jessica Andrews (Robyn Lively) pop up here, but in pretty unexpected and justified ways that don't seem too shoehorned. In fact, I daresay that Cobra Kai Season 5 made Karate Kid Part 3's existence justified, with its flashbacks and deep cuts interjected in the TV show work organically and heightens the drama. You know a TV show has its worth weighed in gold when it can somehow spin better stories out of a terrible sequel.
Yuudansha
The only issue I can think of with this is that the season will not help you catch up with past events, which is fine since this is already the show's last few seasons before everything comes to a head. This season is a remarkable way to cap things off just nice with all the setups from Seasons 3 and 4, coming full circle and pitting mentors against students in a free-for-all that's part and parcel of the series.
If you thought the high school brawl and home assault bits in the last few seasons were epic, Season 5's climax sure ramps it up further. All in all, a good time for everyone who invested in the series' comedy-slash-drama from start to finish. The writers may need to figure out how to top this season with the next one (or two), but I'm sure Cobra Kai will find its way just like Johnny Lawrence did with his personal problems. I do worry if the show has peaked with Season 5, and if it has any tricks up its sleeve -retroactively bringing in New Karate Kid for future seasons, anyone? Regardless, this season is good stuff and still makes Cobra Kai a helluva show featuring karate, redemption, forgiveness, and badassery.
Final Score: 90/100
Related