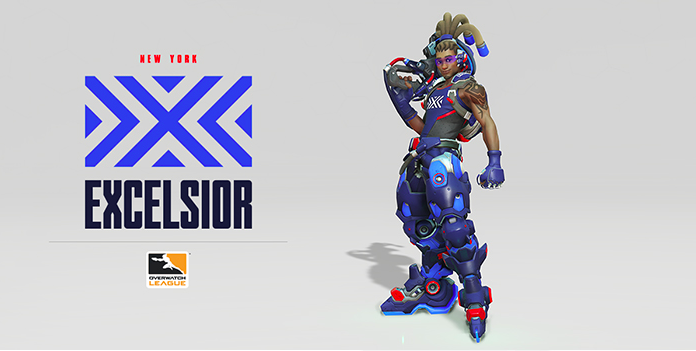 by in
Team New York will henceforth be known as New York Excelsior after announcing their official name and logo yesterday. Mostly made up of players from Korean-based LW Blue, the team is owned by Jeff Wilpon who is also COO of the baseball team The New York Mets.
The official statement read "The name Excelsior means "ever upward" in Latin, and is inspired by the everyday heroism of New York.  It's this spirit of optimism, drive, and ambition that the team hopes will propel them to victory in the Overwatch League. The team nickname, "NYXL," also evokes New York at its strongest, while the flag logo represents different people, cultures, and ideas coming together.
"It is an amazing opportunity to have NYXL be part of a brand new professional league and representing the city of New York," said Jeff Wilpon, Co-Founder and Partner at Sterling.VC, a Sterling Equities venture capital fund. "We've put together a strong team and look forward to competing at the highest level." he added
Save for 'Libero' (Meta Athena) and 'ArK' (LW Red), the rest of the all-Korean roster were ex-LW Blue members and have competed together in the APEX circuit where they finished fifth in Season 4. You can get a glimpse of their players at the upcoming 2017 Overwatch World Cup as Saebyeolbe and Mano are part of the Korean team.
"I'm incredibly excited to join NYXL as a coach with the chance to manage the team as it competes with and against the best players in the world in the Overwatch League," said Pavane, coach for NYXL. "New York is a great sports city and we will give our all when representing the city and our fans when play officially begins."
Also revealed was the team's colors, modeled by Lucio. We aren't so crazy about the colors tho but reckon it would look really good on a Genji. What do you think?
The Overwatch League begins preseason play on December 6, with a series of exhibition matches featuring all 12 teams. The regular season will begin on January 10 and run into June, with playoffs and finals in July 2018.
---