By Kenn Leandre|May 21, 2018|
The Malaysian Pro Evolution Soccer qualifiers to compete in the upcoming 2018 Asian Games is set to take place this weekend. If you think you have what it takes to represent the country in the first ever esports competition organized as part of a world-class sporting event, then read up.
Utilizing the same format at the Games, a team will consist of two players and each will play one another in a best-of-three format in the following order:
Match 1: 1v1 (Individual)
Match 2: 2v2 (Co-op)
Match 3: 1v1 (Individual)
If a team wins the first two matches, the third one will not be played.
Some of the important rules for the qualifiers, which we believe will also be replicated during the final rounds are;
Only licensed club may be used e.g Liverpool, Barcelona, Borussia Dortmund, AS Roma
Teams cannot use the same club. If both competing teams pick the same club, a coin toss will be used to decide who gets to use them
The participating team cannot use the same club twice in the same round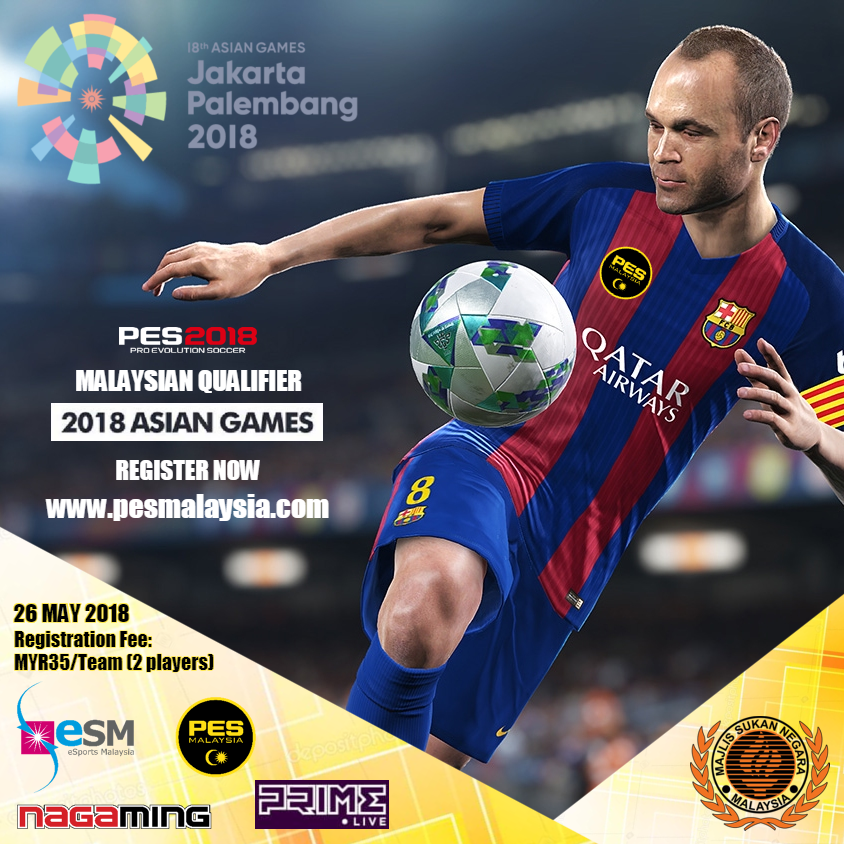 The format of this weekend's qualifiers is yet to be determined, although we'd assume it will be dependent on number of participating teams on the day of the qualifiers. The winning Malaysian representatives will then fight for the two (2) spots of SEA via an Online Qualifier between participating SEA countries. Details on the event to be furnished, upon receipt of information and confirmation.
For full info, head on over to the tournament's official page here.
The Malaysian Qualifier will be at start at 9am on 26th of May 2018 (Saturday), at NaGaming eSports Centre, B4-1-2, Gaya@Melawati, Lorong Selangor, Taman Melawati, 53100, Kuala Lumpur.
Registration fee is RM35/team (non-refundable), consisting of two (2) players. Head on over to THIS LINK to register your team and you can forward any inquiries  to PES Malaysia via +60125402341 (Yazid)
---
Special thanks to the folks at Aksiz.com for the heads up. The bahasa version of the same news can be read here.