Defending champions South Korea finally revealed their Overwatch World Cup squad today with two huge names missing from it; last year's breakout star Yeon-oh "Fl0w3R" Hwang of XL2 and two-time World Champion, the Ana God himself, Je-hong "ryujehong" Ryu of Seoul Dynasty.
But that does not mean that this year's squad is any weaker. Actually, we think this is the strongest assembled South Korean team to date with the inclusion of an all-Overwatch League lineup. Have a look: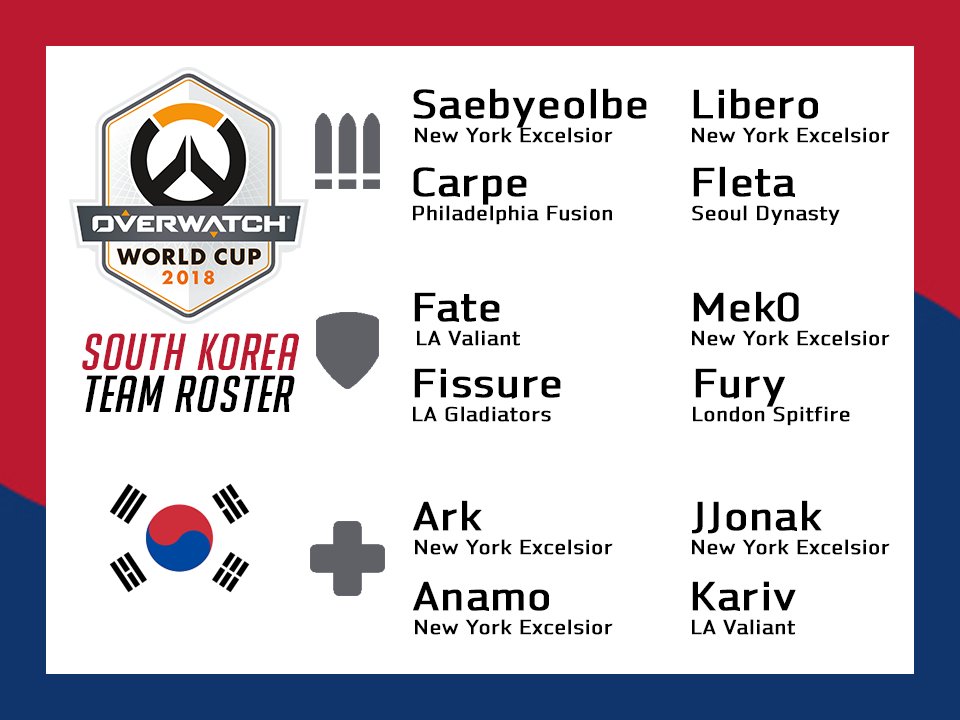 As opposed to previous tourney rosters which were built around the boys of Lunatic-Hai/ Seoul Dynasty, New York Excelsior makes up the backbone of this year's 12-man team with the likes of Saebyeolbe, Libero, Meko, Anamo, Ark and Jjonak being selected. LA Valiant's Kariv and Fate is joined by Seoul Dynasty's sole representative Fleta, London Spitfire's Fury, Carpe from Philly Fusion and Fissure of LA Gladiators to form a super team of Tier-1 players.
So how will they line up? Your guess is as good as ours but if we are to pick a starting six, they would be: Saebyeolbe, Fleta, Fissure, Fury, Ark and Jjonak.
South Korea kicks off their title defence in Seoul come August as five other teams – Russia, Finland, Chinese Taipei, Japan and Hong Kong – fly in to compete in a round-robin format tournament. The top two teams will then qualify for the knock-out stages which is set to be played during BlizzCon in November.
For more stuff on the Overwatch World Cup, keep it locked on to Kakuchopurei.com.
---