Sony PlayStation made a preemptive strike a week before Tokyo Game Show to announce its slew of new titles. Let's highlight the best ones, shall we?
Samurai Shodown Slated For 2019
We wrote about this earlier. Long story short: 2D weapons-based fighting, classic roster returns, lots of blood.
Yakuza Team To Release A New Adventure Game Called Judge Eyes
Toshiro Nagoshi & co. are taking a step back from minigames and fisticuffs to create a PS4 game called Judge Eyes. It looks like a murder-mystery adventure title with triple-A production values where the messy-haired protagonist can recall past memories and visions to solve cases for the cops. Slated for 13th December in Japan and out next year in the West.
Shadowverse Devs Announces New Medieval RPG
This new game, called Project Awakening, is from the guys who are sponsoring legacy fighting game pros like Daigo Umehara and making money off of Gran Blue Fantasia & anime Hearthstone Shadowverse. Looks kinda like a generic Monster Hunter clone until you see the smoke coming out of the battlefield at the end. Maybe you can summon dead soldiers to fight for you?
Front Mission Returns…Sort Of
Square Enix's Front Mission spin-off survival shooter Left Alive is slated for a 28th February 2019 release date. The game will be produced by Shinji "Final Fantasy" Hashimoto, directed by Toshifumi "Armored Core" Nabeshima, and have its characters designed by Yoji "Metal Gear" Shinkawa.
Square Enix Is Using Tales Of Producer Hideo Baba For A New JRPG
Good ol' Square Enix: acquires high profile talent to make JRPGs under their banner. Hideo Baba of Tales Of series' fame is leading the new Square Enix Studio Istolia to create a new game called Project Prelude Rune.
Not much to see here apart from the fact that it's a high fantasy game, has a lovely tune to it, and is most likely has real-time combat. You ARE using the Tales Of guy after all…
Even More Footage of Kingdom Hearts III & Sekiro
We won't say no to more gameplay of next year's two most-anticipated action games.
Final Fantasy Crystal Chronicles Remastered For PS4 & Nintendo Switch
This remaster of the four-player co-op JRPG will be out next year. Also, we get to hear Donna Burke's Irish narrator voice and vocal chops in the intro.
Kingdom Hearts Goes VR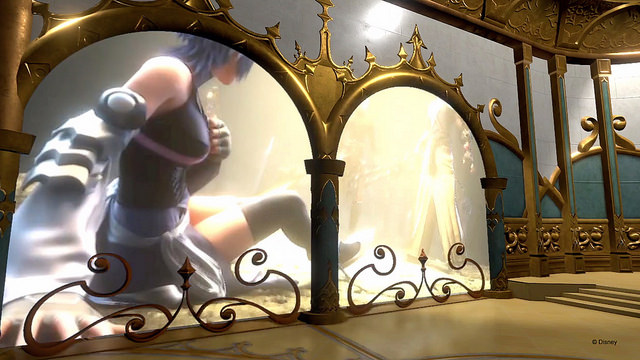 Now you can see Aqua getting Norted in first-person glory. You sicko.
In all seriousness, Kingdom Hearts: VR Experience can now relive their favourite KH memories in VR mode.
Gungrave G.O.R.E Announced, Not A Single F*** Was Given
As much as I liked Yasuhiro Nightow's Gungrave series, we'd be lying if we said we really needed a gun-filled action game in our lives.
Hot Shots Golf & Space Channel 5 Goes VR
We saved the best ones for last. PlayStation's marquee arcade golf title and Sega's newscaster-starring dance game is getting the VR treatment. We're kinda missing the cartoony caricatures from the series though, but at least you've given us one more reason to consider forking money out for your VR moneysink, PlayStation.
Related