Ubisoft's loot-and-shoot action-adventure title The Division 2 is out to much fanfare. So far, it seems to rectify the faults of the first game and is giving players more bang for their buck.
Of course, if you just bought your copy this weekend and are overwhelmed, we're here to help. We'll start off with some basic tips, then dive deep into Dark Zones and how to go rogue in style.
Basic Guide
Be Smart When Fighting
Enemies in The Division 2 are smart, so you need to be vigilant. If you see cover when in a firefight, use it. To get from cover to cover, just press and hold the space key (PC version) to the area you want to run to. If you want to get out of cover, press the space key twice to perform a dodge maneuver.
Enemies will also yell out commands when setting up a turret or when throwing a grenade at you and your team. If they do, act accordingly and fall back if you have to. There's no shame in being a camper here if all your opponents do not miss most of their shots.
Shoot The Core!
Your enemies in DC have weak points you can shoot to quickly kill them. Hyena chargers have bags containing chemicals on their hip; shoot it to blow it up in their faces to confuse and stun them.
The armoured enemies usually have a weak spot on their backs; have your teammates shoot them in the front while you run to their backs and fire away.
Dismantle Your Turrets & Drones After Combat
After a fight, don't just leave your active turret and drone out there. Dismantle them by holding down their respective assigned ability buttons. You'll get their cooldown times halved so they can be ready for the next fight a lot quicker than usual.
Tackle Side Missions & Capture Control Points
These side jobs scattered across Washington D.C will net you experience and extra loot so that you can tackle Main Missions without much hassle. This works well with a team; you can search for people to party up with in every Main Mission.
Control Points also house storage rooms; when you complete a control point mission, it unlocks. Which means you get access to possible high-tier or purple-coloured loot depending on how high your level is.
Upgrade Your Crafting Table
Do this when the option is available. Material limit is capped so you might as well find the best way to spend all of it instead of hoarding. When you first interact with the crafting table (before you select any pieces you want to craft), choose the "Upgrade Crafting Table" option.
Start Donating
Donating resources and completing projects are a surefire way to net more loot for your character. Just keep track of what you need for each Project you see in each town and community; they range from donating to captured spots to helping out people in distress while free-roaming. Plus, a little extra XP and loot while doing these do not hurt the experience.
Salvage Your Excess Items
You're going to run out of space to keep all your weapons and horde your equipment. So why not deconstruct them to useable parts for crafting and donating instead?
Play With Friends….And Even With Randoms
We cannot stress this enough. You need to start playing in a group if you want to get through this game.
Enemies in The Division 2 can be smart, can surprisingly absorb more than two headshots, and will not show mercy when outgunning and outflanking you. Sure, you can use your player-assisting gadgets like the healing drone or turret, but higher-level enemies will shoot those down on-sight with godlike precision.
You'll need to have an actual person, friend or stranger, to get your back during free-roaming and Main Mission modes.
Unlock These Perks & Abilities First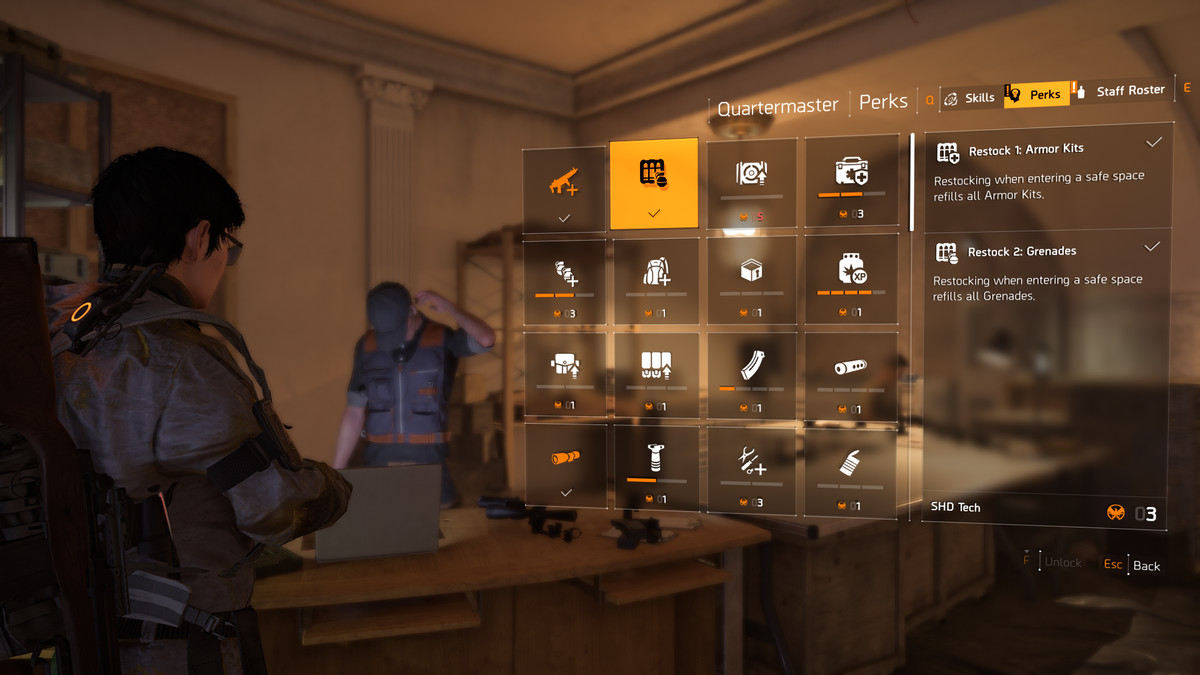 Here's what you should get when you score your first few SHD Tech points and Skill points.
Perks
Detection: After supplying a friendly control point with donations, all lootable containers will be marked in the world. Yes, you can even spot them through walls. Very useful if you want to farm for crafting materials, water, and food.
Extra Inventory/Resource Storage Space: You'll be hoarding weapons and items throughout your journey to level 30. You might as well open up space to keep as much as possible.
Accolades: These perks reward you with additional XP if you shoot enemies in weak spots or go for the headshots.
Abilities
Turret: Get this if you plan to play solo at the start. Having an extra "automated buddy" firing at enemies is useful.
Chem Launcher (Acid): Kills enemies behind cover and chews away armour from elite enemies. Very useful.
Shield: Lets you survive longer. Find a shield that combos with an SMG and assault rifle.
Want To See Everything? Here's The Division 2 Perks List
| | | |
| --- | --- | --- |
| PERK | PERK EFFECT | PERK TYPE |
| Weapon Slot | Enables a second primary weapon can be equipped. | Weapon Slot |
| Restock 1: Armor Kits | Restocking when entering a safe space refills all armour kits | Restock |
| Restock 2: Grenades | Restocking when entering a safe space refills all grenades. | Restock |
| Field Proficiency Cache | 50% chance for a bonus item to drop when opening a Field Proficiency Cache (Requires Lv30) | Field Proficiency Cache |
| Armor Kit 1 | You can now carry 1 more armour kit for a total of 4. | Armor Kit |
| Armor Kit 2 | You can now carry 1 more armour kit for a total of 5. | Armor Kit |
| Armor Kit 3 | You can now carry 1 more armour kit for a total of 6. | Armor Kit |
| Grenades 1 | You can now carry 1 more grenade. | Grenades |
| Grenades 2 | You can now carry 1 more grenade. | Grenades |
| Grenades 3 | You can now carry 1 more grenade. | Grenades |
| Inventory 1 | Inventory capacity increased by 10 slots | Inventory |
| Inventory 2 | Inventory capacity increased by 20 slots | Inventory |
| Inventory 3 | Inventory capacity increased by 30 slots. (Requires Lv30) | Inventory |
| Stash 1 | Adds 20 more slots to your stash storage capacity | Stash |
| Stash 2 | Adds 30 more slots to your stash storage capacity | Stash |
| Stash 3 | Adds 50 more slots to your stash storage capacity | Stash |
| Headshot Accolade | Headshot kills award an XP bonus. | Accolade |
| Multi-kill Accolade | Killing multiple enemies at the same time award an XP bonus. | Accolade |
| Weakpoints Accolade | Kills triggered by destroying weakpoints award an XP bonus. | Accolade |
| Tactical Kill Accolade | Kills triggered by destroying environment objects award an XP bonus. | Accolade |
| Survivor | Not dying for a long amount of time, solo or in a group, will award increasing XP bonuses. | Accolade |
| Detection 1 | Donating enough resources to the control points activates better detection of loot containers in a 20 m radius, for 10 mins. | Detection |
| Detection 2 | Donating enough resources to the control points activates better detection of loot containers in a 20 m radius, for 10 mins. | Detection |
| Crafting Materials 1 | Material storage capacity increased to 100. | Crafting Materials |
| Crafting Materials 2 | Material storage capacity increased to 250. | Crafting Materials |
| Crafting Materials 3 | Material storage capacity increased to 500. (Requires Lv30) | Crafting Materials |
| Magazine 1 | Awards: Tactical small pouch magazine; fits any belt-fed weapon. | Magazine |
| Magazine 2 | Awards: Balanced spring 5.56 mag; fits 5.56 assault style weapons. | Magazine |
| Magazine 3 | Awards: Precision 7.62 mag; fits 7.62 assault style weapons. | Magazine |
| Magazine 4 | Awards: Field pistol mag; fits sidearms. | Magazine |
| Muzzle 1 | Awards: Loud vent brake 5.56 muzzle; fits 5.56 calibre muzzles. | Muzzle |
| Muzzle 2 | Awards: Compensator 7.62; fits 7.62 calibre muzzles. | Muzzle |
| Muzzle 3 | Awards: Small suppressor 9mm muzzle; fits 9mm calibre muzzles. | Muzzle |
| Muzzle 4 | Awards: Osprey 45 suppressor; fits .45 calibre muzzles. | Muzzle |
| Optics 1 | Awards: T2 micro red dot sight; fits short and long top rails. | Optics |
| Optics 2 | Awards: Acog scope (4x); fits long top rails. | Optics |
| Grip 1 | Awards: Short grip under-barrel attachment; fits long rails. | Grip |
| Grip 2 | Awards: Compact coupled small laser pointer; fits non-rail couplings. | Grip |
| Deconstruction 1 | Deconstruction can yield extra crafting materials. | Deconstruction |
| Deconstruction 2 | Chance for a rare material to be awarded when deconstructing. | Deconstruction |
| Resources 1 | The resource inventory can now carry 50 more food, water and components. | Resources |
| Resources 2 | The resource inventory can now carry 50 more food, water and components. | Resources |
| Resources 3 | The resource inventory can now carry 50 more food, water and components. | Resources |
| Hard Bounties | Get access to 1 Hard difficulty bounty per day (Requires Otis Sykes – Staff unlock) | Bounties |
| Challenge Bounties | Get access to 1 Challenging difficulty bounty per day (Requires Lv30) | Bounties |
| Loadouts 1 | A new equipment loadout can now be created in the inventory, for a total of 4. | Loadouts |
| Loadouts 2 | A new equipment loadout can now be created in the inventory, for a total of 5. | Loadouts |
| Loadouts 3 | A new equipment loadout can now be created in the inventory, for a total of 6. | Loadouts |
| Signature Weapon Ammo | Increases the amount of signature weapon ammo dropped. (Requires Lv30). | Signature Weapon Ammo |