How Aladdin 2019 Will Be Faithful To The Original, According To Director Guy Ritchie
Every filmmaker who tackles the live-action remake of a Disney animated classic has to go through the same kind of hurdle: how does it become different while adhering to the spirit of the original? In director Guy Ritchie's case and his adaptation of 1992's Aladdin, it's about maintaining that balance and also adding in meaningful changes that attempt to elevate its source material.
Here are the two things that stood out in this film's production process, according to a recent io9 interview.
Weaponizing Nostalgia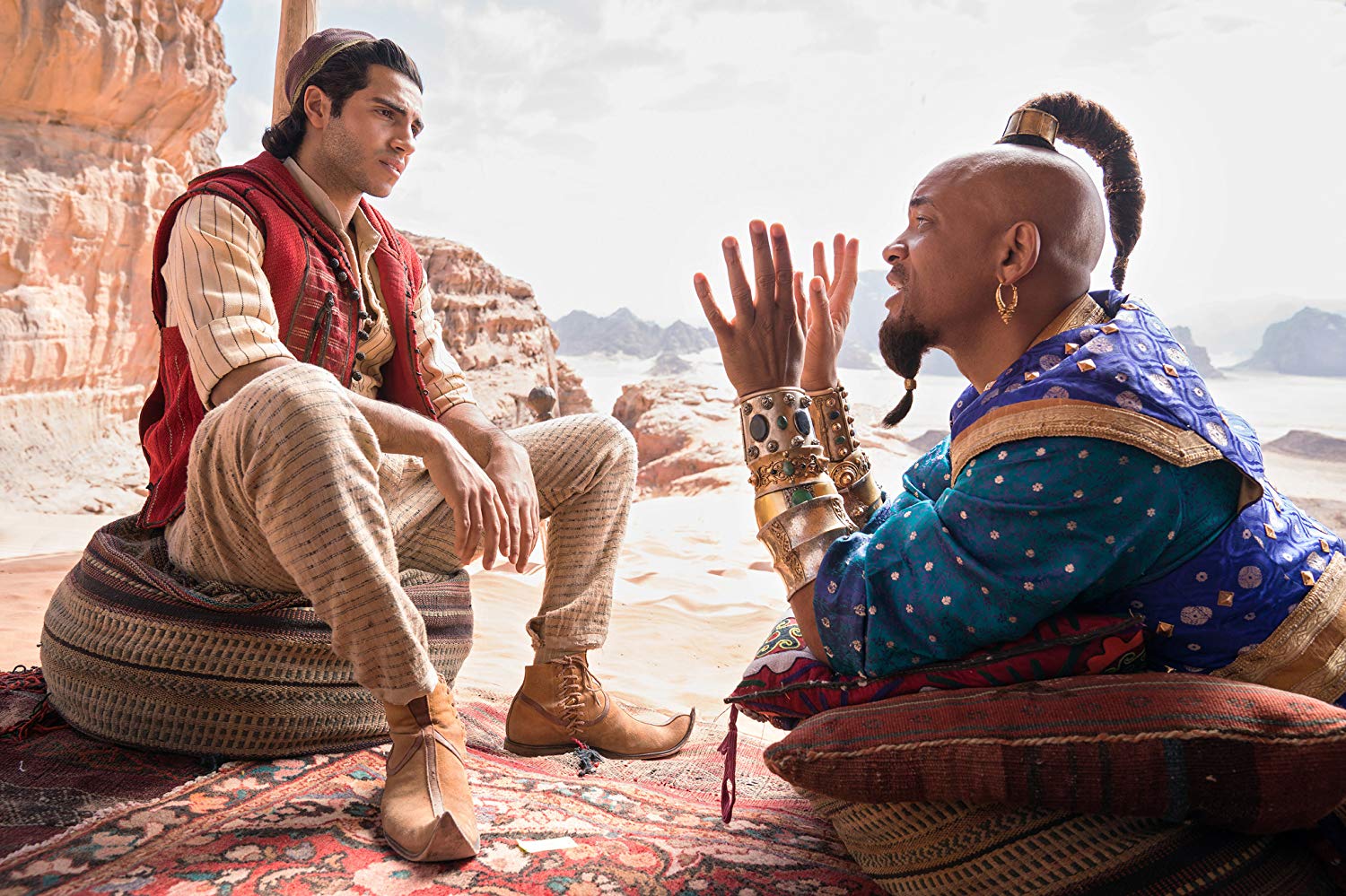 You should know the drill to this 1992 tale: young thief Aladdin (Mena Massoud) falls for Princess Jasmine (Naomi Scott), gets conned into getting a lamp for evil scheming vizier Jafar (Marwan Kenzari), ends up possessing said lamp which houses the powers of the Genie (Will Smith). Of course, there are a few changes in this adaptation.
For starters, Abu and Iago are portrayed a little more realistically; they don't talk as much and aren't as animated as their 1992 counterparts. "We made a decision that our animals were going to feel quite real," said Ritchie. "So the parrot can't talk in paragraphs."
"We're also trying to straddle the line of being humorous, yet you want to feel gravity and the stakes need to be real. So there's quite a lot of lines you have to find in order for it to feel complete."
Ritchie also stated that there's a sweet spot in stroking one's nostalgia and making embellishments that make sense. "[These] need to feel fresh and worth it. Otherwise, that familiar experience can taste rather bitter."
"Once you're in and you buy into the frequency of how it is that we're going to tell that story, then you're receptive to new ideas and minor jaunts off the well-trodden path. It needs to feel fresh, right? You don't want to just watch it frame for frame. But what you do need is to know that it's essentially, actually more than essentially, loyal to the original.
As [we] approached certain components in the original [we] thought 'Could we trump this in any particular way? And sometimes you could and sometimes you couldn't. But everything was up for 'If it can be improved, let's try to improve it."
Fleshing Out Princess Jasmine
While 1992 Aladdin's Princess Jasmine was a headstrong princess, she was a Disney trophy wife for Aladdin to win in the end. This 2019 remake plans to change that for the show's female lead. She gets a larger part in the remake, complete with a new story arc, stronger motivations, and a brand new song exclusive to this film. For instance, you see her popping up at the very start of the film alongside Aladdin in the first 10 minutes.
"If there was anything that could use some evolution in this narrative, it was that there needed to be a voice given to Jasmine," said Ritchie. "It just felt like there was an obvious space there that we could work on." He added a bit about "equality of challenge", where Jasmine needed more of a challenge in the movie.
Going back to the balance at hand, Ritchie said that this new, updated Aladdin may be worthy for fans of the original. "I remember when I first read the script…I thought there were tweaks that needed to be made in order to make it funny and contemporary and so on. But I like those challenges. I don't want to stray too far from what it is that you expect from Disney in the same way as I don't want to stray too far from what it is you expect from Aladdin."
So will this adaptation be "fresh" and "worth it"? Is Princess Jasmine's new updated arc worth sitting through? Find out on our review in a few hours' time.