By Alleef Ashaari|August 13, 2019|
Asterix and Obelix from The Adventures Of Asterix may not be as popular as American superheroes but they're considered as one of the most iconic European comic book properties, sitting alongside the likes of TinTin and Beano's Dennis The Menace. Fans will be glad to learn that a brand new game featuring the Gallic duo is coming out later this year.
Asterix & Obelix XXL 3: The Crystal Menhir is slated to release for the PS4, Xbox One, PC, and Nintendo Switch on 21 November 2019 (via Amazon Germany). It's actually a sequel to 2006's Asterix & Obelix XXL 2: Mission: Las Vegum, which was originally released for the PS2 (the remastered version is now available).
Just like its predecessor, Asterix & Obelix XXL 3: The Crystal Menhir will be an action-adventure game with beat-em-up combat with puzzles, exploration and collectables galore. It will also offer couch co-op, with one player controlling Asterix and the other, Obelix.
The synopsis reads:
The story begins in the small village of Armorica, where a daily peace reigns.

But one day, the Druid Getafix receives a strange message that will lead our friends on a unique adventure.

Helped by the mysterious Crystal Menhir, they will travel far away and face dangers like no other.
Asterix & Obelix XXL 3: The Crystal Menhir will be playable at the upcoming Gamescom 2019, which takes place from 20 to 24 August 2019 at the Koelnmesse in Cologne, Germany.
The sudden resurgence of the Asterix & Obelix games is not a coincidence, as the licence for the franchise's game adaptation was acquired by French developer Microids and publisher Anuman several years ago.
Check out the Asterix & Obelix XXL 3: The Crystal Menhir Collector's Edition below, which comes with a large figurine of Obelix and his dog, Dogmatix, as well as two smaller figures of Asterix and Obelix.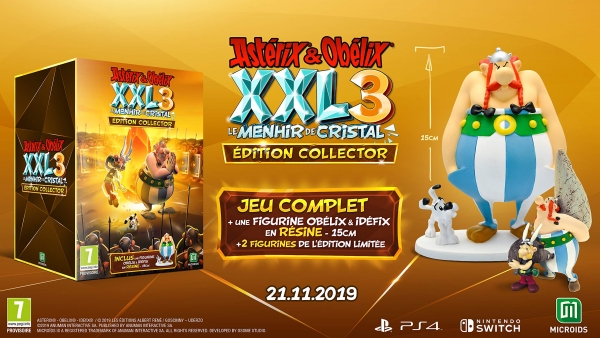 ---