Miss Ramadan Bazaars? This Malaysian Graphic Designer Recreated One In Animal Crossing: New Horizons
The holy month of Ramadan has arrived, but this year's occasion marks a stark change for Malaysians and other Muslims around the world who will have to spend the fasting month in self-isolation and quarantine amidst the COVID-19 coronavirus pandemic.
Many have turned to video games to fill their free time while staying at home. While we've seen major recent releases like Final Fantasy VII Remake and Doom Eternal, the one game that's been taking the world and the Internet by storm is actually none other than the Nintendo Switch exclusive Animal Crossing: New Horizons.
One of the things Muslims (especially in Malaysia) look forward to during Ramadan season are the lively Ramadan food bazaars. They're considered the annual highlights of the fasting month. As crowded or stuffy as they usually are, many still flock to these bazaars without fail to buy their favourite food and drink, like murtabak, roti john, and other delectable delights.
If you miss them, have no fear. A Malaysian graphic designer named Fizah Rahim has taken the time and effort to recreate an authentic Malaysian Ramadan bazaar in Animal Crossing: New Horizons. This is arguably the first-ever Ramadan bazaar made in Animal Crossing history.
How It Started
Fizah the co-founder and design director of Machineast, had the brilliant idea of making an in-game Ramadan bazaar in Animal Crossing: New Horizons when she was figuring out what to do with her island. Her eureka moment arrived when both the Malaysian and Singaporean governments announced that both countries will be cancelling the usual Ramadan bazaars.
The rest of her island is based on a Japanese theme, which was her initial plan before she thought of Ramadan bazaars. This impressive feat took her a whopping three weeks to accomplish; you can check out the results below.
While recreating Ramadan bazaars in Animal Crossing: New Horizons, Fizah also encountered several obstacles at the beginning, which she managed to solve by being creative and using ingenious solutions.
"One of the thing that sparked the idea was also having the bamboo shoots in the game," she told Kakuchopurei.

"I always thought it looked like lemang. One of the main challenges for me was to find items that would fit the local Malaysian vibe. I had to work around a few things like making the Sarawak kek lapis out of hats and sushi chef hat as songkok.

I found the baju kurung and baju Melayu design by Radnabs (on Twitter).

I will be adding more clothes later on with a mix of my design as well as others. I wanted to make it done by the first day of the fasting month, of course.

There were many iterations, but I'm quite happy at how it turned out now."
She also shared more photos from her Animal Crossing: New Horizons Ramadan bazaar, showcasing the many individual stalls that are strewn throughout the place. These include ones that sell delicious Sarawakian layer cake (Kek Lapis Sarawak), fruit juices (including coconut drinks), and of course, the Malaysian national favourites that are lemang and rendang.
There are also clothing stalls at her bazaar, selling festive and traditional clothing for the upcoming Hari Raya. You can see a baju melayu, kebaya, and even a jubah for good measure, with the accompanying songkoks and other headwear as well.
Coping With Cabin Fever
Countless other Malaysians are coping with the currently ongoing MCO (Movement Control Order) by showing off their own special islands and activities in Animal Crossing: New Horizons. They're all sharing their unique experiences in the 40,000-strong Nintendo Switch Malaysia Group as reported by the Malay Mail, though this is the first Ramadan bazaar we've seen in an Animal Crossing title.
It's the same case for Fizah as well. Her friends were the ones who persuaded her to buy Animal Crossing: New Horizons in the first place and the rest, as they say, is history.
"Before I played Animal Crossing: New Horizons," she said, "I was feeling anxious due to the constant bombarding of news and statistics regarding the global pandemic.

It was not healthy, so after a few friends of mine in Montreal (Jin and Mayling) suggested to me to purchase the game and meet them via Animal Crossing, I was in!

Now I even meet a lot of other friends on it as well. Our 'lepak' or 'mamak' session during quarantine to fight off the cabin fever that we are all feeling."
Unfortunately for visitors to her island, you won't be able to actually buy any of the stuff that's "on sale" at her Ramadan bazaar. Fizah admitted that it's all mostly just cosmetics but that other players can still come and shop at the Able or Nook store if they do visit.
You can visit Fizah's island and Ramadan bazaar by throwing her a polite DM on her personal Twitter and Instagram accounts to ask for a Dodo Code invitation.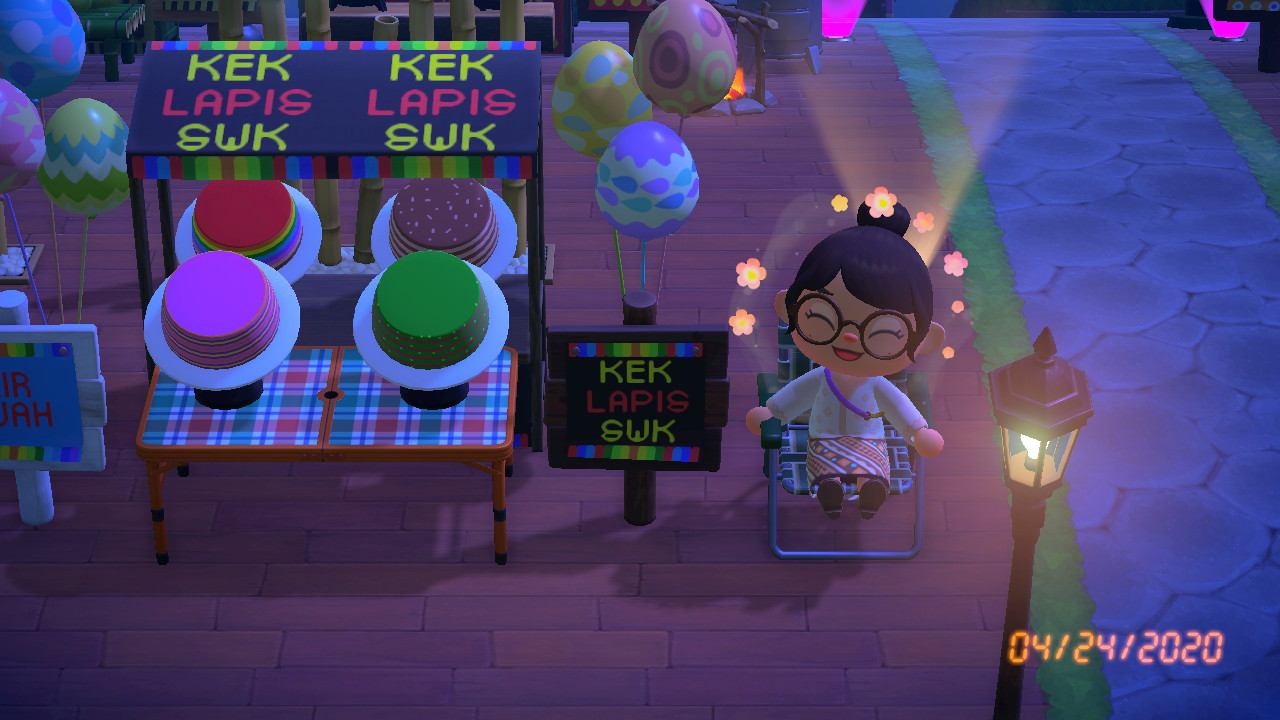 ---