Samsung Neo QLED Teams Up With Global Esports Games As Official Technology Partner
Samsung Neo QLED has announced that they will be the official technology partner for the Global Esports Games in Singapore; the flagship event of the Global Esports Federation and one of the most prestigious global gaming tournaments. 
At the Global Esports Games, Samsung will be showcasing its award-winning gaming displays, most notably the flagship Neo QLED QN90 TV, one of Samsung's best TVs for gaming performance. Beyond Samsung's flagship gaming TVs, the brand also offers an entire range of TVs equipped with special features to enhance the gaming experience. Read on to find out more about how you can level up your gaming experience with Samsung's gaming TVs. 
Regardless of which Samsung gaming TV you decide to purchase – whether it's the flagship QN90A Neo QLED, the Q80A QLED, or the more accessible Crystal UHD AU9000 – all of Samsung's TVs are equipped with features tailor-made for gamers – namely Motion Xcelerator Turbo, Super Ultrawide GameView & Game Bar, Auto Low Latency Mode, as well as the integration of AMD FreeSync. 
For starters, all Samsung's gaming TVs are equipped with the latest HDMI 2.1, allowing for higher resolutions, higher refresh rates and a lot more bandwidth. Once plugged in, Super Ultrawide GameView enables bigger and wider screens with 21:9 and 32:9 aspect ratios that allow you to see more viewing area – letting you capture details in the periphery you might have missed. 
In addition, Samsung's gaming TVs allow gamers to customize their gaming experiences, with the Display Game Bar enabling easy control of screen ratio adjustment, input lag check, Frames-Per-Second (FPS) rate and more.
Meanwhile, Auto Low Latency Mode (ALLM) optimizes your screen, giving you more control with barely noticeable input lag so that you can experience smooth gaming in its most impressive form without motion blur!
Lastly, Motion Xcelerator Turbo enables smoother motions and clearer images even at soaring speeds, with exceptional motion enhancements up to 4K 120Hz.
With so many awesome features for gamers, you might be spoilt for choice with Samsung's wide range of gaming TVs – so here's a quick guide to picking the best gaming TV to suit your gaming needs! 
For gaming purists seeking the ultimate gaming experience
:
Neo QLED
QN90AÂ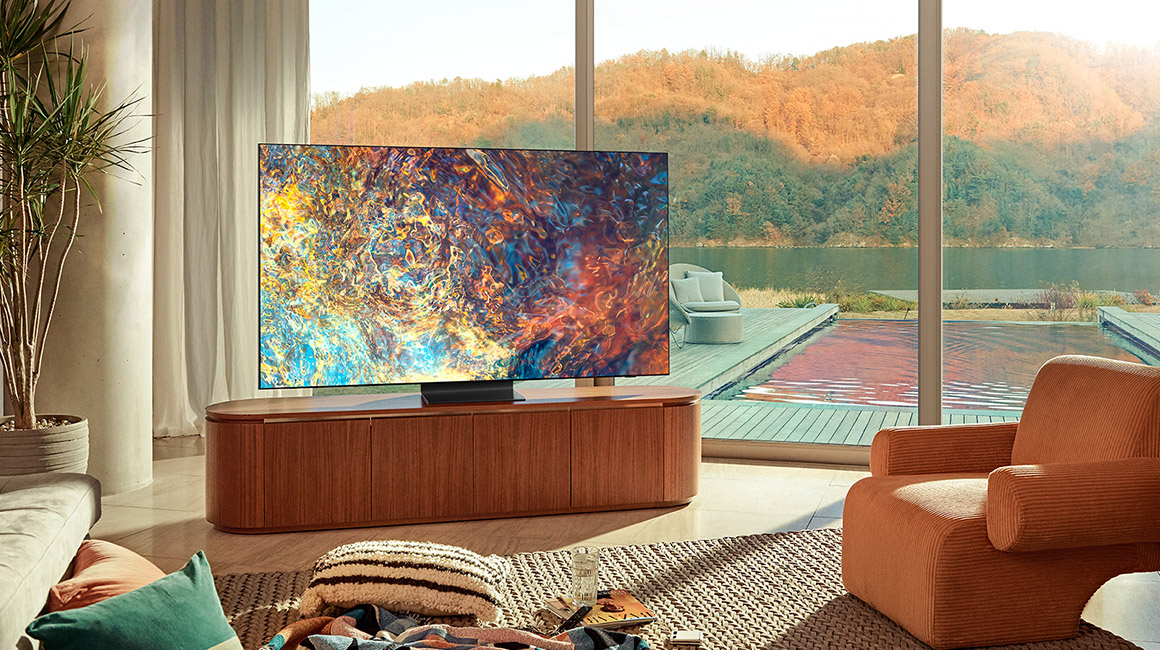 The cream of the crop within Samsung's range of gaming TVs, the QN90A Neo QLED is equipped with industry-leading Quantum Matrix Technology, the pinnacle of ultra-fine light control.
Additionally, the QN90A Neo QLED is one of the first TVs to offer support for AMD FreeSync Premium Pro Technology. The technology enables a true HDR gaming experience, delivering a combination of smooth tear- and stutter-free gaming at peak performance with stunning HDR visual fidelity and low latency. Round off the immersive experience with Object Tracking Sound+ (OTS+), comprising built-in speakers which produce dynamic sound that tracks the action from all corners for a whole new level of 3D sound realism. 
For avid gamers seeking a more accessible gaming TV option: Q80A QLED
 
If you're an avid gamer looking to enjoy the cutting-edge features of the QN90A at a more accessible price point, the Q80A QLED is the one for you. 
Despite its lower price point, the QLED Q80A still comes equipped with many of the features on the flagship QN90A Neo QLED, including Motion Xcelerator Turbo+. With exceptional motion enhancements of up to 4K quality and 120Hz refresh rates, the QLED Q80A lets players enjoy ultra-smooth gameplay without lag and motion blur.
Other features it shares with the flagship QN90A Neo QLED include the Quantum Processor 4K, a powerful processor that optimizes picture quality to enhance content, and FreeSync Premium Pro.
For casual gamers seeking a top-notch gaming experience
:
Crystal UHD AU9000
If gaming is more of a casual or social pastime for you – perhaps you enjoy a round of FIFA 22 with friends and family on a lazy Saturday afternoon – consider the Crystal UHD AU9000 TV.
Despite being the most accessible model of the bunch, the Crystal UHD AU9000 packs a punch nevertheless, with features similar to the cutting-edge innovations found in flagship models.
For starters, the TV is powered by a Crystal Processor 4K chip, which meticulously analyzes low-resolution videos scene-by-scene, adjusts colours, and enhances contrast and HDR.
Meanwhile, similar to the OTS+ feature found in flagship models, Object Tracking Sound (OTS) lite on the AU9000 delivers 3D surround sound enabled by two virtual top channel speakers created through Samsung's AI algorithms. As an added bonus, Multi View lets you watch what's on multiple channels at the same time – perfect for when you're sneaking in a game or two of FIFA22 during half-time of a blockbuster soccer match!
There is no better time than now to make your Samsung QLED TV purchase with the ongoing Smarter Gifts for Celebrations promotion that is running from 15th November 2021 to 20th February 2022. Head on to https://www.samsung.com/my/offer/smarter-gifts-2122/tv/ for more details.  
To find out more about Samsung's wide range of gaming TVs, check out this link https://www.samsung.com/my/tvs/.