Overwatch 2 is coming out next month on 4th October, and just like other multiplayer shooters, it's planning to stay relevant and competitive.
Part of Overwatch 2's free-to-play strategy is to implement battle passes, which is common in online F2P games. You do activities, you level up the battle pass and get respective freebies and rewards based on the unlocked tier. Overwatch 2 will feature a Season 1 Premium Battle Pass which involves upcoming heroes, according to a Reddit thread that took a screenshot of the game's description box before it was taken down. Oh, and the game's next hero is a character called Kiriko.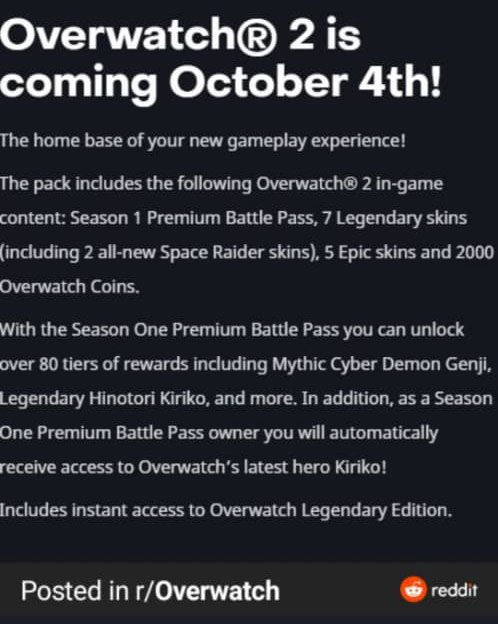 According to the info, the Season 1 Premium Battle Pass will let you unlock over 80 tiers of rewards including Mythic Cyber Demon Genji, Legendary Hinotori Kiriko, and a ton more. While this may allude that people will have to pay money to unlock new upcoming hero Kiriko, Blizzard Commercial Leader & VP of Overwatch Jon Spector said that it isn't the case.
He stated that all upcoming and new Overwatch 2 heroes will be available on both the free tier track and premium paid track of the game's Battle Passes. So no: heroes will not be behind a paywall.
Having Kiriko on the Battle Pass as an unlockable character is akin to players spending time in a game to unlock new characters, though it remains to be seen whether it'll be a long grind to get to her tier. In a game where counter-picking heroes is paramount, this might put a damper on some player's plans who just want the hero ASAP. Overwatch 2 will be out as a free-to-play game on 4th of October for PC and consoles.