Geek Fam Are The First Malaysian Team To Reach PUBG Mobile Global Championship Finals
By Lewis Larcombe|December 1, 2022|
Following the end of the League Stage for Group Yellow in the PUBG Mobile Global Championship (PMGC) 2022, Geek Fam emerged at the top of the scoreboard, making them the first Malaysian team to make it to the Grand Finals.
Competing with 15 other teams over a span of four days and 24 matches, Geek Fam made their mark and dominated the competition, never dropping below the third spot and ending the stage with a total score of 292 points and 148 eliminations, securing the top spot on the roster.
The squad, consisting of Irzam Aman "DamRUDE" Zaini, Nabil "Snipes" Nazaruddin, Daim "Mica" Rosli, Nadzrul "SONIX7Days" Abdul Sagal, and Dhiya "uHigh" Ulhaq, qualify to the Grand Finals, joined by team Four Angry Men and Trained To Kill from China and Nepal respectively.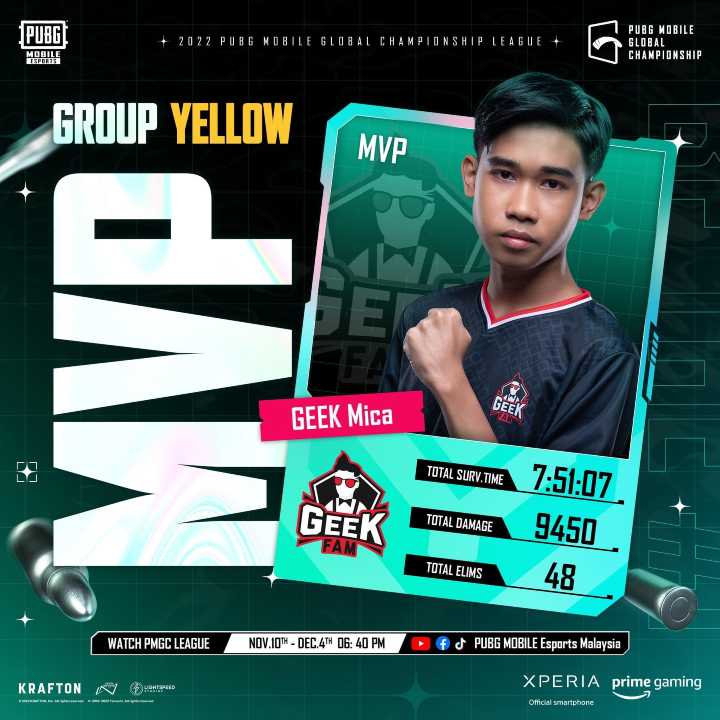 Mica showed particular prowess, emerging as the MVP for Group Yellow and accumulating impressive stats to his name; 48 total eliminations, dealing a total of 9,450 damage, and a whopping survival time of 7:51:07.
Following this, the championship heads into its Survival Stage where the remaining teams placing 4th to 11th from Group Green, Group Yellow and Group Red, which features Malaysian team 4Rivals, will go head-to-head. The top 16 teams at the end of the Survival Stage then move on to the Last Chance, where they will vie for a spot in the top 5 to secure their place in the grand finals.
PUBG Mobile Global Championship is an annual international PUBG MOBILE tournament where teams from all over the world compete for the highest honour of any esports team or player involved in the game. This year, a total of 51 teams from across the globe compete for a chance to win a prize pool of US$4,000,000.
Related