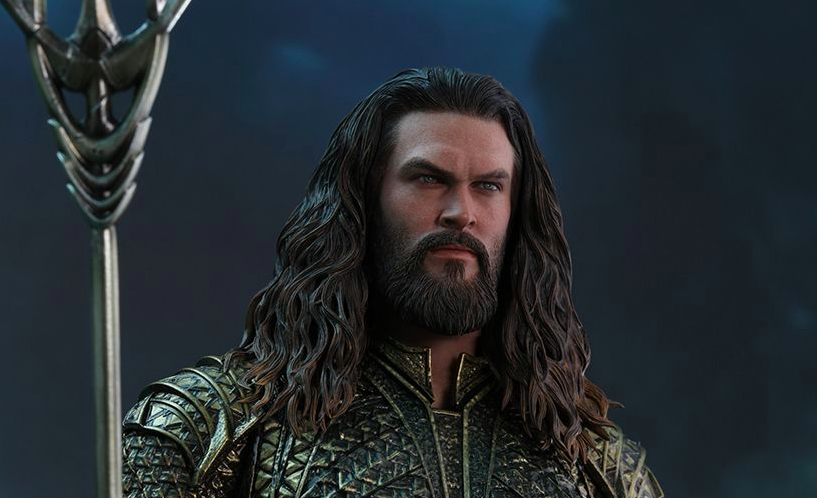 by in
Hong Kong high-end action figure producers Hot Toys recently unveiled the 1/6th scale action figure of Aquaman, played by Jason Momoa who is set to appear in DC's Justice League come this 16th November 2017.
As all Hot Toys 1/6th scale action figures do, Aquaman stands at about thirteen inches tall (33 cm) and comes with several swappable hands to go along with the true-to-film depiction of the character. Based on the prototype pictures, the figure comes equipped with his trusty trident and will have thirty points of articulation. The hair is sculpted tho – a wise choice considering figures with rooted hair tend to turn out pretty bad once they hit mass production.
This slideshow requires JavaScript.
What we love the most about the action figure tho is the intricate sculpts seen on his suit. Based on the pictures, due to the lack of creases, we are certain they aren't form-hugging suits as seen on Superman or Batman figures; but instead sculpted right off the plastic form of the figure. However the waist area may be covered by some sort of material to aid with the articulation.
"But where's the shirtless version!???" you ask? Our suspicion is that this isn't going to be THE ONLY Aquaman figurine Hot Toys are going to release so we'd hold our wallets before committing to buy it. Give it a few weeks – we are confident a 1/6th shirtless Aquaman version with a different headsculpt is coming our way from Hot Toys.
Pre-orders for the figure is now open and you can expect so see it hit shelves around Q3 – Q4 2018. Based on our quick check, XL-Shop retails it at MYR838 – quite a reasonable price considering the lack of accessories, yet balanced with the sculpt work put into it.
---