When MSI GAMING announced it was opening its very first Flagship Store in KL, no one would imagine it would be a two-storey concept of awesome.
While it had been open to fan-events for weeks, the MSI GAMING Flagship Store in KL – the biggest in the world – just celebrated its grand opening with a ribbon-cutting ceremony and a whole day of eSports excursions. It's parked outside the main entrance of Low Yat Plaza, making a very hard to miss landmark.
For MSI GAMING fans, this is a dream come true. For gaming and eSports enthusiasts, the new double level store is a testament to the massive success videogames hardware is in the consumer space.
As for MSI GAMING, it is the best time to toot its horn and really thumb its nose at naysayers and rivals. It is also the Taiwanese PC hardware maker's way to reaffirm its efforts for all gamers that are supportive of the brand when it made the big push into the gaming notebook space.
Of course, this isn't all about gaming notebooks as MSI GAMING also peppered its new Flagship Store with the latest in hardware and peripherals. All these are placed around the ground floor area next to the high-spec driving simulator, demo zones, and peripheral test spots.
The biggest showpiece on that ground floor is the virtual reality (VR) sector. A designated corner has been specially built to fit a raised platform, with just enough walking space and packing tonnes of sensory equipment, for the VR experience. Enabling this is the MSI VR One Gaming Backpack and the HTC Vive.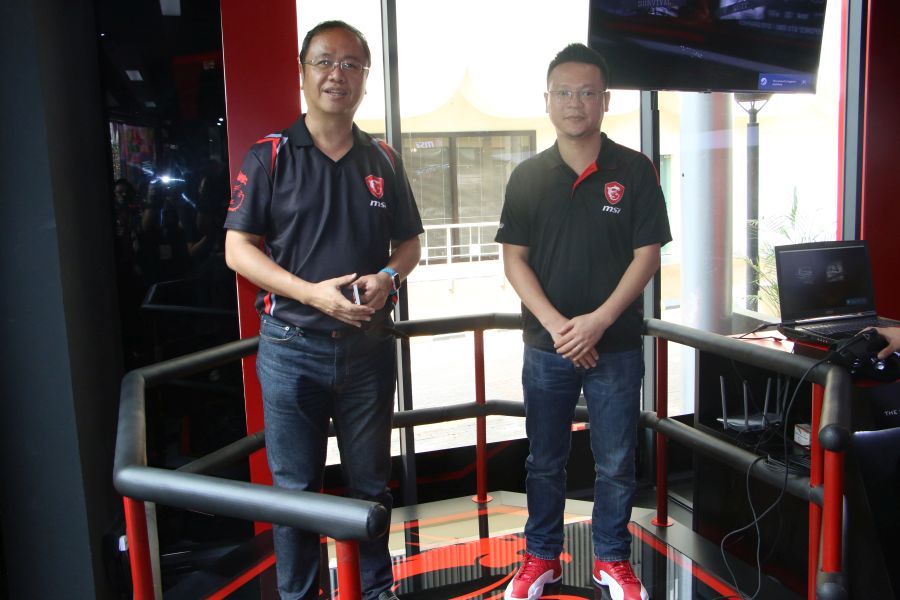 Amusingly, the platform is big enough for two folks as proven when Sam Chern, Corporate Marketing Director, MSI GAMING Global, and Henry Chung, Notebook Sales and Marketing Director, MSI GAMING Malaysia, used it for the press conference.
Running a close second to that is the Matrix Display monitor array that MSI has setup with its latest flagship gaming desktop PC, the MSI Vortex.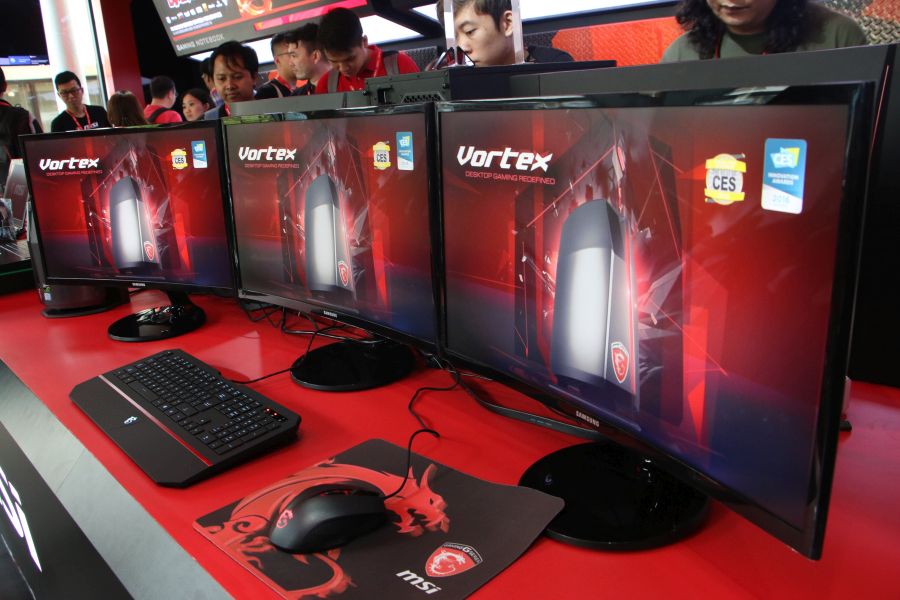 The most interesting aspect of the store is on the first floor of the MSI GAMING Flagship Store. Here, the entire floor is used for one thing only: eSports events. Be it for training, exhibition matches, casual gaming, or out-and-out ranked fights, the store is more than ready to play hosts.
With a giant MSI GAMING Tribal Dragon logo that dwarfs the entire area, it is a literal gamers den with stacked tables that can be configured for any tournament setting. The hardware and peripherals used, undoubtedly, are the latest and greatest from MSI GAMING.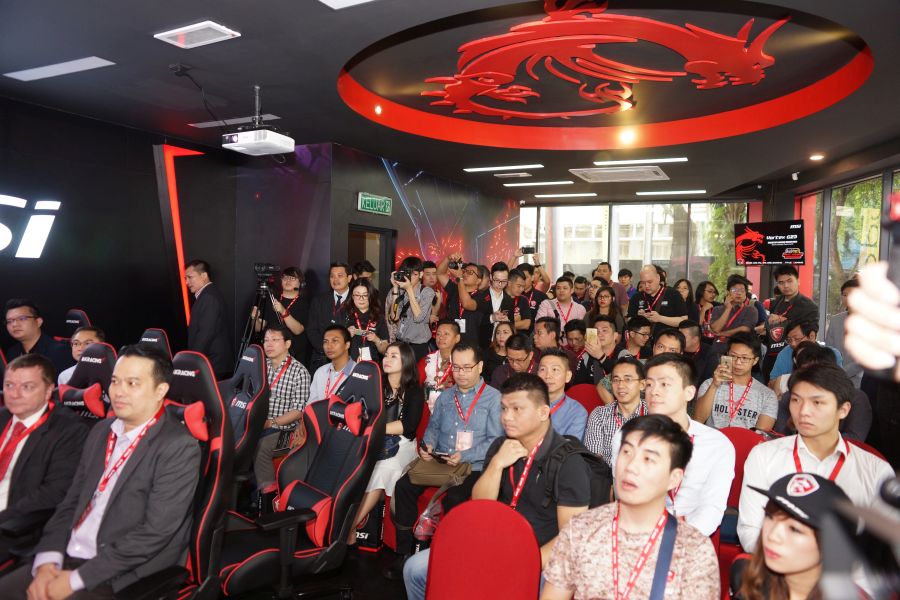 Anyone keen to use this zone are more than welcomed to call in and ask. MSI GAMING is ready to take on any gamer event as the equipment used have been optimised for all popular titles and user-types: casuals, enthusiasts, and hardcore.
"Southeast Asia is our biggest market so it is only right that we picked this region as the launchpad for our first ever, and now the world's largest, flagship store for MSI GAMING. We chose Malaysia as it has the largest fan-base for our brand. So we're here to reinforce our commitment to our fans and encourage them to celebrate their passion for MSI GAMING. With our first floor offering, we are now deeper with our association in eSports. It is an explosive marketplace and that is where we want to be," Chern shared.
This is a huge step up for MSI GAMING as it had always been seen as a hardware supplier for these events. Now it wants to play host as well – a very good move for the eSports space.
Chern came to the MSI GAMING Flagship Store opening, along with his senior executive colleagues from MSI Global, to officiate the ribbon cutting ceremony. Included in this momentous occasion are folks from Low Yat Group and SNS Network, both major supporters of the development of this MSI GAMING landmark, Intel, AMD, and NVIDIA.
From Malaysia's perspective, MSI GAMING will be doing a lot more with its new storefront. Chung added: "With eSports, we know what we can and cannot do. For this new flagship store, it will focus on augmenting the space with a wholesome location that is very familiar with the fans and enthusiasts. MSI GAMING will have weekly tournaments being organised for fans, gamers, and eSports enthusiasts alike. Keep in mind that, while all are welcomed to host similar events, priority goes to our MSI GAMING fans and partners who need the facilities as and when necessary."
More details on these tournaments can be found at the MSI GAMING Facebook Page.
(Picture Credit: MSI GAMING)
Related