By Kenn Leandre|November 8, 2017|
Sad news guys. Seems that Asian markets will have to wait a little longer before getting to land their hands on the Razer Phone due to the company's current focus on the North American and European markets.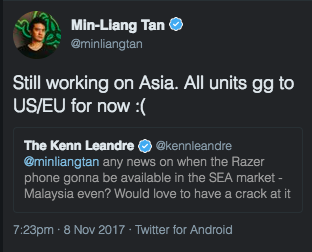 Sad thing, really, considering Razer, a Singaporean-founded company chose to focus on other regions instead of Asia; altho after all things considered, North America and the EU are probably more lucrative, 'sexier' markets for the brand at the moment. But then again, China-based phone makers e.g Oppo, One+, Xiaomi are actively pushing for their products in the SEA regions which pretty much reflect on the burgeoning mobile market here. So what gives? We've contacted the regional offices for review units of the phone and hopefully are able to test it soon enough. Fingers crossed.
Disclaimer: We never sought to actively review smartphones on Kakuchopurei.com but considering the nature of the product, being produced by a games peripheral maker alone qualifies itself as a device worth our time.