Politiko is a card game produced by Malaysia-based Centaur Games just before the country's 13th General Election in 2013. Over the years, several improvements were done, mainly via additions of party and scheme cards to better reflect the ever-changing political scene. To date, they are on their third batch of prints as the cards were highly sought after and with the Malaysian 14th General Election just around the corner, expect the interest for it to be reignited. We revisit and review the card game which put players in the shoes of political party leaders as they scheme and strategize to win an election.
What comes in the box 
A total of 126 cards divided into:
10 Party Cards
58 Scheme Cards
58 Voter cards
Instruction Manual
The Setup
The main goal of the game is to garner as many 'Voter Cards' as possible using 'Scheme Cards' in the game. While the required number of voter cards for a single player to win is seven, like real-life politics, the game makers allow shifting of the goalposts depending on how the players approach the game e.g creating alliances etc. Such alliances is surely necessary if you are dealt with a useless party that has almost zero chance of winning.
According to the game's instruction manual, at the start of each game, 'Every player chooses one Party. The wealthiest player (in real life) chooses first, followed by the poorer players in descending order'. They really don't pull their punches there. However, we tested the random card pick approach and this method does not diminish the value of gameplay whatsoever.
These ten 'Party Cards' reflect real-life Malaysian political parties vying for power in the upcoming General Election. We ain't gonna risk a limb by saying which one is which but just by looking at them you will be instantly reminded of their real-life counterparts.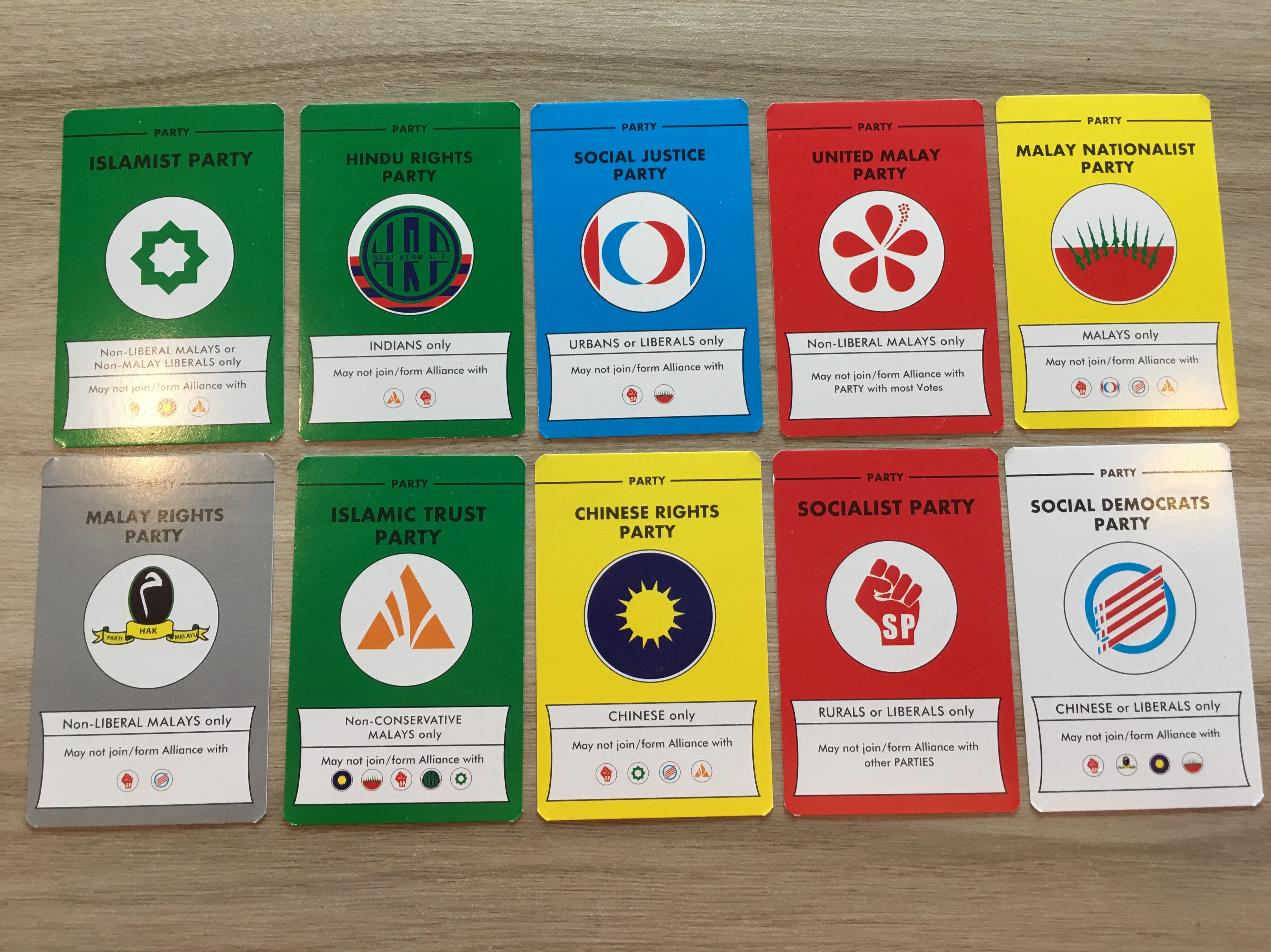 Next come the Voter Cards. A total of 58 cards represent the different facets and population breakdown of Malaysians and are divided into four distinct racial groups; Malays, Chinese, Indians and Others (Lain-Lain). These voters can be either Rural or Urban voters and their leanings are divided into three categories; Conservative, Moderate or Liberal. Example of these voter cards are shown below.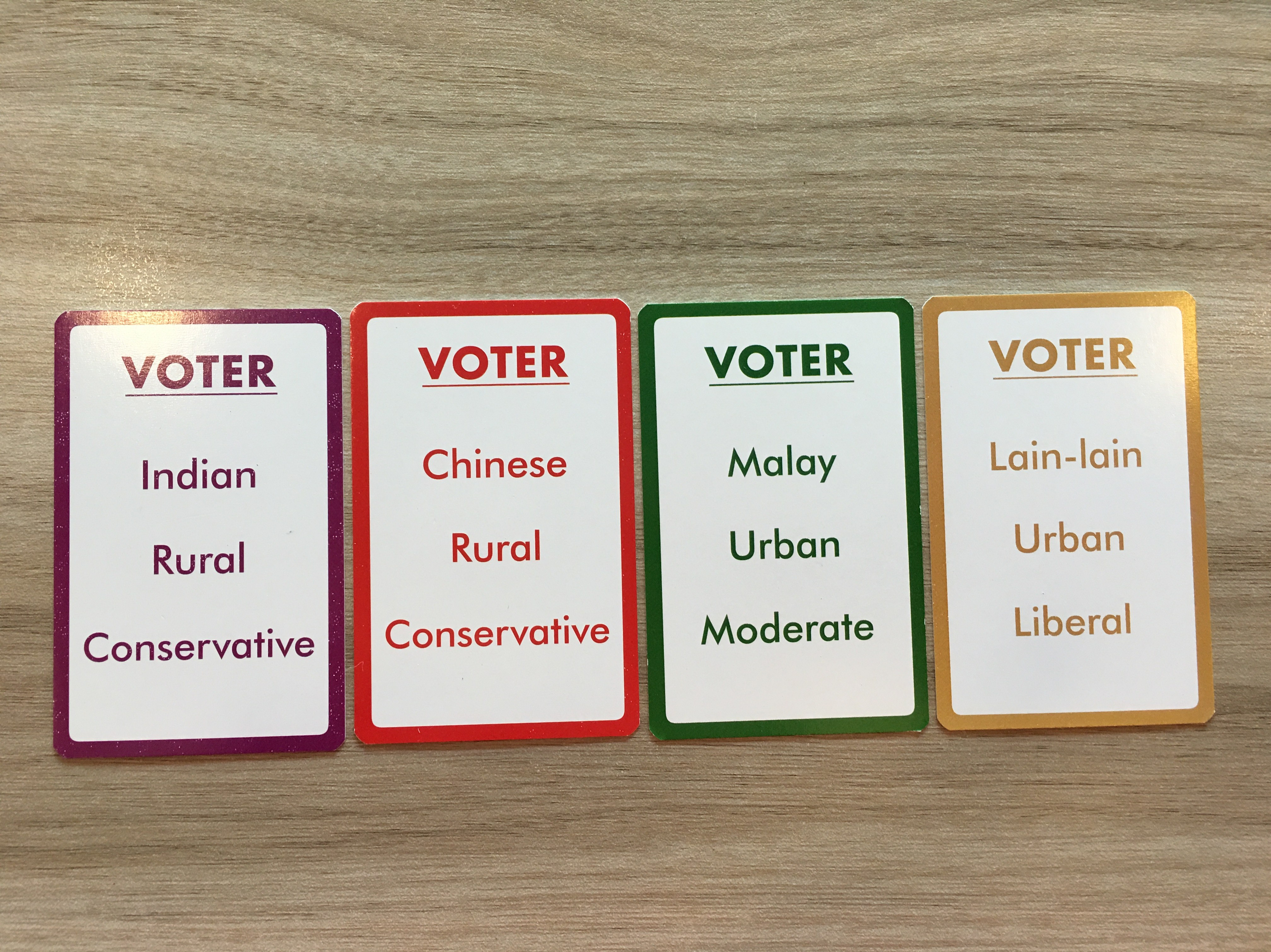 Note: There are variations of each race represented in the deck e.g Urban, Liberal Indian Voters or Rural, Conservative Lain-Lain.
Each player/party can only count on voters who are compatible with their party's ideologies. For example, the Malay Rights Party can depend on 'Non-Liberal Malays' as voters while the Chinese Rights Party can only rely on 'Chinese' voters.  The main goal is to reach the magic number of seven voters, which is easier said than done so a coalition between players is almost always going to happen. By combining forces, the required votes to win also increase e.g 2-Party Alliances : 15 Voters; 3-Party Alliances : 21 Voters.
The Politicking Game
Players take turn in picking two cards from the main deck, half of which consisting of 'Scheme Cards' which can be used to add voters to their respective pile, deny other players voters or even sabotage rival parties. Examples of these cards are shown below.  These cards come with various instructions that can swing the flow in any given time.
During each turn, players are allowed to either declare any number of voters that comply with their party or play two schemes.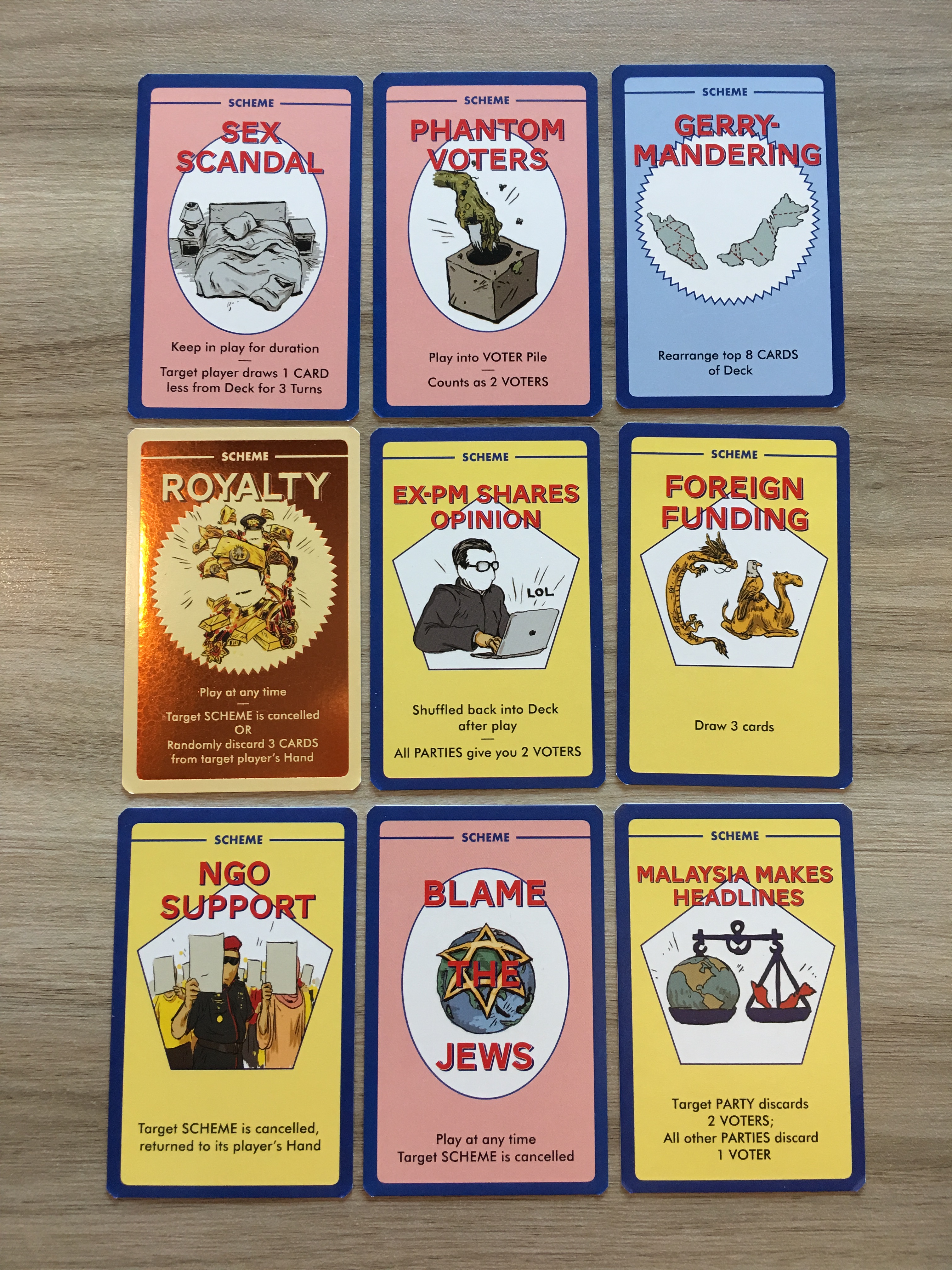 The full instruction can be found in the accompanying booklet when you purchase the deck which costs RM45. The game has a set structure yet flexible enough for players to include their own rules as long as everyone else agrees to abide by them.
TL;DR
Although not a big fan of politics, we thoroughly enjoyed the game and it felt like a more mature version of Monopoly where strategizing and creating alliances is the meat of the playing experience. You will see friends create and break alliances on a whim – just like real-life politicians or the least likeliest of folks combining forces to win the game.
The game, while may sound intimidating and complicated at first, is easy to pick up and you'll soon find yourself scheming like everyone else by your second or third game.  Each session can take up to 30 minutes of gameplay and we feel Politiko has that high replayability rate that would easily fit perfectly as a great party game.
The only downside we can think of is that the game may be too overwhelming for some players, especially with the need to keep track of multiple schemes played at the same time. It helps to have an independent scorekeeper on the side, and with the game having high potential of getting a bit muddled during the middle part, opens up tons of loopholes and opportunities for players to cheat.
Hold on.
That's what politics are all about anyway.
Score: 80/100
Retailing at RM45 per deck, you can get Politiko:Â The Card Game of Malaysian Politics at Czip Lee outlets or directly get in touch with the folks behind it here. A Taiwanese version Politiko is also available and just like the original version, reflects the local political landscape.
A mobile version of the game is now available on Android. The iOS version is coming soon. The full review of it goes up soon so stick around will ya?
---