Ubisoft's Far Cry 5 is quite a wild ride with tons of chaos and replayability. Naturally the company wants to keep at it, which is why they've just announced their first-ever Far Cry 5 DLC to the public this morning.
Here's the short version:
The DLC will be out June 5. That's 2 weeks from now.
The DLC will be set during the Vietnam War, where you control a guy named Wendell "Red" Redler who has to rescue his kidnapped squad. Red sounds like a homage to B-grade action star Reb Brown.
Players will get to use new weapons like the M16 rifle, the SVD sniper rifle, and the M60 machine gun. You can use these in the main campaign of Far Cry 5 too.
Other new additions include the ability to call in bombing airstrikes and a Survival Instinct skill that gives you bonus perks when you chain stealth kills.
Once players complete the DLC campaign, they get access to new game modes. Survival Mode gives players a more authentic sneaking and stealth experience, while Action Movie Mode is basically the amped-up version of what we've been playing since late March.
Check out the DLC timeline for Far Cry 5 below; we've just received it today. We're getting Lost On Mars on July and Dead Living Zombies on August.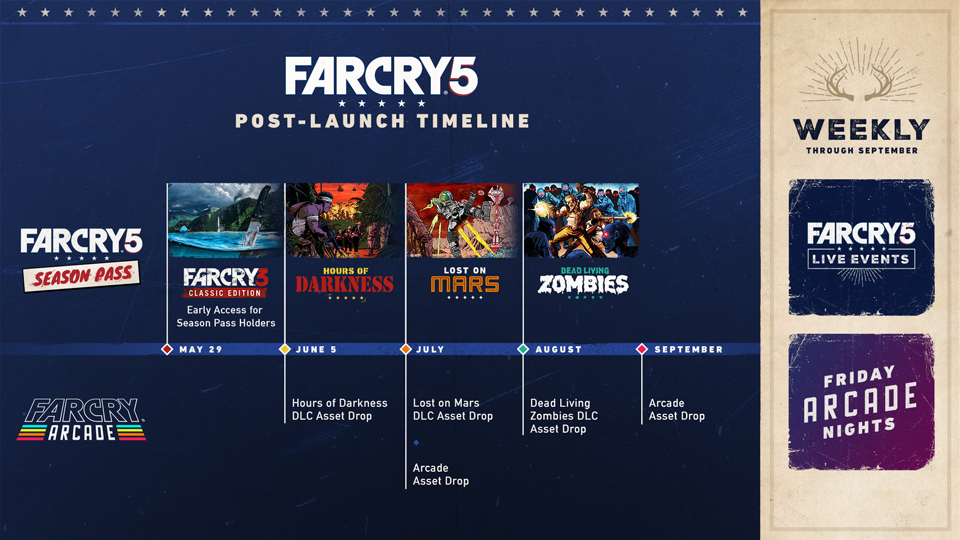 Far Cry 5 came out a few months ago. We gave it a glowing review and also created a guide if you're interested.