By Kenn Leandre|June 5, 2018|
As we head into the final two weeks of the Overwatch League's inaugural season, only one word remain relevant. Playoffs. By the end of week 5 (that's next week), we would know the top six teams set to contest in the seasonal playoff matches taking place between July 11th til the 21st for a shot of that sweet US$1million prize pool awaiting the overall winners.
Before we go any further, here's a quick look at the current league standings: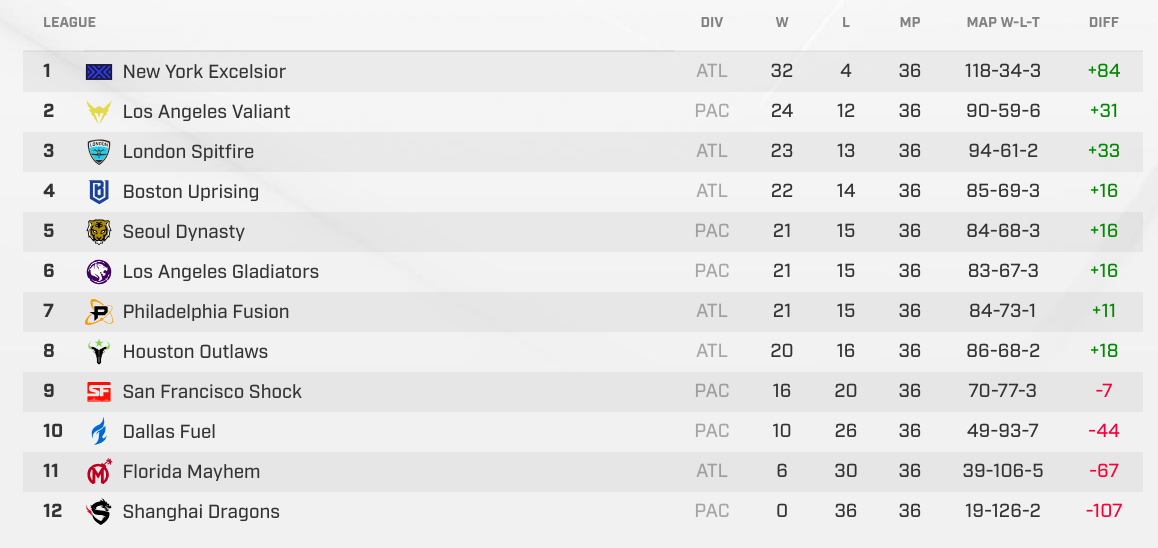 In case you are unaware on how things work, the two top division teams will qualify for the Overwatch League seasonal playoff stages. The remaining four teams, regardless of division will qualify based on their overall standings.
What we know:Â 
The New York Excelsior is in, having secured the overall top spot and top seed last week. Even if they lose all of their remaining matches 0-4, they will still end the season with the best record by a considerable distance.
The San Francisco Shock, Dallas Fuel, Florida Mayhem and Shanghai Dragons are out of contention. Despite their late, Stage 4 surge where they currently sit at 4-2 heading into Week 4, it was a case of little too late for the Shock and Fuel. Florida's 2-8 record in Stage 3 and their current 0-6 run in Stage 4 didn't do them any favors and like the Shock an Fuel, are only playing for pride and stage playoff glory in the remaining matches. The winless Dragons will hope to break the duck and find the elusive win in the final four matches to avoid the embarrassment of finishing the season 0-40. Their best hope would be against the flailing Mayhem and the out-of-sorts Boston who have been a pale shadow of their Stage 3 selves.
Up Next: Valiant or Spitfire in third
Related