The latest Steam 2018 year in review stats from Valve is out and its numbers are growing bigger than ever. Here's the first part:
There are 47 million daily active users on the platform.
There are 90 million monthly active users.
The platform peaked at 18.5 million concurrent users.
There are at least 1.6 million new purchasers per month.
What does this have to do with the headline about China and South Korea? That's where we get to the next part of the stats.
Here is the Steam worldwide player base represented in a colourful graph chart. Note how far behind Southeast Asia (Malaysia, Singapore, Philippines, etc.) is in volume when compared to Asia (China, South Korea). All we can say is that China and South Korea is really big. In fact, the player base in Asia is slightly smaller than the North American and Western European chunk of the chart.
What about Japan, you may ask? Hah! Time and again, Japan's PC market is pretty niche; it only counts as a fraction to Asian playerbase numbers when compared to China and South Korea's PC and internet cafe culture, and VPNs.
Furthermore, Valve's future plans include partnering with Perfect World to bring Steam onshore into China, legally. And they're planning on doing a Steam PC Cafe Program where players can experience the joys of Steam in hundreds of thousands of PC cafes worldwide. No prize for guessing which Asian countries have a high PC cafe gaming rate; we do wonder if this will apply towards Southeast Asia where the LAN culture is still prevalent.
Miscellaneous
A lot of people love playing Steam games on a, surprise, surprise, Xbox 360 and Xbox One controller. Probably due to the fact that it's easy to read on PC than a PS4 controller.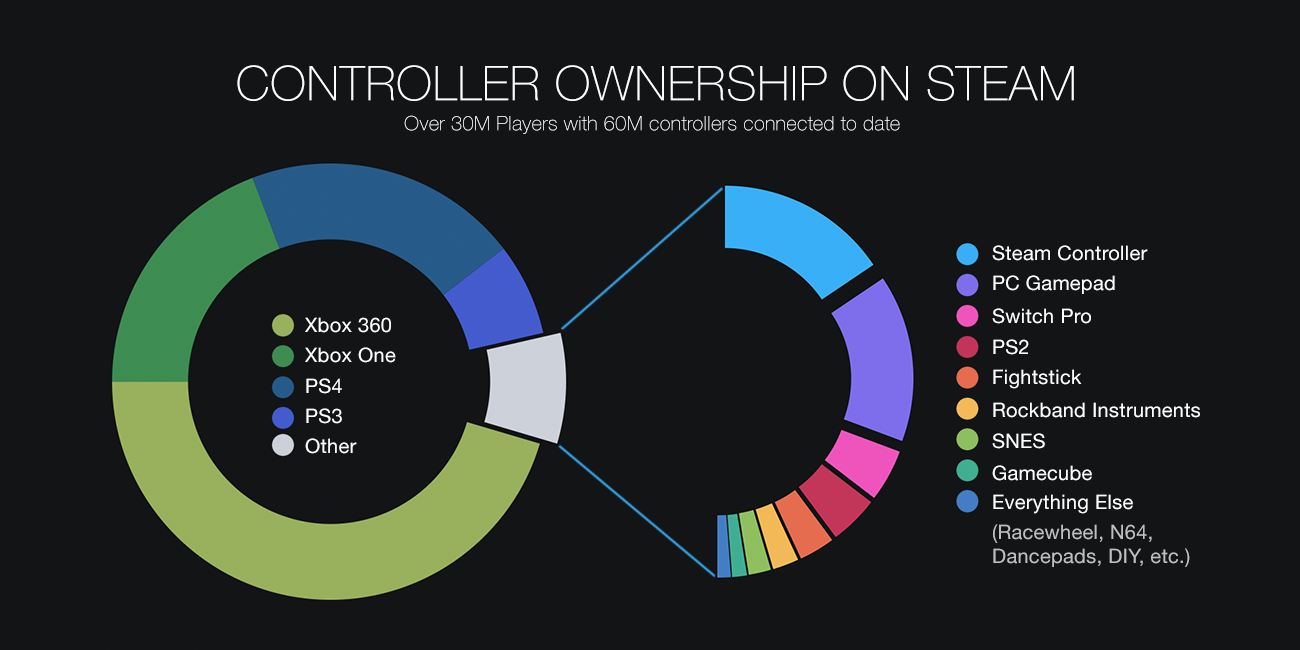 Steam humble brags that it has delivered 15.39 exabytes of data to Steam customers. One exabyte equals one billion gigabytes.
Other future plans for Steam include