By Syazwan Bahri|March 27, 2019|
When Apex Legends launched, it massively affected the game ecosystem for a bit. For starters, the game dropped out of nowhere. Think of it as an asteroid dropping and wiping out the entire dinosaur population. It sent shockwaves in the gaming industry.
Thanks to Newzoo, we have data on how the game affected the competition. Let's see how Apex Legends affected the other games.
Gamers from the United States had an average churn rate of 36% increase when it comes to the top shooter and battle royale titles. A churn rate is the percentage rate at which players stop playing a game and turn to other games.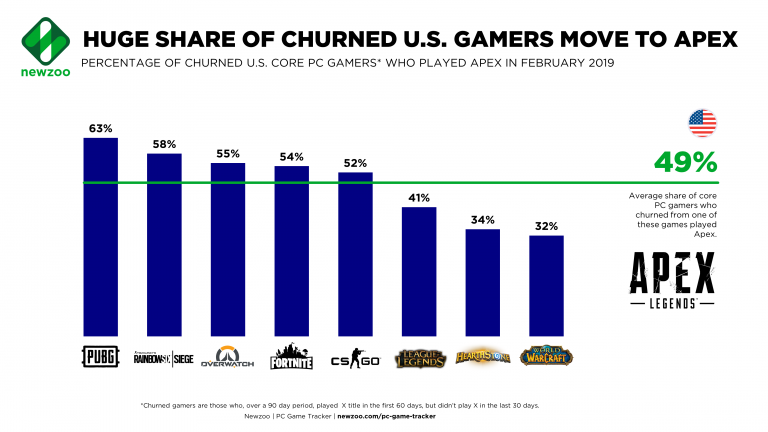 According to the graph, more than half of the players from major games churned away to Apex Legends. This includes games like PUBG and Rainbow Six Siege. Another interesting info to mention is how Overwatch, a 'hero shooter', like Apex Legends, faced similar percentages in churn rates. In fact, it experienced an increase of about 15% in churn rate.
Perhaps similarities between Overwatch's and Apex Legends' class systems encouraged Overwatch players to check out Apex, but differences in gameplay and modes kept players coming back for their Overwatch fix.
Non-shooter games such as Hearthstone, World of Warcraft, and League of Legends weren't affected as much as the battle royale or shooter genre.
Is Apex Legends' Future Looking Bright?
It's interesting to see how the game affected the other games because Apex Legends was deemed a close-to-perfect battle royale game by our review. The game's well-planned launch, as well as strong gameplay, boosted it up on top of the radar.
However, it's interesting to point out that even Asian players are playing on the US servers because of the rampant cheating. I've met these hackers in-game and it's frustrating to be denied of a chance. These hacks are sold openly, with certain exclusive hacks being sold privately.
I really hope Easy Anti-Cheat, as well as Respawn and Origin, could do something, I just worry that their game's churn rate would skyrocket, despite being a stellar game. That's what happened to PUBG.