By Syazwan Bahri|May 31, 2019|
Blizzard announced the next step in Hearthstone's Dalaran Heist and this time players will be heading into its underbelly.
Players can now unlock Chapter 4 of the new solo adventure which will take them into the depths of The Underbelly of Dalaran.
Each chapter of the Dalaran Heist has its own gimmick, and in this one, the twist alters gameplay significantly. The twist is for The Underbelly swaps all minions' health and attack values. This means a 4/8 minion will be an 8/4 minion. Be cautious and pay extra attention when drafting.
This new chapter also adds two new playable heroes, which are the  Warrior hero Mr. Chu and the Druid hero Squeamlish. As usual, these two heroes have unique powers that are acquired once players complete their unique quests.
What's The Prize?
For starters, each chapter of the Dalaran Heist includes three Rise of Shadows card packs. After unlocking all the chapters, five of them including one after The Underbelly, you'll receive a golden classic card pack, making it 16 packs total. After unlocking all five chapters, you'll obtain a golden copy of Zayle, Shadow Cloak. This card is a two-mana 3/2 that allows you to start the game with one of Zayle's EVIL decks.
Each chapter has introduced its own heroes. For example, you can unlock the Mage Rakanishu in the first chapter, with two unique powers, Burning Wit and Frostburn.
Chapter 2 introduces Ol' Barkeye and Vessina. Ol' Barkeye is a Hunter hero and has two additional powers called Opportunist and Pet Training.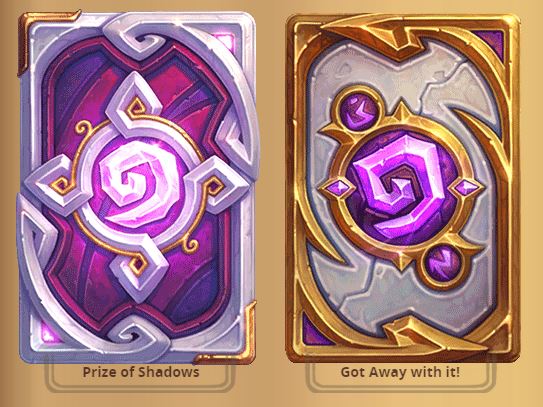 The Dalaran Heist also introduces two new card backs that are rewarded by playing through the adventure. The 'Prize of Shadow' card back is rewarded by completing The Dalaran Heist, while the 'Got Away with it!' card back is rewarded through defeating the solo adventure on Heroic mode.
Sounds Like An Adventure!
With the League of EVIL's villainous plan almost at its completion, players will have to face multiple challenges before they can call it an end.
The Dalaran Heist Chapter 4 – The Underbelly is now live and you can check it out now!
Related