By Alleef Ashaari|July 10, 2019|
A new community event has arrived in Call Of Duty Black Ops 4, bringing with it brand new undead content for players. Operation Apocalypse Z adds a horde of zombie-related stuff, including:
New Blackout Updates – As the Zombie apocalypse has begun, sunny skies have departed in favor of something more un-deadly in the main Blackout map.
Zombies have leeched most of the life from the landscape forcing the alive to take refuge and survive amongst a deep fog and familiar Zombies sights and sounds.
Additionally, the Alcatraz map debuts a nighttime atmospheric change complete with new Zombie enemies. Coming later in the Operation, brand-new Zombie-themed Blackout modes will also debut in the game, including Pandemic and Alcatraz Horde.
New Specialist – Available now in both Multiplayer and Blackout, Reaper makes his Black Ops 4 debut.
Reaper is a cutting-edge combat robot with a robust fighting style wielding the Scythe, a high-powered, two-handed minigun unleashing heavy gunfire.
This fan-favorite Specialist is also equipped with a Radar Shroud that prohibits enemies from using their minimap and deploys a scrambling device to block out areas on enemies' minimap.
New Black Market Gear – The Black Market has been restocked with a variety of new Zombie-themed Specialist outfits and personalization items, weapon camos and gestures for Operation Apocalypse Z.
This includes new weapons like the Reaver C86 Crossbow, Black Ops III's Argus Shotgun, Daemon 3XB Mastercraft, MOG 12 MKll and Vendetta MKll that players can acquire and master.
New Zombies Features – Operation Apocalypse Z introduces new Perks and Elixirs
across all Zombies maps, providing new variations on gameplay once they're equipped and activated.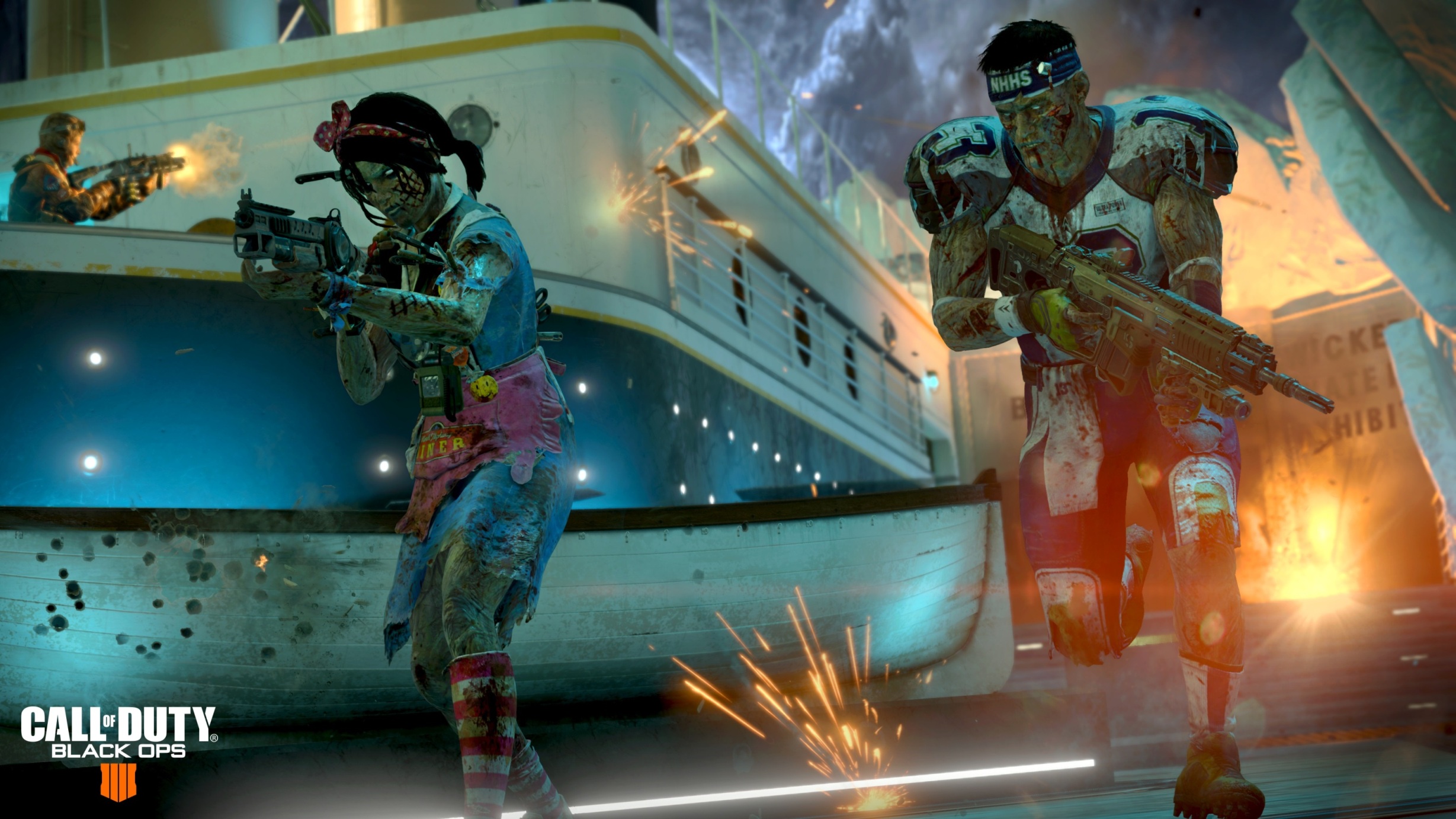 In addition to the Operation Apocalypse Z free content, owners of the Black Ops Pass gain access to more new content, including:
New Multiplayer Map, Der Schatten – A snowy map set in a village high in the Austrian Alps that sits in the shadows of the castle from the Aether story Zombies experience, "Der Eisendrache."
Combat takes place in a combination of bright and dark areas pushing the player to fight in close quarters.
New Multiplayer Map, Remnant – A large-sized map set in the "The Museum of
Unnatural History" deep in the Louisiana marshes where historical relics thirst for chaos and blood.
Complete with a portal that can transport players to opposite sides of the map, Remnant is structured for mid-ranged combat where longer sightlines flank the exterior of the museum.
Remastered Multiplayer Map, Havana – Reimagined from the original Call of Duty: Black Ops, Havana is a medium-sized map set in a sunny Cuban city during the Cold War tensions.
The map is designed in a Z-shape resulting in a combination of close and long-range firefights.
New Zombies Experience, Alpha Omega – Continuing the Aether storyline, Alpha
Omega lets players jump in as the original, fan-favorite Zombies characters from both the Primis and Ultimis cast, playable together for the first time ever.
This allows fans to gain new insight into the ever-twisting story as the timelines converge.
Players will fight off hordes of new Zombie enemies, solve challenges, and discover new Easter eggs in a wild experience up to the very end.
Call Of Duty Black Ops 4 Operation Apocalypse Z is available now (and first) for all PS4 players, with other platforms to follow suit at a later unspecified date. In the meantime, check out the trailer below.
[youtube https://www.youtube.com/watch?v=seFqlqmrRz4&w=560&h=315]
---
Related