This story is still in development…
It's official: Fatal Fury's Terry Bogard will be a Super Smash Bros. Ultimate character later this November. He will be the fourth character in the SSBU Fighters Pass.
He's currently in development, so there's no gameplay yet. He'll be using his famous Power Wave and Burn Knuckle, so he'll probably use his other moves like Power Geyser, Crack Shoot, and Rising Tackle.
Fun!
Also, here are some other highlights from this morning's Nintendo Direct video.
The First Xenoblade Chronicles Is Getting A Rerelease
Xenoblade Chronicles Definitive Edition is announced for Nintendo Switch. It's slated for 2020 and will feature remastered graphics. That's all we have so far; more news will be out later in the coming months.
Super Kirby Clash
Multiplayer Kirby madness awaits. Out later today.
Trials of Mana
The Square Enix remake of an RPG classic that came out in English during the week of E3 2019. Yep, it's still looking good and is slated for 24th April of 2020.
Return of the Obra Dinn
One of last year's Kakuchopurei darling games will be on Nintendo Switch this fall 2019
Little Town Hero
A boy named Axe uses Ideas to defeat enemies invading his town. Not only is this RPG simulation type game made by GameFreak, but will feature music by Toby Fox. Out 16th October
Banjo-Kazooie's out today for Super Smash Bros Ultimate
The bear and bird duo will be playable now. The duo will have moves from the original game on the N64. Kazooie will be used mostly as a weapon with his invincible Wonderwing charge and egg projectile attack.
Also, grenade eggs. This move will be a back attack that will keep enemies at bay.
Tokyo Mirage Session Is Coming To Switch
The long-awaited port of a Wii U RPG is finally happening. So we can all shut the heck up now. This port of TMS FE, with the Sharp subtitle, features new dungeons and a playable Tiki. Out 17th January 2020.
Divinity Original Sin 2
Out now for Switch. Do you really need me to tell you about one of this generation's most revered CRPG series? Didn't think so.
Doom 64
Bethesda is rereleasing Doom 64 on Nintendo Switch. Out 22nd November.
Cooking in Pokemon Sword and Shield
Oh look, they're taking a Tales of mechanic and making it fancier.
Super Nintendo Online
If you're on Nintendo Online's subscription, you'll get to play the following SNES games tomorrow PST time.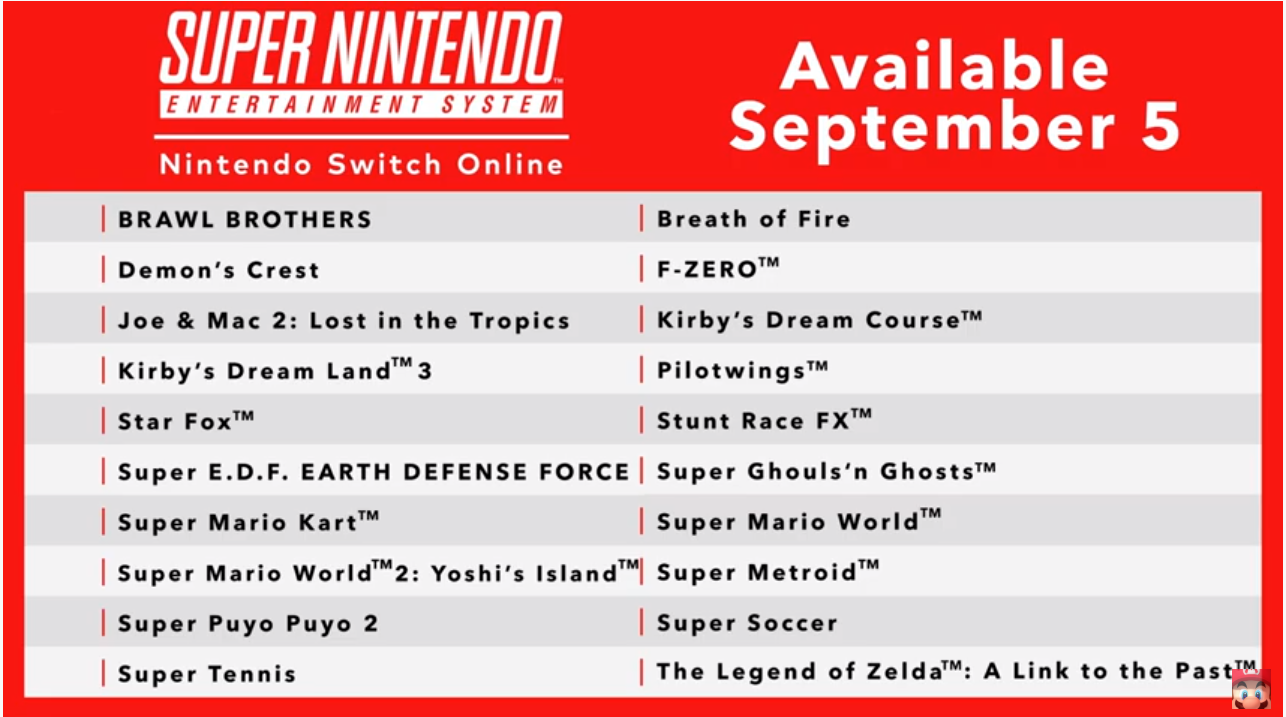 Assassin's Creed Black Flag & Rogue Out This October
Ubisoft will be releasing these remastered open-world pirate titles in one bundle for Switch on 11th October. Yarrrr….