By Alleef Ashaari|November 20, 2019|
Siklab Saya is the biggest Mobile Legends: Bang Bang event and tournament in the Philippines, which will take place from November 2019 to January 2020. It will be powered by Philippines-based telco company, Smart, and cover at least eight different key venues nationwide.
With over Php20 million worth of prizes up for grabs, attendees can also look forward to:
The Mage Lair – Take photos with Mobile Legends heroes and share them on social media
The Tank Booth – Test your strength like a true tank with an arm-wrestling match
The Assassin Center – Swing around a weapon like a real assassin in a game of Beat Saber and play for a high score
The Marksman Range – Prove your worth as a marksman by throwing Bruno's energy ball at on-screen minions for a high score
The Fighter Pods – The ultimate test—play a friendly game of Mobile Legends and win!
To participate in the activities listed above, Smart subscribers simply have to register to a Giga Games package and answer a Mobile Legends Hero quiz. Completing all of them will earn them an exclusive in-game skin and more.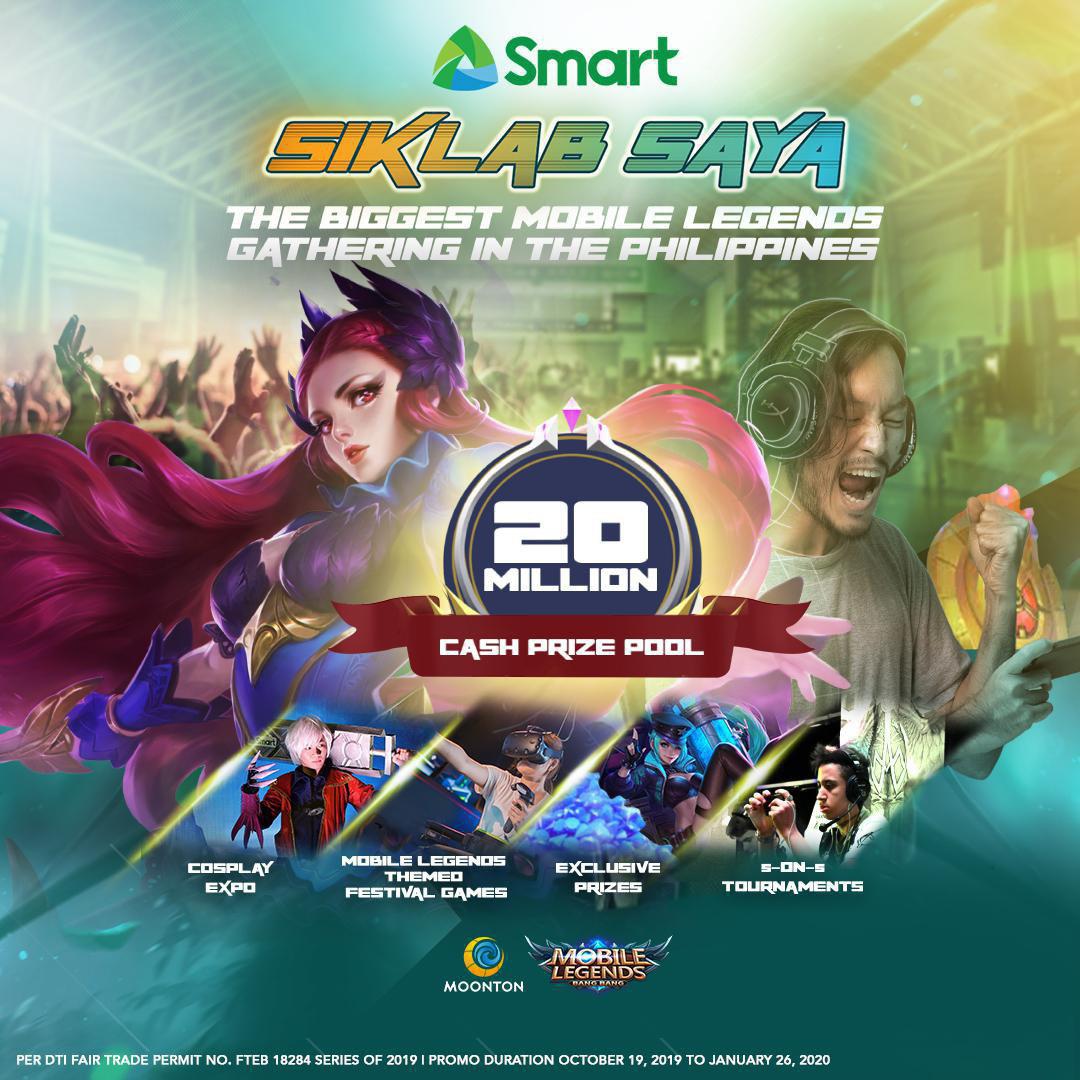 Siklab Saya will feature a Mobile Legends tournament featuring major pro players battling it out. These regional tournaments will take place in key cities like NCR, Luzon, and the Visayas from November to December 2019, before culminating in the grand national tournament in NCR in January 2020.
In addition to all that, Siklab Saya will also feature fan meets across the country, raffles, themed side events, casting calls for aspiring esports streamers, cosplay contests, celebrity exhibition matches, meet-and-greets with pro esports players, and more.
The Smart Giga Games 99 offers 2GB open-access data and 1GB of Games All Day for nonstop Mobile Legends and other top mobile games for seven days. Head on over to the official website here for more details and information.
[youtube https://www.youtube.com/watch?v=Hc5w83HAEWA&w=560&h=315]
---