By Alleef Ashaari|February 12, 2020|
PUBG Corporation has announced Team Deathmatch, which will be live with the upcoming Update 6.2 on PC, PS4, and Xbox One. It will be the first of many planned modes for the new Arcade for PUBG, where the developer tries to spice up the game's traditional battle royale gameplay.
PUBG's Team Deathmatch mode will bring intense 8v8 fights to seven different battlefields pulled from fan-favourite maps. Players can choose from several different weapon load-outs and utilize classic PUBG mechanics.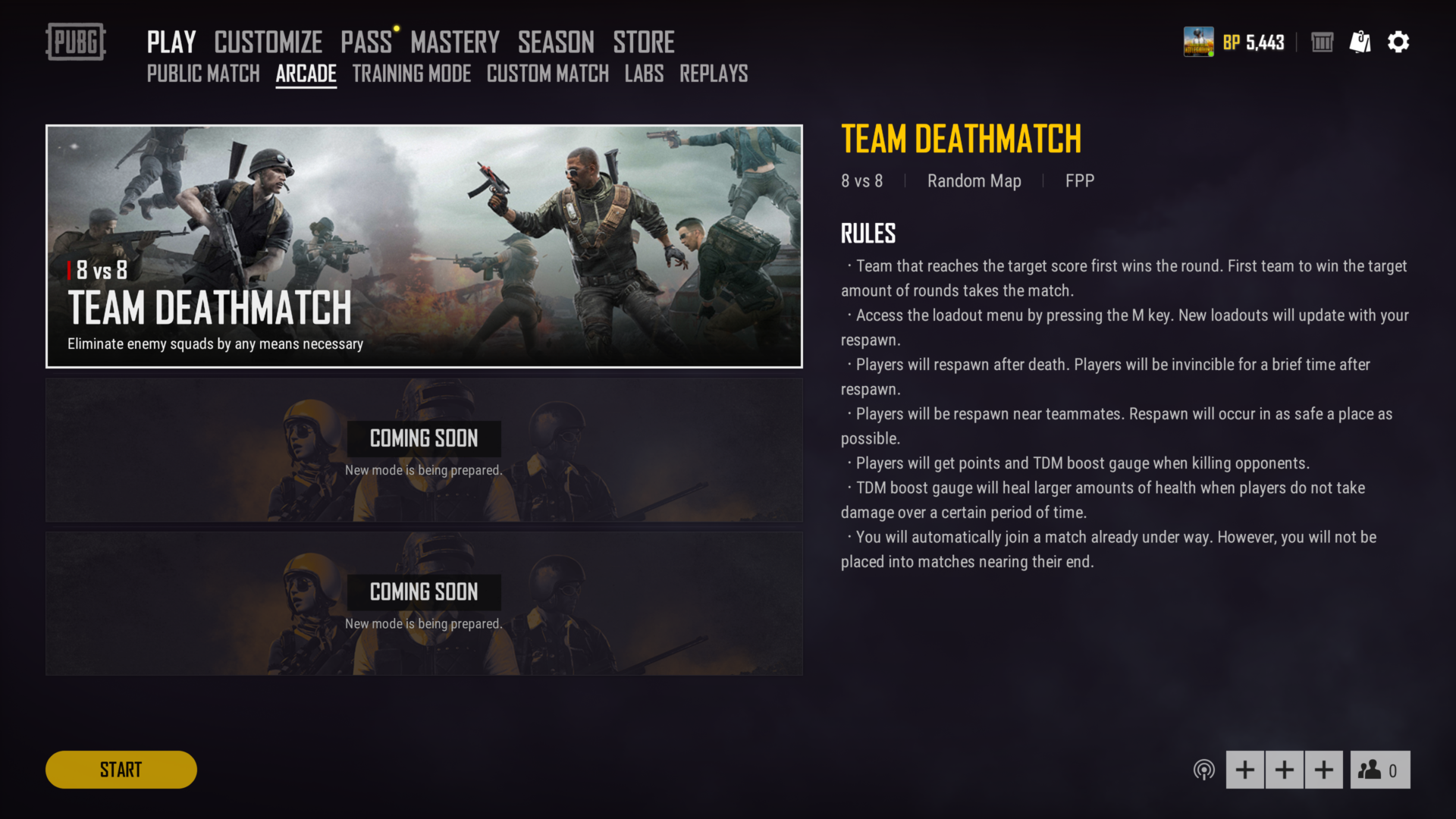 The rules for Team Deathmatch are as follows:
8 vs 8.
FPP only.
Spawn Kits enabled.
Open the map to select your weapon Spawn Kit.
Respawns enabled.
Respawn 5 seconds after each death.
Players respawn close to friendly players if the location is safe.
Players will be briefly invulnerable after respawning.
DBNO disabled.
No knockdowns.
Friendly Fire disabled.
Kills and assists fill your boost gauge.
After not taking damage for 5 seconds, your health will begin to regenerate, whilst also depleting your boost gauge.
Players cannot reconnect to TDM matches.

Unfortunately, this includes accidentally leaving the match or crashing.

Win Conditions

First team to reach 50 kills or the highest kills after 10 minutes wins the round.
2 round wins will secure the match victory.

Rewards

BP will be rewarded based on your individual score.
No Survivor Pass XP is received.
Players may be placed into in-progress TDM matches, but won't be placed into matches which are nearing completion.
AFK players will be removed from the match after prolonged inactivity.
For more details and information on the new Team Deathmatch in PUBG, head on over to the official blog post here. In the meantime, check out the trailer below.
[youtube https://www.youtube.com/watch?v=646z8UIBkJI&w=560&h=315]
---
Related