We've finally seen Sony's 'The Road To PS5' deep dive presentation, and it's extremely technical stuff, but we're here to sift through all that information.
Here are the official PS5 specs (via PlayStation Blog):
CPU: 8x Zen 2 Cores at 3.5GHz (variable frequency)
GPU: 10.28 TFLOPs, 36 CUs at 2.23GHz (variable frequency)
GPU Architecture: Custom RDNA 2
Memory/Interface: 16GB GDDR6/256-bit
Memory Bandwidth: 448GB/s
Internal Storage: Custom 825GB SSD
IO Throughput: 5.5GB/s (Raw), Typical 8-9GB/s (Compressed)
Expandable Storage: NVMe SSD Slot
External Storage: USB HDD Support
Optical Drive: 4K UHD Blu-ray Drive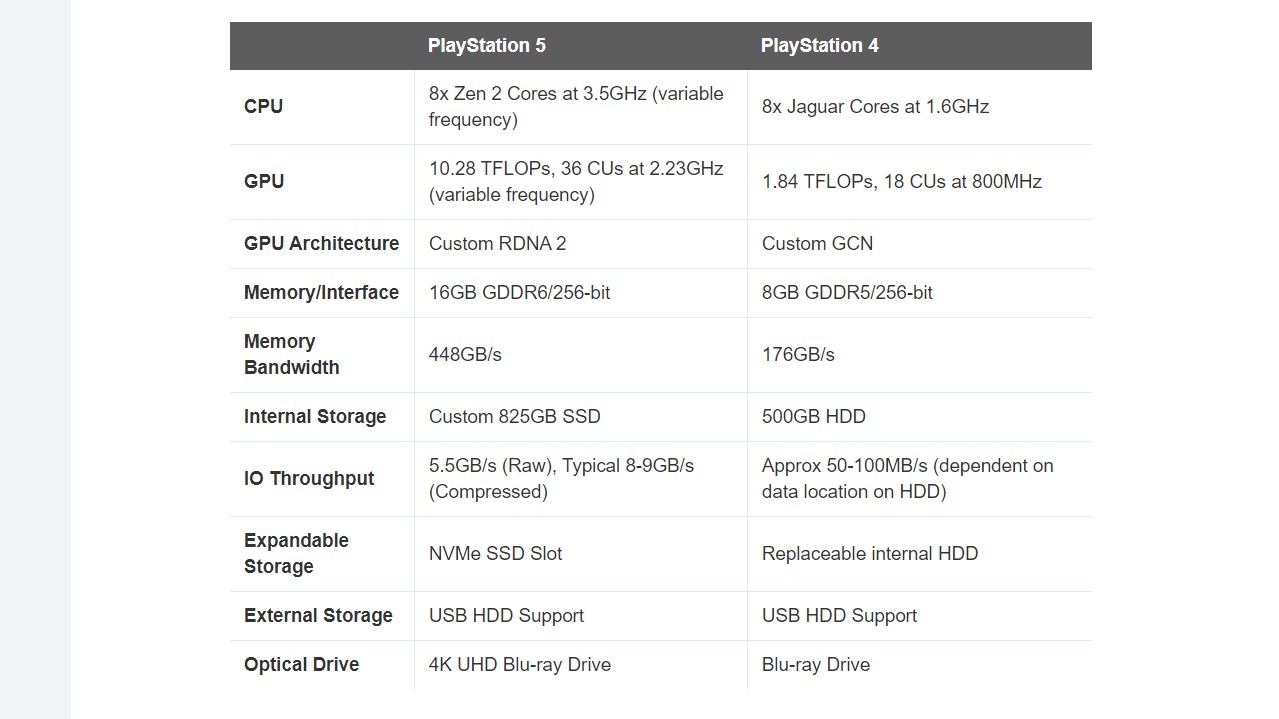 PS5: SSD And Expandable Storage
It looks like the PS5 will still feature an SSD that's less than 1TB, and fewer Teraflops of processing power than the Xbox Series X. However, it will have the option of both expandable SSD storage and external HDD storage.
While the PS5 will only have 825GB of storage, it is backwards compatible with the PS4, and players can save space by running their older games from standard external HDD storage. It won't be as fast as booting from the internal SSD, but it'll free up space for bigger next-gen titles.
Unlike the Xbox Series X, users won't need proprietary drives from Sony. However, Sony advises not to buy expandable PCIe 4.0 NVMe drives without validation from them beforehand, since they're still new tech and pretty expensive (for now).
PS5: Backwards Compatibility
"The top 100 PS4 games" will be playable on the PS5 at launch. However, there are more than 4000 titles on the PS4, so that means that the PS5 will gradually move towards full backwards compatibility of the PS4's 4000-strong library.
PS5: Power Of Its GPU
All PS5 consoles will apparently process the same workloads with the same performance level in any environment, no matter what the ambient temperature may be, which means there won't be forced underclocking to decrease performance.
Cerny said:
"Rather than running at constant frequency and letting the power vary based on the workload, we run at essentially constant power and let the frequency vary based on the workload."
Fortunately, fewer Teraflops than the Xbox Series X doesn't mean that the PS5 will lack in power. What this means is that the PS5's GPU should still be able to deliver performance higher than expected from the number of Teraflops if developers work to the power limits of the console.
What happens when the PS5 hits its limits? Cerny said:
"When that worst case game arrives, it will run at a lower clock speed.

But not too much lower, to reduce power by 10 per cent it only takes a couple of percent reduction in frequency, so I'd expect any downclocking to be pretty minor.

All things considered, the change to a variable frequency approach will show significant gains for PlayStation gamers."
PS5: Ray-Tracing Capability
Cerny also confirmed that the PS5 will deliver hardware-accelerated ray tracing via its Intersection Engine, which is "based on the same strategy as AMD's upcoming PC GPUs", allowing for similar graphical implementations available on PC, such as reflections, ambient occlusion, shadows and global illumination.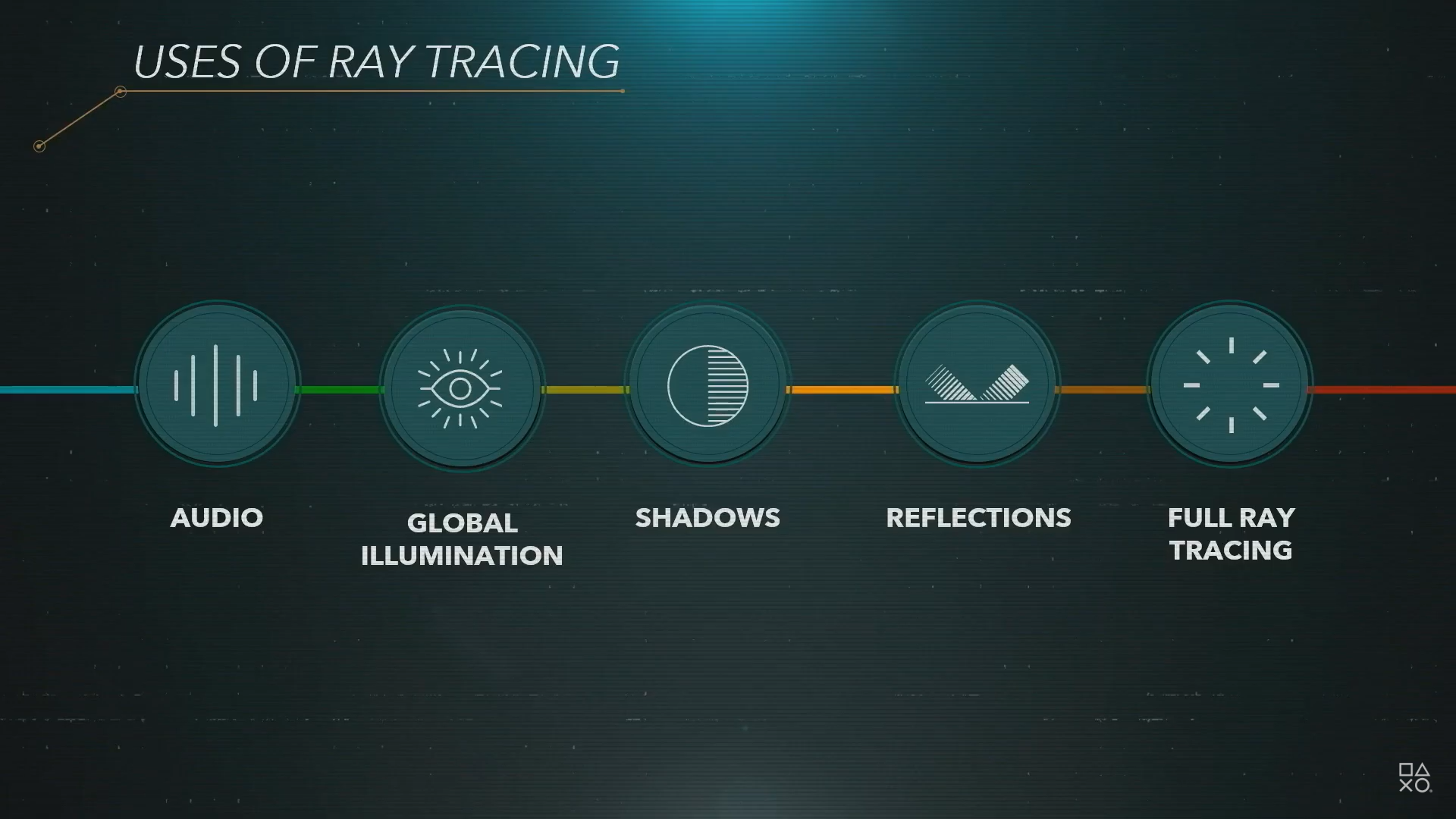 PS5: Faster Loading Times
The PS5 will be able to load games much faster thanks to its SSD, potentially even 100x faster than the PS4. Cerny said:
"As game creators, we go from trying to distract the player from how long fast travel is taking – like those Spider-Man subway rides – to being so blindingly fast that we might even have to slow that transition down."
PS5: 3D Audio Technology
Thanks to the new Tempest Engine, the PS5's audio will allow a high quality of 3D audio, so much so that they're claiming that players will be able to locate the exact position of an enemy (or where they're coming from).
This new 3D audio tech will be able to precisely track where objects are located, even accounting for the shape of ears and even the size and shape of your head. Don't worry though, players won't need high-end audio hardware to enjoy the new 3D audio.
In the meantime, head on over here to check out all our other PS5-related news and feature articles. You can also watch the entire 50-minute 'Road To PS5' presentation, embedded below.
[youtube https://www.youtube.com/watch?v=ph8LyNIT9sg&w=560&h=315]
---