Just like with Chinese New Year, Hari Raya Aidilfitri comes with its own specialized green-themed holiday cards. Video game companies from all over Asia create special ones to celebrate this glorious time.
Check out our favourites below:
Metronomik
Zuke and Mayday are in traditional garb in this simple-but-sweet Metronomik greeting card.
Streamline Studios
The trademark Streamline hamster takes a break with this green-laden ketupat-filled artwork. Ace!
Persona Theory
Here's an adorable one from the folks behind the upcoming adventure titles Fires at Midnight and Kabaret.
Toge Productions
To celebrate their pixel art-intensive Coffee Talk adventure game further, the devs decide to post a pixelated version of the famous Indonesian dessert Kolak.
Mojiken Studio
The folks behind the upcoming adventure game A Space For The Unbound created this quick Twitter video. And also this A Space For The Unbound-themed greeting image.
Talk about pulling off double duty!
MDEC
Here's a vector-filled greeting image from Malaysia's Digital Economy Corporation, complete with the "fight COVID-19" motto that's commonplace these days. It's always good to stay positive anyway, so good on them!
Infinite Carnage
https://www.facebook.com/InfiniteCarnage.InC/posts/1899983540137259?__cft__[0]=AZXpye0MjBsSvqtB76BGJis–36xxr5B7EWC9wk604SGbuDPnATqykOtBZNzAs7dn9BEynIIg4sQYXzuZQ2uWf6ahTAg-4zUEJXhl180aEa6PKhtIM7mRHyvhiAatq-cG6XxUYnq-4GA_vpsaHh290HDx00ayb_osu39SgrKZi4FUA&__tn__=%2CO%2CP-R
One of Malaysia's awesome fighting game groups left this cute message for the holidays.
Flash Vision
https://www.facebook.com/FVesport/posts/698224547628615?__cft__[0]=AZU7K2527BWL2Ha05Bau7Yl242rp9WJ9268EZGwwMm8KdaGxeuaY6K-6KSLKS_Pv-Kg9eBEOVRoZzdP50P8rItEFA4skCGYZ-Bxeh_u_4Jn2RQQ67OAAouOBVtaNMOc07Ev2eXvnpDtt0qRV2GX06O6ZQyeg-2MVJw1AKLx-vfVrYw&__tn__=%2CO%2CP-R
A lovely poem from one of Malaysia's prominent fighting game groups.
The Magic Rain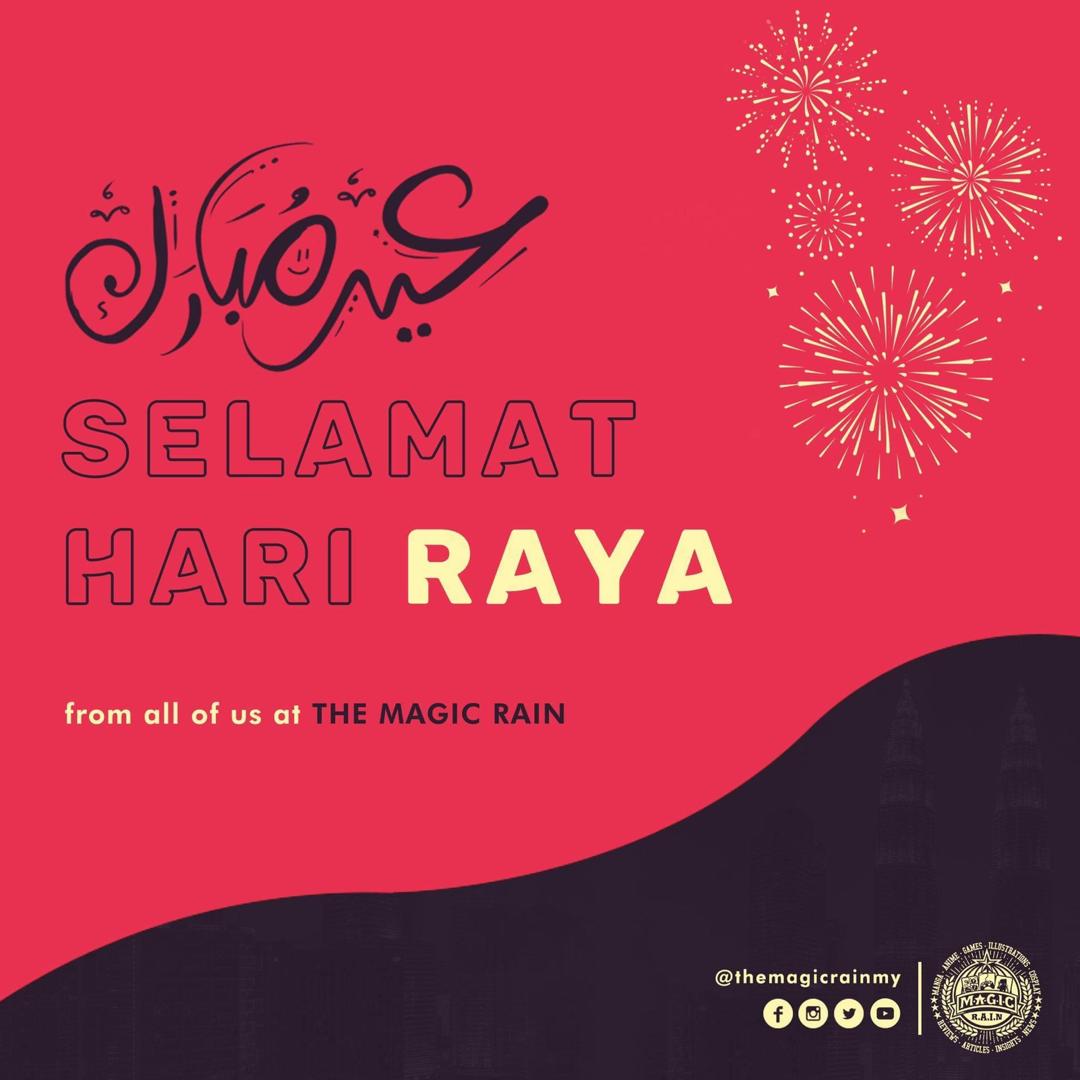 Our cool partners (who showcase our videos and features time and again) created this special Hari Raya greeting card that bucks the green-filled trend of all traditional cards. Good on them!
I'll bet a few of you are wondering where our Hari Raya contributions are. Well, they're out in the YouTube wilds; you can check them out here. Do subscribe to us while you're at it; we totally appreciate it!