She-Ra Season 5 Proves It's One Of Netflix's Best Original Shows, Animated Or Otherwise
Many of you may have grown up watching the iconic He-Man And The Masters Of The Universe animated series, but perhaps not its spinoff series She-Ra Princess of Power. This was likely the case for many male viewers, considering that the original She-Ra series was primarily targeted at a female audience.
Back in 2018 when She-Ra And The Princesses Of Power debuted its first season, many viewers (including me) were initially sceptical of Netflix rebooting an animated series no one really asked for. We asked: "Why not start with He-Man instead?" The promotional art and trailers didn't do much to persuade us otherwise either, featuring simplistic and cartoonish designs that screamed a much younger target audience.
Fast-forward merely two years later, and She-Ra And The Princesses Of Power has definitely proved us all wrong. As it concludes its final and fifth season, I can safely and happily say that this Netflix reboot is anything but.
In actuality, it has turned out to be one of the best original shows on the streaming service, animated or otherwise (which is the highest praise that I can ever give).
We Must Be Strong, We Must Be Brave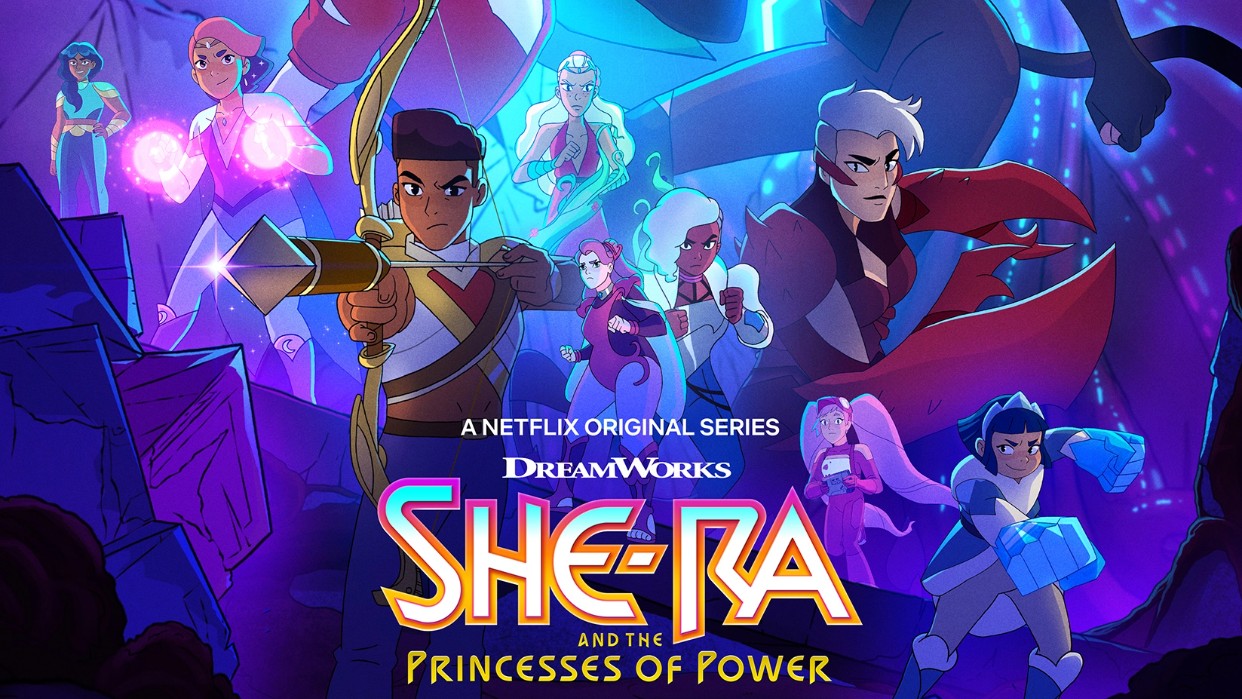 It is a testament to the brilliant work by showrunner Noelle Stevenson and the folks at Dreamworks Animation that they have managed to pack so much action, adventure, and complicated character dynamics into a total of 52 episodes in the span of only two years. Taking place on the planet Etheria, She-Ra And The Princesses Of Power follows protagonist Adora, a young woman raised in the Horde (read: evil empire) who then defects to the 'good guys' and joins forces with the rebellion, who are led by Princesses with magical powers, each of whom is a leader of her own kingdom.
Adora's story starts out just like He-Man's, King Arthur's, and a lot of other fantasy protagonists, in that she finds herself worthy of a legendary weapon.

In Adora's case, that weapon allows her to transform into She-Ra, a magical warrior with great power.

Despite the generic and overused premise, the best thing about She-Ra And The Princesses Of Power throughout its five seasons have always been the way that it manages to convey the emotional complexity of its characters.
In She-Ra And The Princesses Of Power, the dynamic between characters is just as important as the overarching plot or ongoing story arc in such a nuanced way that not many animated series can boast of. You care about these characters, and their relationships with each other, as well as how the plot affects them, and vice versa.
While there are truckloads of shocking plot revelations throughout the five seasons of She-Ra And The Princesses Of Power, what's even more surprising and praiseworthy is how much the characters have grown, developed and changed from their initial appearances in the very first season.
For a show that's essentially a Western version of Japanese anime's magical girl trope with a simple underlying theme of good versus evil, She-Ra And The Princesses Of Power carries more emotional weight and impact than you'd expect. All the groundwork and world-building that's been laid down over five seasons comes to fruition and reach their satisfying conclusions in the fifth and final season.
I won't spoil anything, but old enemies redeem themselves and friends forgive each other's past mistakes.

In fact, the biggest theme of She-Ra And The Princesses Of Power is the power of forgiveness and sacrifice, leading to some of the most emotionally-powerful scenes I've ever seen in an animated series.

The best comparisons I can mention are to that of the redemption arcs of Darth Vader in Star Wars and Zuko in Avatar: The Last Airbender.
Of course, none of this would even be possible without the incredibly-talented cast, with Aimee Carrero as Adora/She-Ra, Marcus Scribner as Bow, Karen Fukuhara as Glimmer and AJ Michalka as Catra all giving fantastic performances. That's not even mentioning the other supporting characters like Christine Woods as Entrapta, Lauren Ash as Scorpia, and more who get their own moments to shine in the final season.
Catradora Fans Will Be Happy
Nothing is perfect, especially in this final season. Those who have dismissed the series from the beginning simply due to its design aesthetics will still find more of the same here, though this season does feature an improved redesign of She-Ra's costume. For those who dislike how the series is "animated", I can only say that Season 5 features the best action sequences yet.
Sure, She-Ra And The Princesses Of Power doesn't hold much of a candle to other more celebrated animated shows like Avatar: The Last Airbender in terms of animation prowess, but it more than makes up for it with its excellent characters and writing.
With only 13 episodes in its fifth and final season, it feels like She-Ra And The Princesses Of Power is perfectly-paced for the most part. Though there are several episodes that somewhat stray from the main plot, they don't exactly feel like filler, as they all play a necessary role in contributing to the growth of the characters.
Fans of Adora and Catra (as well as the Catradora shippers on the Internet) will appreciate how She-Ra And The Princesses Of Power Season 5 ends up treating the two characters and their relationship dynamic.

Again, no spoilers, but I dare say that you'll be very happy with how it all ends. You won't feel horribly-cheated like many of us did with the conclusion of Netflix's other popular original animated series, Voltron: Legendary Defender.
For The Honor Of Grayskull
Kudos to Noelle Stevenson and Dreamworks Animation for She-Ra And The Princesses Of Power, which has earned a spot on the list of the best original animated offerings on Netflix. I just hope that the streaming service will be able to replicate the success of She-Ra And The Princesses Of Power with their upcoming He-Man reboot. It'll be pretty embarrassing if Netflix's He-Man reboot turns out to be inferior to She-Ra And The Princesses Of Power, which rightfully deserves all the acclaim coming its way.
She-Ra And The Princesses Of Power ultimately sticks the landing with a conclusion that's both epic and emotionally-satisfying, with a lovely journey to boot.
With the state of the western animated series industry currently overwhelmingly-saturated with meta comedies like Rick & Morty and Bojack Horseman, it's refreshing to see that good old classic action-adventures like She-Ra And The Princesses Of Power are still being made.
FINAL SCORE: 90/100
---