Update
Great news for those who are restarting the game with a fresh save, or just jumping in. You can actually acquire Nazare 'Itsumade' bike way earlier in the game, even before the prologue conclude WITHOUT having to complete the sidequest below.
Drive or just take Fast Travel to All Foods. Right next to All Foods Plant is the hidden garage where the Itsumade is kept. Just head over to it, key in '0214' into the panel and the bike is yours. No fuss, no foul.
This method also works if you can't be bothered to run around the map to complete the quest – that you just want the bike. Have fun!
______________________________________________________________________________
Cyberpunk 2077, when it works as intended, is a gem of an open world RPG chockful of fun side quests, quirky characters and some really unique and fun vehicles to discover.
Today we are going to share with you on how to get what we feel is one of the coolest looking bike in the game which you are able to obtain for free. It looks so good, that we have been ditching our Yaiba Kaneda bike for this one for a while now. Props to ESO who first discovered this fun but worthy sidequest.
It's nimble, handles like a dream, fast and best of all, it is free. Behold, the Tyger Claws inspired Nazare, the 'Itsumade' a.k.a The Battle Hopper.
Sporting a slick, dark green color scheme, the bike also comes with oni-inspired headlights with glowing eyes to boot. If you are still unable to appreciate this, we honestly question your taste in motorcycles.
This vehicle is obtainable via a secret side quest by which is not marked on the map. To get it started, head over to Santo Domingo in this marked position. You'd want to look for the gun shop.
The name of the gun shop is Gun-O-Rama. Facing it, turn right and walk down the stairs. Once you're on the road, turn left and walk uphill for a bit. At the first bend, turn left and look for a garage with a graffiti of a white horse on it. Walk up to the garage entrance and you should be able to open it.
Once you are in it, you will trigger a cutscene with Johnny Silverhand. Feel free to scrounge around for loot and once you are done, head over to the laptop on the table. It is important that you open the message tab and read it. This will then trigger another quick cutscene showing a photo of a couple.
Take note of the background and the incomplete graffiti on the bench in the background. Note that since the photo was taken via selfie mode so it's flipped. It's basically a huge heart shape with at least one written 'J' on it. There's an overhead bridge in the background so it gives a clue of where the picture was taken. Your next step? To locate it. Lucky you, we'll show you how.
First up, the message mentioned Tyger Claws. So naturally, we head over to their stronghold. What you want to do is to take a Fast Travel to this exact location in Japantown West. 
Also, remember to mark a waypoint just under the big bridge just south of the Japantown West Fast Travel spot. (See above). Once you've arrived, proceed to walk down south to the said marker until you spot a 24/7 Store to your left.
In the plaza, look around the benches for a specific one that has the graffiti shown in the earlier picture. It should be somewhere right in front of the 24/7 Store. Scan around for a bit and voila.
If you think that's it and want to go get your Kamen Rider bike now, stop. We are not done yet. There's another elaborate step to get the Itsumade. Show the photo to James and he'll talk about what happened to him and L̶u̶n̶a̶  … we mean Josie. Feel free to grill the guy for more info, or just for his hairstyle of choice.
Next, following the conversation, you'd want to return to the earlier Fast Travel point and travel to this Fast Travel spot around The Glen area called Metro: Glen North
Once you exit the metro, you'll notice two available Drop Off points near you. Proceed to walk to the one second-nearest to you. Mark it and head towards the direction. Continue walking until you are able to spot a tall building which read 'Fuyutsuki' in a distance. It should look something like this:
Switch to your scanner and you'll spot a vanishing puddle just in front of the vending machine. Head over to it and scan the said puddle.
Next you'd want to take the immediate alley way to your right. Walk shortly until you spot a dumpster with white markings on it. Scan the body just next to it.
After a short chat with Johnny, pick up the notes and Fast Travel back to where you met James in Japantown earlier.  We are almost there. Sorry for your demise, Josie. Your bike is now mine. After a short back and forth with James, take note of the numbers on the graffiti. This is the clue for your final puzzle.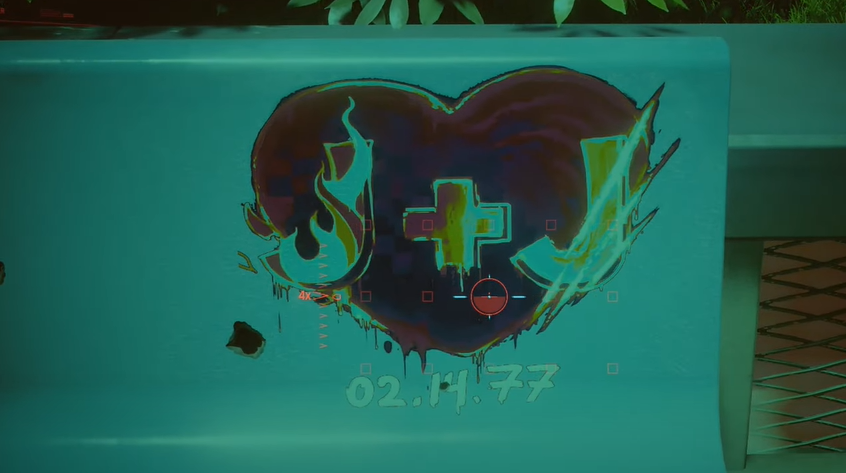 Now take the Fast Travel (again!) to All Foods Plant in the Northside area. All Foods Plant is the location for your mission to acquire the flathead with Jackie earlier. Coming right out of the Fast Travel, scan around for a blue-green building with a white horse graffiti. We suggest you do this during the day so it is easier to spot. But once you see it, it's almost impossible to miss. Walk right up to it and just around the corner, you'd spot a sealed garage door also adorned with the white horse graffiti. Key in the following numbers from the bench, '0214' into the wall panel and lo and behold: the coolest looking two-wheeled vehicle in the game. It is now yours and you can call it anytime in the game. Have fun!
Also, you can check out what we thought of the game here and if you are one of the lucky few – for whatever reason – who are able to play the game with minimum fuss or issues, you'd want to check out some of our guides here:
For more news on this year's biggest bust of a game and much more gaming news, reviews and guides, you're already at the right place!
Related