During today's PlayStation State Of Play February 2021 live stream, Sony announced many of the upcoming games slated to arrive on the PS4 and PS5 in the near future.
These include both third-party and first-party exclusives, which you can check out below:
Crash Bandicoot 4 It's About Time
Taking full advantage of the PS5 hardware, Crash Bandicoot 4 It's About Time presents Crash at its platforming best, starting with support for native 4K targeting 60 FPS (requires 4K compatible device) and enhanced 3D audio (with a compatible headset).
There will also be Activity Cards and DualSense controller integration (Adaptive triggers and haptic feedback). Owners of both the digital and physical versions of Crash Bandicoot 4 It's About Time can upgrade from the PS4 to the enhanced PS5 version at no additional cost.
Crash Bandicoot 4 It's About Time is slated to release for the PS5 on 12 March 2021. It'll also be on Xbox Series.
Returnal
Returnal is slated to release exclusively for the PS5 on 30 April 2021. Check out some new gameplay footage below, featuring a lot of hardcore third-person shooting action and a story about memories:
Knockout City
Knockout City is a game where you'll team up with friends to take down rival Crews in epic multiplayer dodgeball battles. Beyond the standard dodgeball, you'll have plenty of Special Balls at your disposal to keep matches feeling fresh and dynamic.
The Bomb Ball starts ticking when you pick it up, and after a short time, it (unsurprisingly) explodes. Trap your opponents within the Cage Ball for an opportunity to turn them on their teammates or toss them off the side of the map. If you want some serious air, grab the Moon Ball. You'll jump higher like you're on the surface of the moon, and hitting an enemy with it will practically knock them into outer space. Just announced today, the Sniper Ball will lock on to an enemy far across the map and snap to the target at crazy-fast speeds when thrown.
The standard game mode is Team KO, a multi-round 3v3 match, but there'll be over 20 new playlists by the end of the year.
Knockout City is slated to release on PS4, PS5, Xbox One, Xbox Series X, Nintendo Switch and PC on 21 May 2021.
Sifu
Absolver developer Sloclap has announced third-person action game Sifu for PS5, PS4, and PC (Epic Games Store). It will launch sometime in 2021.
Featuring the gripping intensity of classic Kung Fu films with realistic and raw combat, Sifu tells the story of a young Kung Fu student who has spent their life training for a day of reckoning after the brutal murder of their entire family by a mysterious assassination squad. Hunt down the murderers one by one as you explore gang-ridden suburbs, hidden corners deep within the city, all the way to the cold hallways of corporate towers. Adaptation and careful positioning are the key to your survival and you must use everything at your disposal to succeed in your life's mission.
Sifu's unique gameplay sits in the crossroads of two established and popular genres, mashing the intensity and timeless thrill of beat em ups with the gripping design of 3D character action games. Set against a detailed backdrop of a fictional Chinese city, you will uncover an ancient mystery via a series of difficult confrontations that will test your skills to their limit.
To overcome the odds that are heavily stacked against you, you'll need to rely on your mastery of Kung Fu, and on a magical pendant that will revive you after death. The cost of magic is dear, however, and you will age significantly every time you come back to life: time is the price you will pay for your revenge.
Exquisitely hand-drawn art styles and the muted colour palette lend themselves to Kung Fu film classics where themes of revenge and redemption are timeless tales, all perfectly blending with Sloclap's martial arts gameplay expertise, to create a truly unique singleplayer Kung Fu game.
It's fitting that Sloclap is making this kind of game, seeing as the developer's last title was the awesome third-person close-combat game Absolver. 
Solar Ash
Solar Ash is a third-person action platformer with a massive scale and a focus on fluidity in movement. We really wanted to push scale on multiple fronts. Our traversable world is huge, featuring sunken cities, vast water shelves, and dangerous lava zones for players to fight through and explore.
You'll play as Rei, a Voidrunner looking to save her homeworld from the Ultravoid itself – a massive black hole that swallows entire worlds.
Solar Ash is slated to release for the PS4 and PS5 sometime in 2021.
Five Nights At Freddy's Security Breach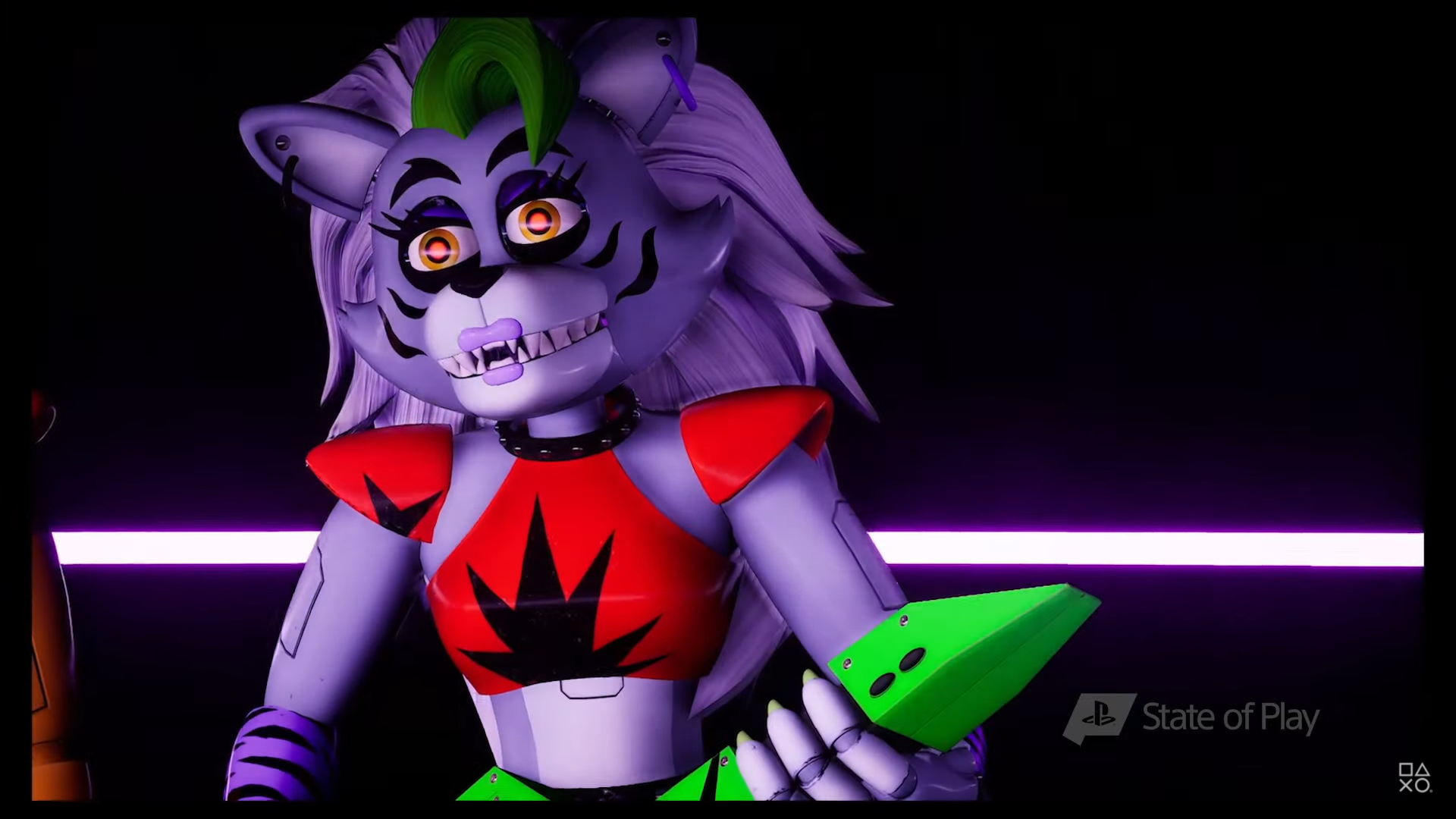 Check out the first gameplay footage for Five Nights At Freddy's Security Breach below:
Oddworld Soulstorm
Developer Oddworld Inhabitants announced Oddworld Soulstorm will launch for PS5, PS4, and PC via the Epic Games Store on 6 April 2021.
What's interesting is that PlayStation Plus members will also be able to download the PS5 version for free as one of the PS Plus free fame offerings in the month of April 2021.
Kena Bridge Of Spirits
Kena Bridge Of Spirits will offer a Standard Edition and Digital Deluxe Edition. All editions of the game entitle you to both the Digital PS4 and Digital PS5 versions of the game.
The Digital Deluxe Edition includes the Digital Soundtrack, a unique silver staff for Kena and golden Rot skin.
Kena Bridge Of Spirits is slated to release for the PS4 and PS5 on 24 August 2021.
Deathloop
Deathloop is now available to pre-order on PS5. When you pre-order either the standard version of the game of the Deluxe Edition, you'll receive the following in-game bonuses:
Unique Weapon: Royal Protector Machete (PS5 Exclusive)
Character Skin: "Storm Rider" Colt
One Trinket (equippable buff)
Deathloop is slated to release as a one-year timed exclusive for the PS5 on 21 May 2021, before heading to PC as well.
Final Fantasy VII Remake Intergrade
Square Enix has announced Final Fantasy VII Remake Intergrade, an enhanced and expanded version of last year's critically acclaimed adventure.
The expressiveness of the game's lighting, texture, and environment has increased with the PS5 version of the game. New features have also been added, including the ability to switch between "Graphics Mode" that prioritizes high quality 4K graphics (4K compatible display required) and "Performance Mode" that prioritizes smooth action at 60FPS.
The game also includes a fully-customizablePhoto Mode where the player can take photos of in-game scenes and save their favourite memories, as well as a new episode that features Yuffie as the main protagonist. The updated game will feature a newly-added Normal (Classic) difficulty setting.
Those who own the physical or digital PS4 version of Final Fantasy VII Remake and want to experience the PS5 enhancements can upgrade to the PS5 version at no extra cost, and carry over their save data from the PS4 version.
However, it's important to note that PS4 players who upgrade will still need to purchase the new episode featuring Yuffie separately.
The pre-order bonus for the digital version of the game features Yuffie's weapon "Cacstar," which can be used in her new episode. A Digital Deluxe Edition of the game will also be available, which will include a digital artbook and a digital mini soundtrack.
You can check out the full live stream below: