All The Games From Future Games Show Spring 2021: The Lord Of The Rings Gollum & More
The Future Games Show Spring Showcase 2021 live presentation took place earlier today and there were A LOT of games. Check out all the reveals, announcements and trailers below:
Shadow Tactics Blade Of The Dragon Aiko's Choice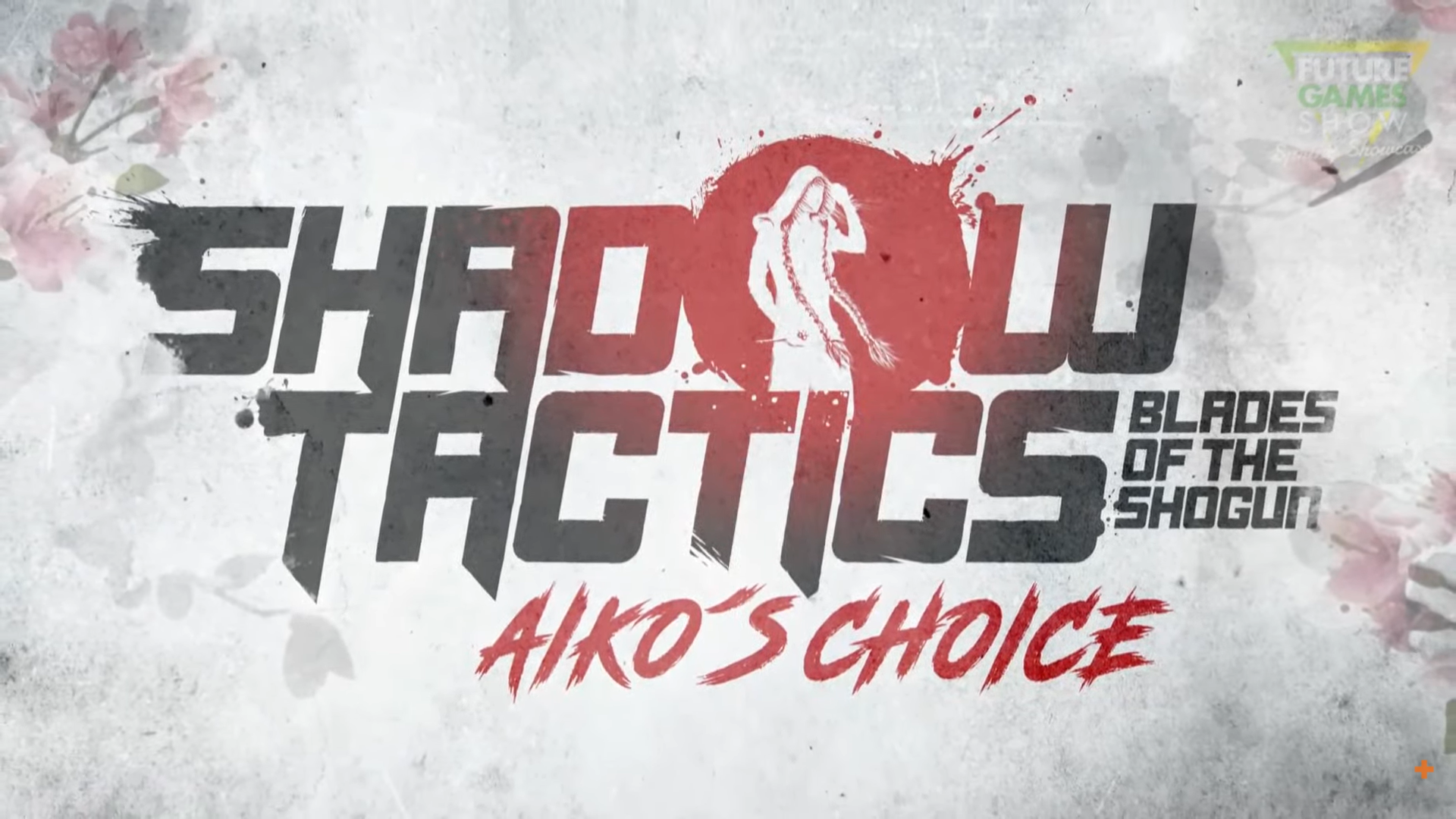 Publisher Daedalic Entertainment and developer Mimimi Productions have announced Shadow Tactics Blades of the Shogun Aiko's Choice, a standalone expansion to the 2016 tactical stealth game. It is slated to release sometime in late 2021.
Check it out on Steam.
Here is an overview of the expansion, via Daedalic Entertainment:
About

Aiko's Choice is a brand-new standalone expansion to the beloved stealth tactics game Shadow Tactics: Blades of the Shogun, set in Japan around the Edo period.

Shadow Tactics: Blades of the Shogun – Aiko's Choice focuses on one of the main game's protagonists: the kunoichi adept Aiko. She is a master of camouflage and distracts enemies disguised as a Geisha. Although Aiko was certain that she left her old life behind her, a new enemy deeply connected to Aiko's past reappears from the shadows to challenge her. Together with her friends of deadly assassins she sets out to hunt down the ghosts of her past…

The expansion features three fully fledged main missions, set in brand-new environments, and three shorter interlude missions.

In the style of the main game, you take control of a team of deadly specialists to sneak in the shadows between dozens of enemies. Choose your approach when infiltrating enemy bases in hidden forest camps or lively Edo period towns. Set traps, poison and distract your opponents—or avoid enemy contact completely. Carefully plan your every move and come up with your own ingenious tactics to vanquish enemies and complete each of the challenging missions that lie ahead!

Disclaimer: You don't require a copy of Shadow Tactics: Blades of the Shogun to play Aiko's Choice. Even though you can enjoy this standalone expansion on its own, we recommend to play at least the first few missions of the main game in order to get a feeling of the game's mechanics as well as the characters and story!

Key Features

Return to the beautiful world of Shadow Tactics set in Japan, early Edo period.
Rejoin your favorite characters for one final adventure set within the story of the main game Shadow Tactics: Blades of the Shogun.
Experience a previously untold tale centered around the kunoichi adept Aiko, who has to face a vicious enemy connected to her past.
Explore three fully fledged main missions, located in brand-new environments, and three shorter interlude missions.

The expansion includes all the features of the main game:

Play a team of completely different characters with their unique skill sets.
Synchronize your team's actions to strike down your enemies at once with the "Shadow Mode" feature.
Choose between non-lethal or deadly stealth attacks.
Find dozens of ways to take out or sneak past your opponents the way you want.
Choose from three difficulty levels to match your skill.
Hidden Deep
Control members of your team: explore, climb, swim, scan, blast, shoot and more to accomplish dangerous missions in a huge suboceanic mining and research facility. Hidden Deep is an atmospheric sci-fi action thriller, heavily inspired by Aliens, The Thing, and Half-Life.
It's coming to PC via Steam in 2021.
Glitchpunk
Inspired by classic top-down action games, Glitchpunk lets you brawl, shoot and drive your way through a dystopian future. As an android bounty hunter in a brutal world of gangs, cults and corporations there's plenty of work for you. Lock and load, let her rip!
It's coming to Steam Early Access in Q2 2021.
Life Of Delta
Publisher Daedalic Entertainment and developer Airo Games have announced Life of Delta, a post-apocalyptic point-and-click adventure game coming to consoles and PC via Steam. A release date was not announced.
Here is an overview of the game, via its Steam page:
About

Life of Delta is a point-and-click adventure game set in a post-apocalyptic world.

After the Great War, all humans are wiped out. The only survivors are decaying service robots and humanoid lizards that were born from a long nuclear fallout.

Our story follows Delta, who is a small service robot and like any other robot, he is just trying to survive in this harsh environment. One day he is forced to embark on a journey through a vast post-apocalyptic world in order to find his lost friend. Because of his small size, he needs to use all of his wits to overcome all dangerous scenarios and challenges.

Key Features

25 hand-painted levels of post-apocalyptic Japan and hundreds of carefully handcrafted character animations.
You will be solving over 50 engaging mini-games such as building spaceship engines and mixing toxic potions.
Interact with various characters throughout the game, each with a unique story to tell.
Fully animated cutscenes to paint a more interesting story.
Beautiful original soundtrack.
Fling To The Finish
Fling to the Finish is a cooperative racing game where teammates are tethered together by a stretchy elastic rope. Get up close and personal with your partner as you share a controller to manoeuvre two characters bouncing, rolling, and flinging their way to the finish line!
It's coming to PC via Steam in 2021.
Inkulinati
Inkulinati is an ink-based strategy straight from medieval manuscripts, where a rabbit's bum can be deadlier than a dog's sword. Become a master of the Living Ink, embark on an ever-changing journey, build your own bestiary, defeat medieval superstars and collect perks to unleash hidden powers.
It's coming to PC via Steam in 2021.
The Lord Of The Rings Gollum
Publisher Nacon, and co-publisher and developer Daedalic Entertainment have released a sneak peek trailer for the story-driven action-adventure game The Lord of the Rings: Gollum.
Here is an overview of the game, via its Steam page
Athletic and agile, sneaky and cunning. Driven by the desire to once again hold in his hands what he lost, Gollum is one of the most fascinating characters in the world of The Lord of the Rings.

He has seen things that others can not imagine, he has survived things that others would not dare mention. Torn by his split personality, he can be vicious and villainous as Gollum, but social and cautious as Smeagol.

While being vital to the story by J.R.R. Tolkien, many parts of Gollum's quest have not been told in detail yet. In The Lord of the Rings: Gollum you get to experience this story. From his time as a slave below the Dark Tower to his stay with the Elves of Mirkwood.

Use stealth, agility, and cunning to survive and overcome what lies ahead. Climb, leap, and grapple your way past dangers or into advantageous spots.

While Gollum might not be a fighter, it is not unlike him to assassinate a careless enemy when the chance presents itself—or dispose of them in more creative and villainous ways.

The decisions you make and the way you play have a direct influence on Gollum's personality: Always struggling between the two sides embodied by Gollum and Sméagol, it is up to you to decide whether the darker side of Gollum takes over or if there is a spark of reason left in what once was Smeagol. One mind, two egos—you decide!
The Lord of the Rings: Gollum is due out for the PS4, PS5, Xbox One, Xbox Series X/S, Nintendo Switch and PC via Steam in 2022.
Arctic Awakening
GoldFire Studios has announced Arctic Awakening, an episodic narrative adventure coming to consoles, and PC and Mac via Steam in 2022.
Here is an overview of the game, via its Steam page:
About

It was supposed to be routine. A supply drop to an Alaskan town, auto-pilot on, guard down. You and Donovan were already planning post mission drinks when it happened.

The storm.

Half the plane disappeared in a flash. Donovan was gone, lost to the howling tempest. Waking from the crash you find yourself alone, trapped in a frozen wilderness, your only companions a court-mandated therapy bot and temperatures that can cut a man to shreds. Hope for survival lies in finding your friend and maybe a way home.

You are Kai, a pilot without a plane lost in the wilderness of the far north. You'll need your wits about you to brave the elements, find your co-pilot and get the hell out of Dodge. Along the way, you might just discover what it was that cut your plane clean in two… and what it is making those noises after dark.

Arctic Awakening is an episodic first-person adventure set in the mysterious Arctic North where you and your robotic companion, Alfie, must search for your co-pilot… and a way home.

Hard Won Friendships – Arctic Awakening is a narrative adventure, where your choices affect the decisions of those around you. Your actions will change your relationship with your companions and perhaps your story itself.
Lost… And Found – Exploration is key to unravelling the secrets that surround you. Uncover the mystery of your missing co-pilot, the source of the catastrophe that left you stranded, and maybe, just maybe, find a way home.
You Are Not Alone – In Arctic Awakening the environment itself is a character, one not always on your side. Dynamic weather means each new area never feels the same, and gorgeously realized vistas combine with an ever-changing world to create an atmosphere of discovery, potential and fear.

Key Features

First-person narrative adventure where you must first face the elements to uncover the mysteries around you.
Stunning Arctic vistas to explore and secrets to uncover.
Story-centric choices that will affect the relationships you build.
New episodes with more adventures, secrets and characters.
Cris Tales
Publisher Modus Games and developers Dreams Uncorporated and SYCK have released a new trailer introducing the characters of Cris Tales.
The companies also announced the game's voice cast:
Main Characters

Kira Buckland in the role of Crisbell – Crisbell is the main character of Cris Tales. She is a young orphan with a slim figure that is unaware of her latent powers as a time mage, until Matias the frog helps her unlock her abilities. She is able to see into the past and future, and can interact with both of them to change the present.
Cody Rock in the role of Matias – Matias is a small, orange talking frog with a black top hat who meets Cris Bell at the beginning of the game. After stealing a rose from the garden Cris Bell is tending, he leads her to the Cathedral where she discovers Crystals of Time, granting her the power to control time. He will assist her party in various ways throughout the game.
Lindsey Vega in the role of Willhelm – Wilhelm is Crisbell's magic teacher who you will meet early on in the game. He looks like a child, but has a pretty remarkable level of skill and experience. He tends to be a bit sarcastic. He is well known in the city of Neva Tulira and is friends with many members of the Oroitz family, the most powerful family there.
Zeno Robinson in the role of Cristopher – Christopher is a brave and heroic Mage Warrior that helps defend the Kingdom of Narim from Goblins. He fights with dual gauntlets that can be joined together to create a shield to defend against enemy attacks. His magical abilities allow him to conjure different elemental attacks such as fire and water that can be enhanced by Cris Bell's time powers.
Lizzie Freeman in the role of Zas – Zas is upbeat, outgoing, and a bit of a wildcard. Cris Bell's party will encounter her upon arriving in the Kingdom of Cinder, where she will aid the team with her explosive set of tools. She is instantly recognizable by her athletic build, dark apparel, and large green bag.
Daman Mills in the role of JKR-721 – JKR-721, also known as K, is a mechanical android built to fight. His armor grants him the ability to charge and attack rapidly with a series of electrical attacks, assisted by a jetpack hidden underneath his coat. He exhibits a genuine curiosity about the world, and will join Cris Bell on her adventure.

Other Characters

Suzie Yeng as Various Characters
Sean Chiplock as Various Characters
Jenny Yokobori as Kari Hudo
Cassie Ewulu as Lucia
Sarah Thomas as Fenia
Rhiannon Moushall as Assan
Christina Kelly as Lau
Lindsay Shepherd as Rysa and Nasar
Adin Rudd as Lucio
Michael Kovach as Azufra
Farah Rishi as Orola
Dawn M. Bennet as Rhallus
Tamara Ryan as Gladys
Laila Berzins as Buki
Marissa Lenti as Sophia
Dani Chambers as Adri
Kamran Nikhad as Enzo
Natalie van Sistine as Mother Superior
Tyler Carson as Armando
Tiana Camacho as Galley and June
Meredit Sims as Volcano and Paulina
Vincent Fallow as Farmer Robert
Here is an overview of the game, via its Steam page:
About

Experience Past, Present, and Future simultaneously in this gorgeous, indie love letter to classic JRPGs.

Cris Tales is a gorgeous, indie love letter to classic JRPGs with a new perspective. Peer into the past, act in the present, and watch as your choices dynamically change the future — all on one screen as you play! Join the newly awakened Time Mage Crisbell and her fantastical companions on their journey across a dark, fairytale world facing a grim future.

Crisbell must embark across Crystallis and the four Kingdoms in a bid to stop the powerful Time Empress and rewrite the future of the world and all those living in it. Along the way, she'll meet and recruit powerful allies with their own unique stories and skills like Matias the Frog and Willhelm the Child Mage.

As she explores the world and meets her unique companions, Crisbell will have to make choices with far-reaching consequences for the people she meets – consequences that will impact the world you'll experience in real-time throughout your journey. Each companion will be invaluable as you face these choices and the myriad enemies who stand in your way. Will you buffet them with attacks, or discover creative ways to use Crisbell's time powers to alter the reality of each fight?

Beautifully hand-drawn 2D art is animated frame by frame to bring the branching pasts and futures of each region, enemy, and NPC to life across more than 20 hours of gameplay. Experience a unique combination of branching stories, innovative combat, and classic RPG excitement in Cris Tales' exciting and unforgettable exploration of how our actions echo through time.

Key Features

A Love Letter to Classic JRPGs – Inspired by timeless JRPGs like Chrono Trigger, Final Fantasy VI, Valkyrie Profile, and modern classics like Bravely Default and Persona 5, meet and recruit a unique cast of teammates, challenge myriad enemies, and make your way through an expansive world.
Experience the Past, Present, and Future Simultaneously – Peer into and learn from the past, decide on actions in the present, and alter the course of the future in ways that will reshape the world dynamically depending on the choices you make.
Master Strategic Turn-Based Combat – Warp your enemies into the past or future, synchronize attacks for enhanced group abilities, and master the timing of attack and defense to go beyond your party's limits in combat.
Uncover a Fascinating Story & Characters – The Empress' plot to destroy the world is complex and layered. Use your wits and recruit powerful allies throughout the world to uncover and undo her multi-faceted web and make your way to the True Ending of this enchanting tale.
Discover a Beautiful World – Climb aboard an airship or boat and traverse this handcrafted, dark fairytale world. From the shining kingdom of Crystallis to the slums of Saint Clarity, discover each unique location and shape its future.
Cris Tales is slated to release for the PS4, PS5, Xbox One, Xbox Series X/S, Nintendo Switch, and PC via Steam, GOG, and the Epic Games Store, and Stadia sometime in July 2021.
Axiom Verge 2
Thomas Happ Games has released a new gameplay video and developer presentation for Axiom Verge 2.
Here is an overview of the game, via Thomas Happ Games:
About

Axiom Verge 2 is a 2D "metroidvania" action adventure. Though a sequel to Axiom Verge, is a completely new game: new characters, new abilities, new enemies, and a new world. You can play it before or after the original Axiom Verge.

The sole developer, Tom Happ, is responsible for all the music, art, game design, and programming in this game.

Key Features

Expansive non-linear exploration of a huge interconnected map.
Hack any enemy with unique and interesting consequences for each.
Launch a remote drone with its own separate abilities and behaviors.
Speedrun Mode—play with a streamlined interface and additional features to facilitate speedrunning.
Plus one other major feature players will be excited to discover on their own
Axiom Verge 2 is slated to release for the Nintendo Switch and PC via the Epic Games Store in 2021.
Naraka Bladepoint
24 Entertainment has released the official gameplay trailer for the 60-player action battle royale game Naraka: Bladepoint.
A global open beta test was also announced, which will take place from 23 April 25 April 2021. To sign up, you can visit the game's Steam page and click "Apply Now".
Here is an overview of the game, via its Steam page:
A Next-Generation Battle Royale Game

When melee combat meets battle royale, pretty much EVERYTHING changes… Vertical map design, truly diverse character skills and a brand-new resurrection system. Enjoy the thrill of clashing blades and flying arrows in the battlefield of Naraka: Bladepoint!

Give Me Liberty or Give Me Death!

From the shoulder of a giant Buddha to the very highest mountain peaks… From the rusty, rattling chains of floating coffins to secret trails of an abandoned mine.

Naraka: Bladepoint's interactive map design allows you to roam Morus Island with freedom. Walk every path you find. Reach every place you see. Eliminate every opponent you encounter.

Become Godlike with Your Grappling Hook

Every player is equipped with a grappling hook that can be aimed at anyone, anywhere…

Assault – Instantly zip through obstacles to pounce on your target.
Ambush – Hide in the darkness and wait for your moment. Ready your hook and surprise your targets with deadly long-range takedowns.
Avoid – Sometimes discretion is the better part of honor; escape from battles in a flash with a well-aimed grappling hook maneuver.

You can do EVERYTHING with your grappling hook.

Warriors, Assassins, Swordsmen, Brawlers, and Monks

Together In blood and dust, heroes from around the world gather in Morus Island, there is only fighting, there is only death or life. Only one can remain.

Remains of Behemoths, Deserted Townships, Enigmatic Temples

Explore a vast, mysterious battlefield where every section is unique and breathtaking. Learn the truth of Naraka's world and its endless battles.

Poetic Yet VIOLENT. Mysterious, but ENCHANTING,
Naraka: Bladepoint is slated to release for PC via Steam this summer.
Savior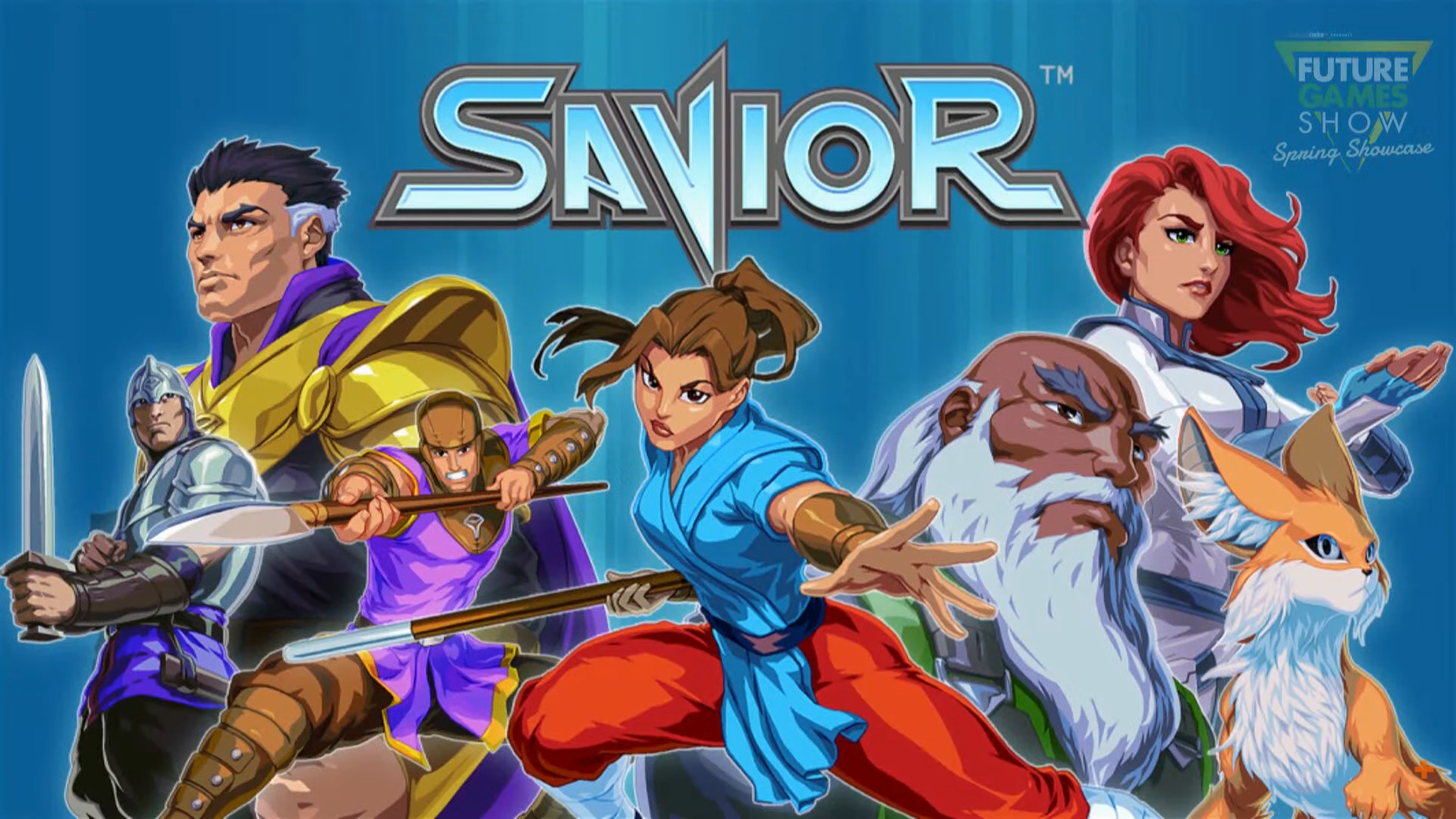 Savior is an action-adventure platformer. Dramatically change a vast open world. Parkour effortlessly with pain-free intuitive platforming. Engage a variety of opponents with strategic, precision melee combat. Discover a rich world full of quests, colourful characters and countless secrets.
It's coming to PC via Steam and Nintendo Switch in winter 2022.
Quantum Error
TeamKill Media has released a four-minute gameplay trailer for Quantum Error. An extended version will be available on 26 March 2021.
Here is an overview of the game's story, via its official website:
When the Monad Quantum Research Facility—30 miles off the shore of CA – is attacked by an unknown entity, engulfing the complex in flames and putting it into a full containment lock-down, a distress call is sent for mutual aid to the Garboa Fire Dept in San Francisco, California.

Fire Chief Sturgis answers the call and sends you—Captain Jacob Thomas—your partner Shane Costa and a crew by helicopter to the Monad Facility.

Your mission is simple: save as many lives from the burning complex as possible and get out. However, what starts as a rescue mission quickly plummets into darkness, when you arrive and find that things are not as they appear.
Quantum Error is slated to release for the PS4, PS5, and Xbox Series X/S.
Of Bird And Cage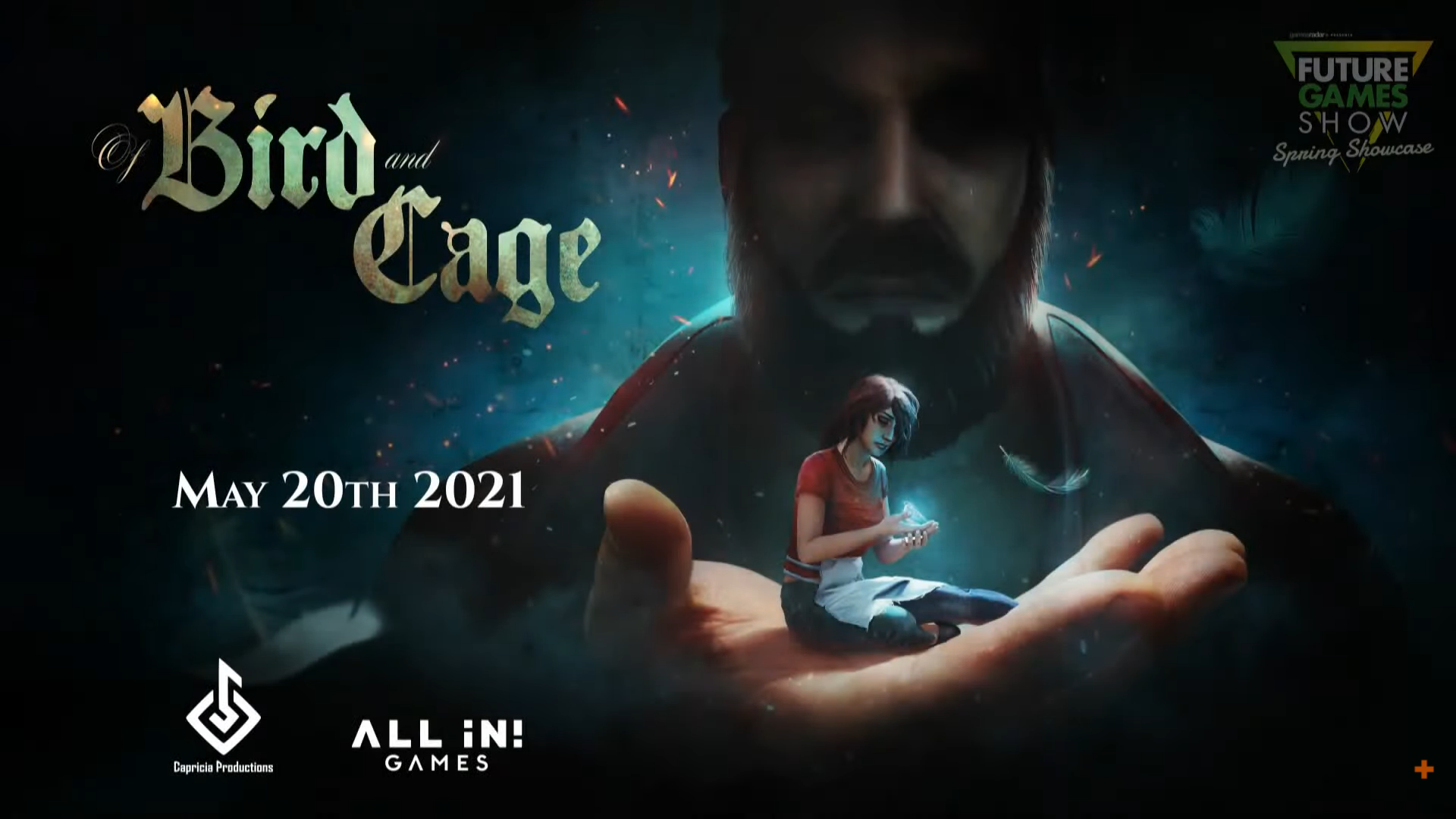 Of Bird and Cage is a unique metal album presented through a short story-driven game. Play music in a brand-new way. Featuring famous artists like Ron "Bumblefoot" Thal (ex-Guns N' Roses), Rob van der Loo (Epica), Ruud Jolie (Within Temptation), and many others!
It's coming to PC via Steam and Nintendo Switch sometime in 2021.
Gamedec
Publisher and developer Anshar Studios have announced that single-player cyberpunk isometric RPG Gamedec will launch for PC via Steam and GOG on 16 September 2021. A Nintendo Switch version is also planned for release in 2021, but a date has yet to be announced.
Here is an overview of the game, via its Steam page:
About

Gamedec is a single-player non-combat cyberpunk isometric RPG. You are a game detective, who solves crimes inside virtual worlds. Use your wits to gather info from your witnesses and suspects, get to the bottom of deceptive schemes, save lives, and investigate the extraordinary relationships between virtual worlds and their inhabitants. The game continually adapts to your choices and never judges – You are the sum of your choices.

Welcome to Warsaw City of the XXII century. The Tech of the future is so advanced that the term "real" is relative and "life" and "death" have many meanings. Virtual worlds give rise to problems of the human nature: lust, sloth, envy, and pride. The residents of these virtual game-worlds need specialists—Gamedecs—Private Investigators with experience in those worlds who work to discover the secrets and explores mechanics hidden in those realities for the commission of your clients. You are one of them. You are a Gamedec.

Gamedec emulates the nature of tabletop RPGs by focusing on character development through decision making. Gather aspects and craft your unique set of professions that will allow you to lead investigations in a way that feet your style. Discover extraordinary relationships between the virtual worlds and their inhabitants thanks to the gathered information in the codex.

Like in classic tabletop RPGs, you're given the freedom to approach situations from multiple angles rather than forcing a single solution – the choice is yours and yours alone.

Key Features

Interact with NPCs to gather intel and access different dialogue options depending on your choices, developed profession and acquired knowledge.
Visit numerous virtual worlds, from the deceitful farm-like environment, through dark-noir cyberpunk realities to fantasy-based realms.
Use your Codex and Deduction to unscramble facts and evidence to conclude the case. Find your own answer and respond accordingly to your own ethics, integrity or just a sense of poetic justice.
Shape your character through actions that grant positive or negative effects. Determine how to you want to be perceived by the other by selecting traits, which correspond to your gameplay style. Develop your own Gamedec through your decisions, choices, and actions.
Meet various characters in both Realium and Virtualium that can be friendly, or hostile—depending on your decisions throughout the game.
Embr
Publisher Curve Digital and developer Muse Games will release Embr for PS4, Xbox One, Nintendo Switch, and PC via Steam this summer, the companies announced. The game is currently in Early Access for PC via Steam.
Here is an overview of the game, via its Steam page:
About

The Emergency Services Revolution has begun! Become an Embr Respondr™ today! Fight fires and save lives while climbing the ladder of success, all within the comfort of flexible working hours. Embr's mission is simple; bring über firefighting to everyone, everywhere.

As an Embr Respondr™️, you'll answer calls for help, and with the addition of EmbrGigs, you can make extra money by delivering food, helping clients move, salvaging valuables, and much more! Break down doors, clear gas leaks, elude expensive security systems, and put out fires—no job is too big for an Embr Respondr.

Join us in what leading tech experts are calling "the startup of the century", and become the hero we all know you are!

Key Features

Respondr Coordinated Response – Tackle jobs with up to three friends and fellow Respondrs™ to make even the deadliest fire a co-op fuelled stroll through the park.
Save the Day, Your Way – Break down doors, smash windows, fix electrical circuits, clear gas leaks, evade security systems, and do whatever it takes to get the job done and get paid!
Long and Extensive Career Path – Climb the ladder of success as you become the best in the business. Take on 8 varieties of jobs across 17 neighborhoods and two districts. Rescue clients and valuables, salvage goods and cold hard cash, escape from sinister competitor traps, clean up gas leaks, and even deliver food under fire! Amass ratings and unlock even richer jobs from corporate clients.
Personalized Equipment Service – Be a cut above the competition by purchasing and upgrading over 20 new tools. Scale building with the Grapplr, throw yourself or your clients safely out the window with the parachute, or keep your clients cool with the ice gun. With over 100 clothing and vehicle upgrades with different capabilities purchased directly from Embr, you can tailor your experience, in style. Welcome to modern private firefighting.
THE Emergency Services Revolution – Join the brand new Embr Early Access program and partner with us to shape the future of Embr as a valued Embr Respondr and Community Member! Leave your feedback anywhere from Steam forums, Embr Discord, to emails and social media. We read them all. And remember to give us a Wishlist and Follow!
Kathy Rain The Director's Cut
Award-winning adventure Kathy Rain returns in the Director's Cut of the point and click game, featuring an extended story with more puzzles to solve and new areas to explore. Witness the rise of an iconic detective as you uncover a dark and sinister truth hiding behind the calm exterior of a small rural town.
It's coming to PC via Steam sometime in 2021.
Back 4 Blood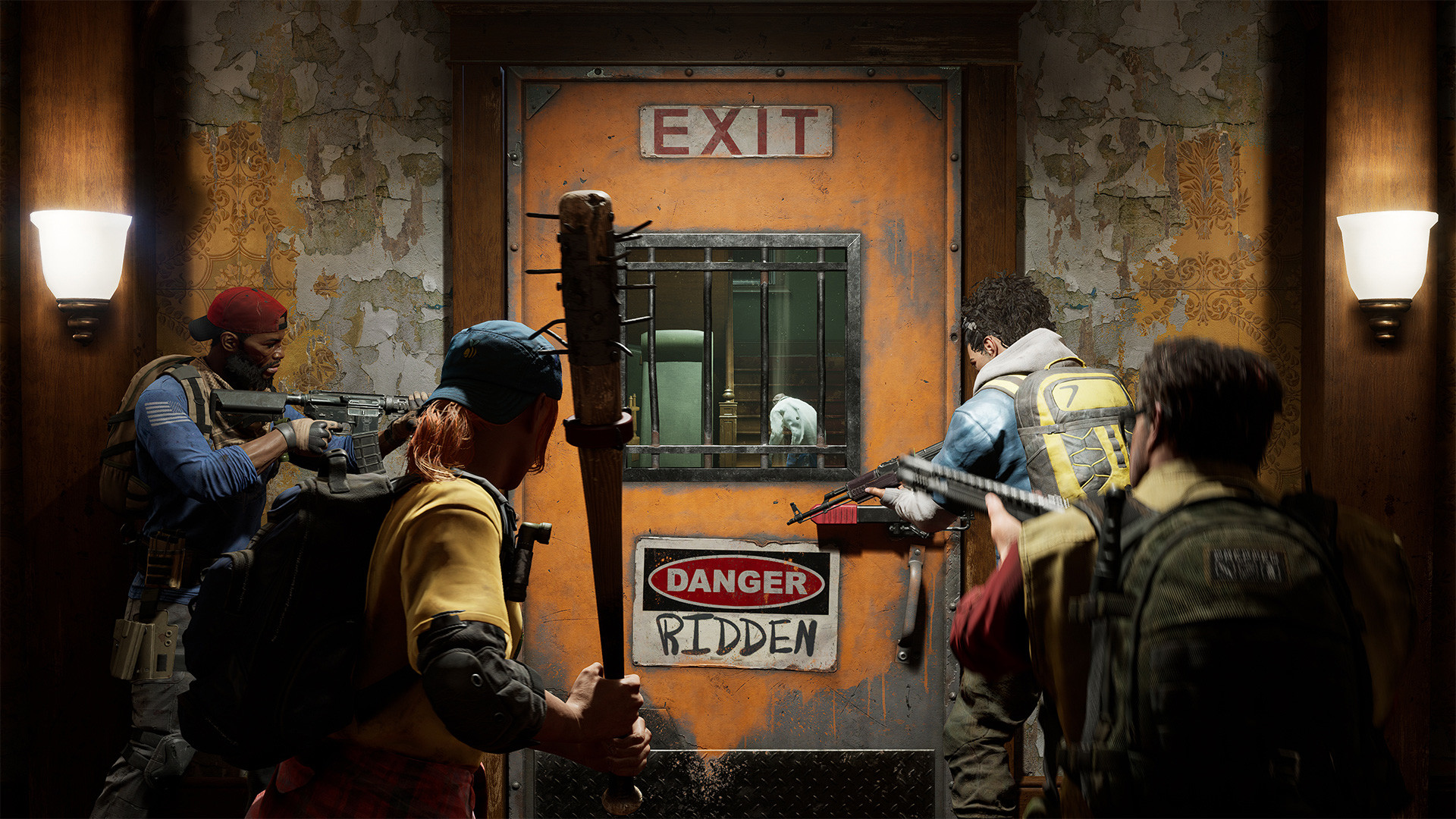 Back 4 Blood was recently delayed to 12 October 2021. It is slated to release for the PS4, PS5, Xbox One, Xbox Series X, and PC via Steam and the Epic Games Store.
Warhammer Age Of Sigmar Tempestfall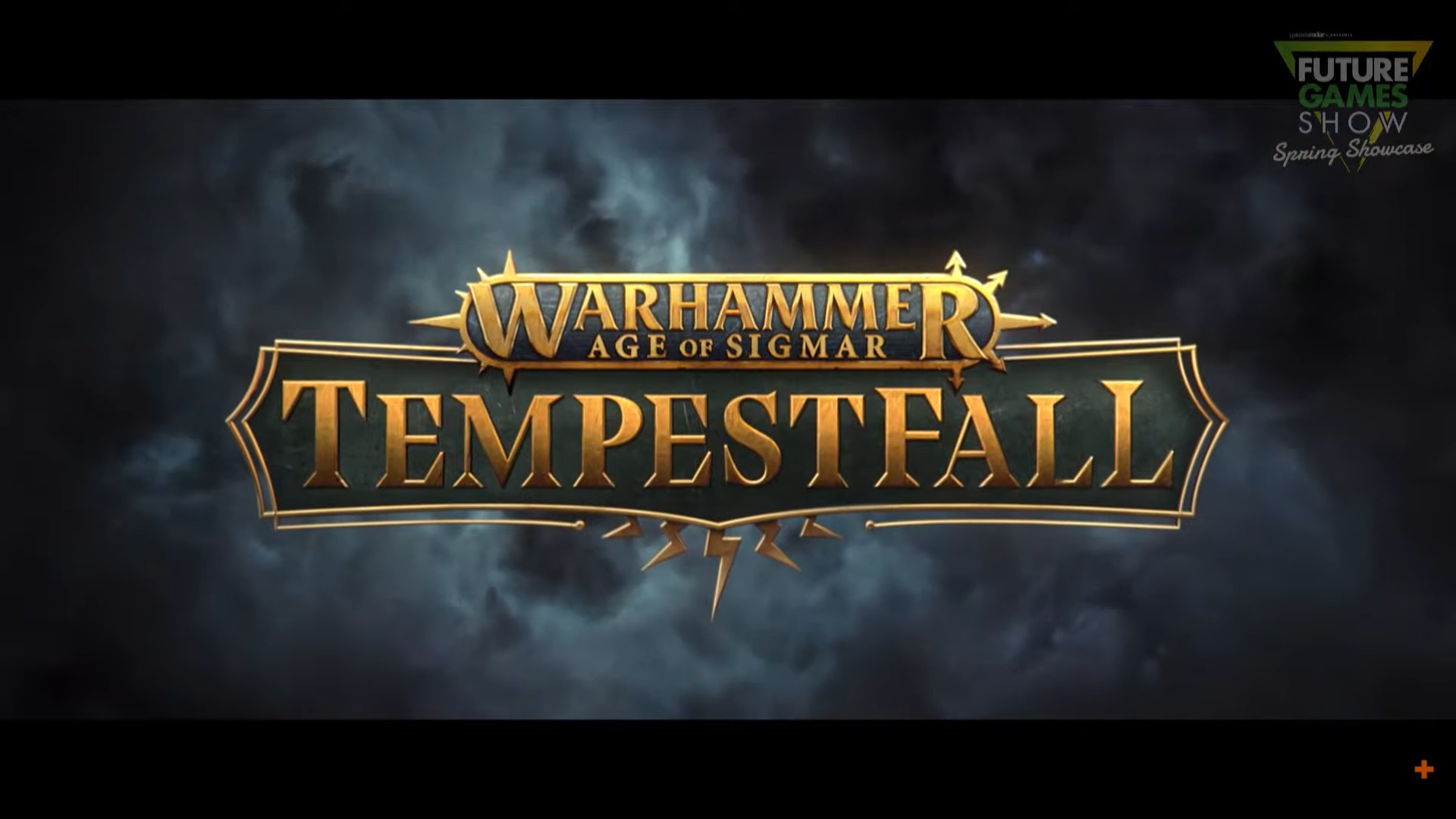 Battle the forces of Nighthaunt in this VR-exclusive action-adventure Warhammer Age of Sigmar game. Wield iconic weapons of a Lord-Arcanum and deliver Sigmar's justice using motion-based abilities and magic across the realm of Death.
It's slated to PC VR via Steam and Oculus Quest in 2021.
The Longest Road On Earth
The Longest Road on Earth is a thoughtful and deeply personal narrative-title. Stripped-down mechanics and the lack of dialogue or text allow you to fully immerse yourself in the ordinary lives of four characters. Each short-story will allow players to be swept away by the haunting and poignant lyrics of over twenty original, emotionally-charged songs, sung by Beicoli.
It's coming to PC via Steam and mobile in spring 2021.
Green Hell
GREEN HELL is an Open World Survival Simulator set in the uncharted unique setting of the Amazonian rainforest.
It's coming to consoles and PC via Steam in June 2021.
Operation Tango
Espionage-themed cooperative adventure game Operation: Tango will launch for the PS4, PS5, Xbox One, Xbox Series X/S and PC via Steam and the Epic Games Store on 1 June 2021.
Here is an overview of the game, via Clever Plays:
Operation: Tango plays out much like a virtual escape room, bonding players in the process. One player will take on the role of Angel, the "Field Agent," while the other plays as Alistair, the "Hacker." Playing from separate devices, each player enjoys a completely unique play experience. The pair must work together, in constant verbal contact, and linked in an augmented, fully-connected, and highly-stylized world to solve puzzles and complete each high stakes mission.

The game takes its tagline, "It Takes Two to Save the World," to heart, in that only by sharing the vantage points of each role can players overcome the many challenges that stand between them and completing each mission. The resulting experience is more like an in-person game night or team challenge.

Players hosting the game can invite a friend to join them for free via their game platform, where applicable. However, to host a game, players must own a copy of Operation: Tango. At launch, the game will have cross-play across systems.
Serial Cleaners
Serial Cleaners is a single-player stealth action crime story in which you alternate between playing four eccentric mob cleaners taking on the bloodiest jobs the carefree 1990s had to offer. If you remember the nineties differently, their dirty work is the reason why.
It's coming to PC via Steam in 2021.
Don't Forget Me
Inspired by games like Her Story and The Red Strings Club, Don't Forget Me combines classic adventure gameplay with a modern puzzle system. Enter the minds of patients and use deduction to access their memories and progress your story.
It's coming to PC via Steam on 20 April 2021.
Fire Commander
Publisher Movie Games and developers Atomic Wolf and Pixel Crow have announced the tactical game Fire Commander for PS4, PS5, Xbox One, Xbox Series X/S and PC (Steam). It will launch on 15 September 2021.
Here is an overview of the game, via its Steam page:
This is a Way of Life

How would it feel to head a group of firefighters and manage a fire station? Facing the fire and making decisions that can affect the lives of many people? Now you have the chance to experience it in Fire Commander!

The Many Faces of Firefighting

From extinguishing fires, to saving people and valuable equipment, experience a variety of environments and dangers, including the risk of a toxic spill. Be free to utilize different vehicles, class specializations and tools. Creatively combining them, discover multiple ways of dealing with any situation. In action, consider such factors as backdraft, smoke, or materials with a different combustion temperature.

The welfare of your crew and the success of the missions depend on your decisions.

Stand Behind Your People's Back

Putting your life on the line together can form strong bonds between you and your crew. The team becomes your family. Take care of your people, before and during rescue actions. Send your firefighters on training courses and develop their skills. Be sure that during emergencies, everyone will know what to do.

Key Features

Different classes of firefighters.
Experience system with unlockable skills.
Numerous rescue vehicles and a growing fire station.
Story and side missions.
An enemy you cannot outpower, only outsmart.
War Hospital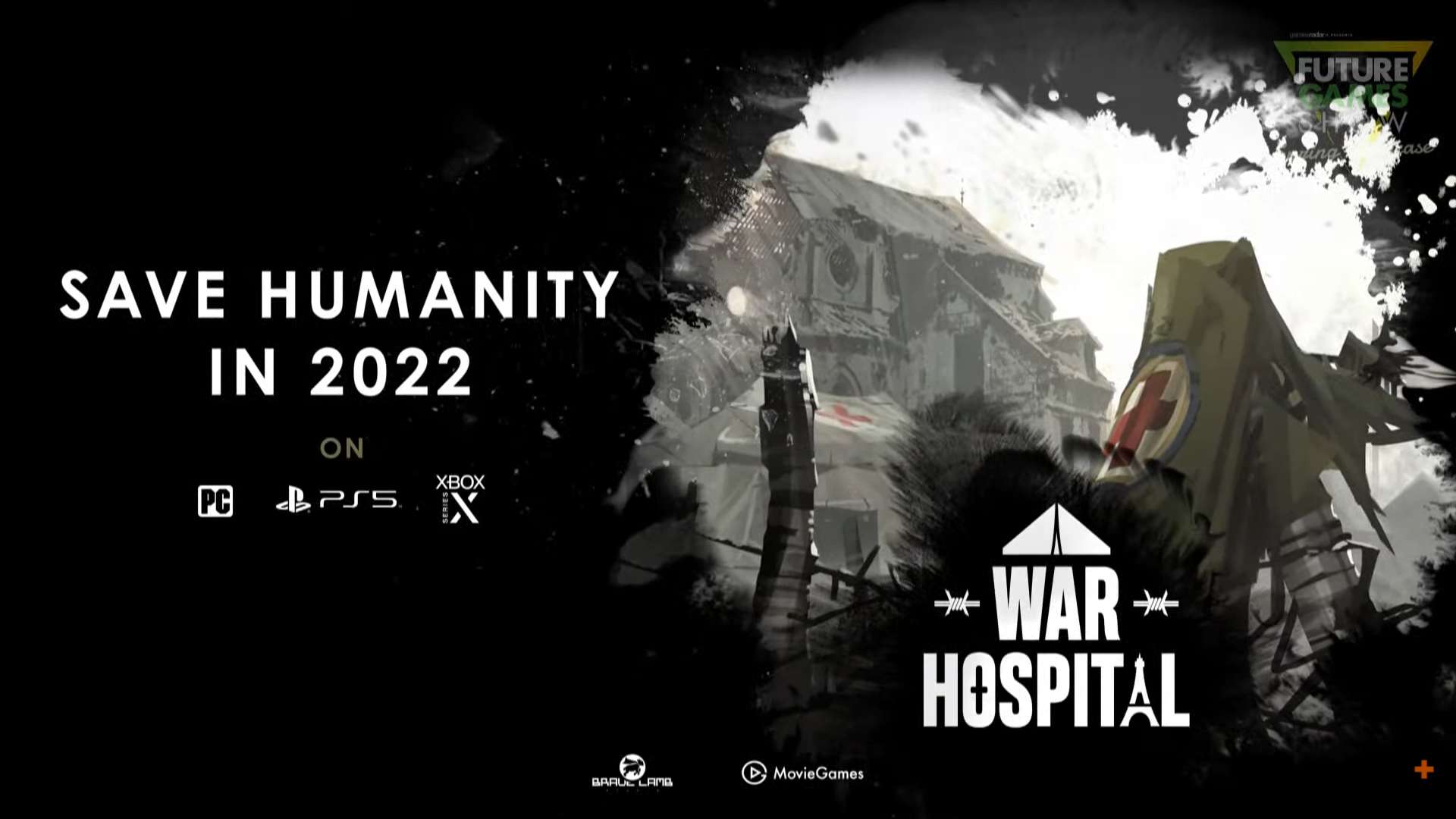 Publisher Movie Games and developer Brave Lamb Studio have announced World War I society survival game War Hospital for the PS5, Xbox Series X/S, and PC (Steam). It will launch in Q4 2022.
Here is an overview of the game, via its Steam page:
About

When the bullet hits the target, another fight starts. A fight for life. A fight for the soul.

The year is 1917. You are major Henry Wells, a retired British combat medic, drafted back and thrown into the nightmare of World War I. Understaffed and undersupplied, you are the last bastion of hope for countless soldiers at the French Front.

Life of Hundreds is in Your Hands

Treat horrible war injuries as the commander of a field hospital. Build a facility to heal them while the artillery shells explode ear-splittingly close. Use real WW1 equipment and see how your tools and methods evolve. Your choices will make a lasting impact.

Be the Angel of the Battlefield

Build a micro-community of life-savers and survivors. Kindle hope in your staff and soldiers. Bring a speck of normalcy by inspiring periods of ceasefire. Play a war-themed game that celebrates life, not death.

"In the middle of difficulty lies opportunity." — Albert Einstein

Key Features

A war-themed game focused on saving lives, not taking them.
Society survival that challenges tactics as well as morals.
Faithfully recreated setting of the French Front in World War I.
Realistically depicted conditions of a British field hospital.
Develop and put to use innovative WW1 medical technology.
Lost Words Beyond The Page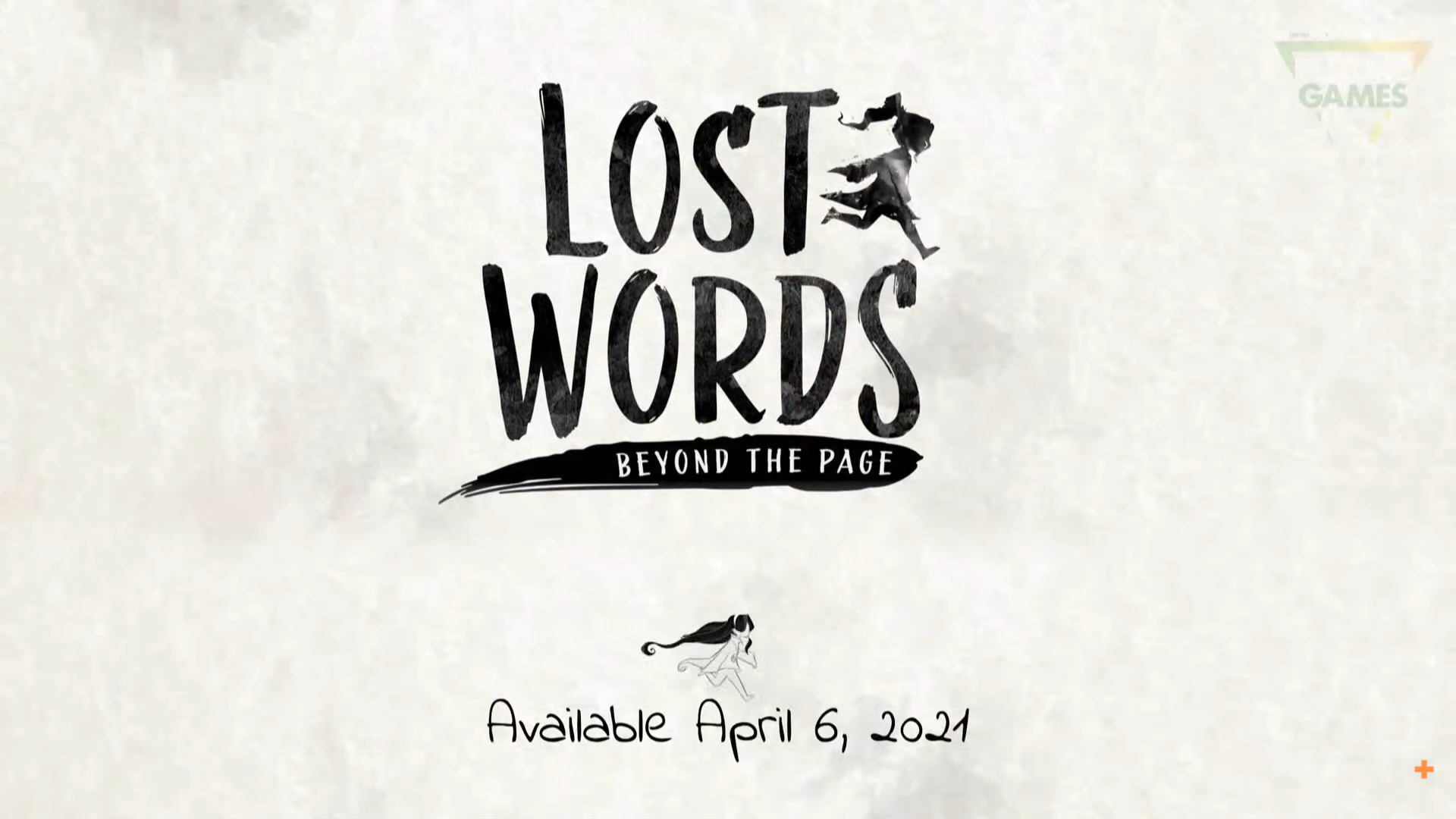 Lost Words Beyond The Page is an atmospheric narrative adventure written by Rhianna Pratchett. Set between the pages of a diary and a fantasy story where you run on words and use them to interact with the world around you.
It's coming to consoles and PC via Steam on 6 April 2021.
Haunted Space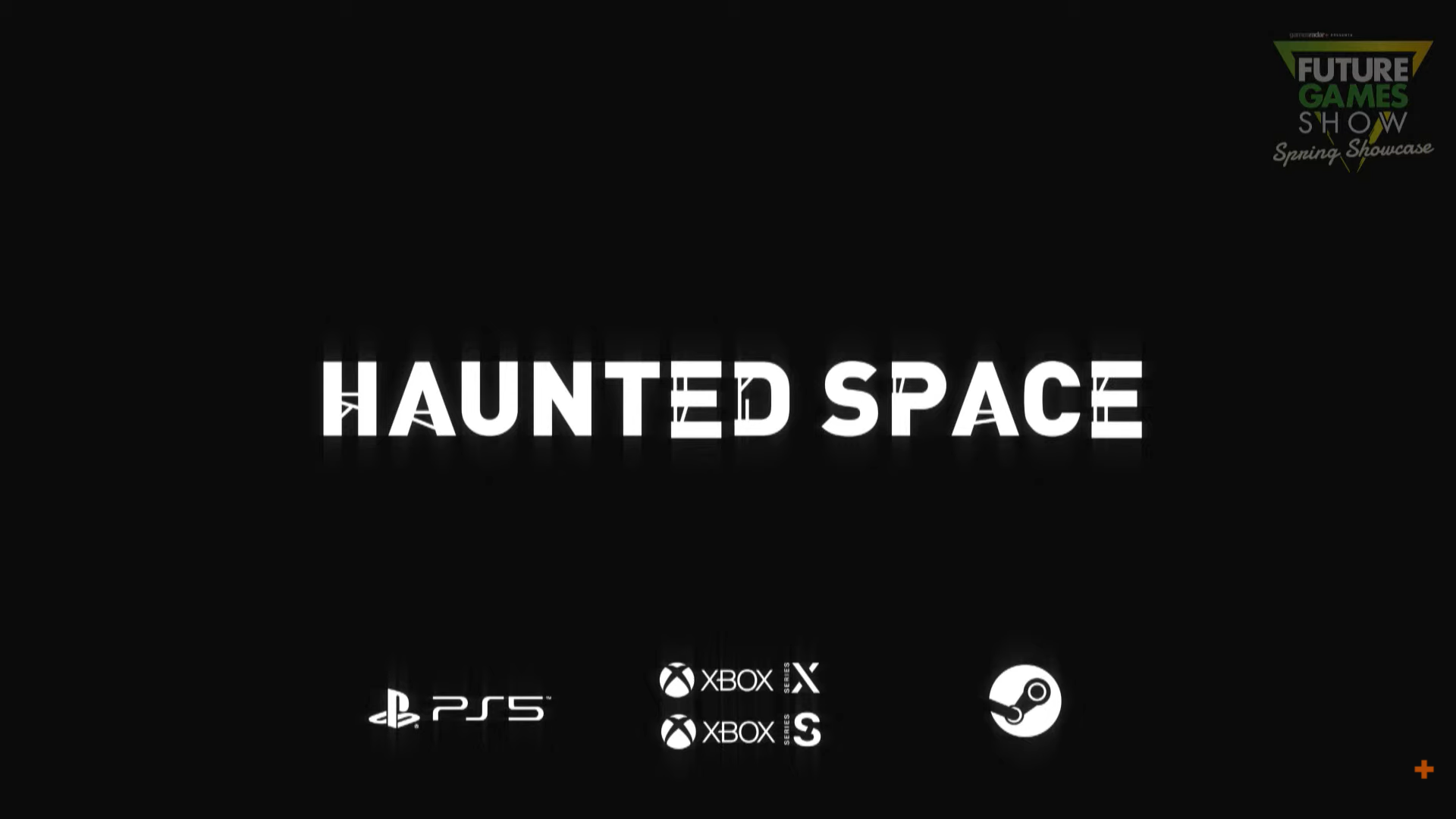 Publisher Merge Games and developer Italian Games Factory have announced Haunted Space, a science-fiction horror game for the PS5, Xbox Series X/S, and PC (Steam). A release date was not announced.
Here is an overview of the game, via its Steam page:
About

Experience the next generation of space combat in Haunted Space. Sci-fi blends with horror elements in a story-rich adventure based on exploration, fast-paced dogfighting, trading and ship crafting, with customisable flight simulation and intense multi-stage boss battles.

In the far future, the second age of human civilisation reached the distant Neterun galaxy and discovered a powerful energy called Sonic Matter. Millions of settlers arrived in Neterun's systems and a vast factory called the Metal Mother Facility was built to harvest this valuable resource. But humanity soon discovered they were not alone…

Take on the role of a Raider, in the service of the Human Empire, as you traverse a treacherous galaxy in the far reaches of space. Take on quests across multiple systems or strike out on your own to fight, explore and scavenge resources and credits. Trade, craft, customize your ship and fight to survive as you uncover the mystery of a galaxy haunted by an ancient civilization.

Key Features

Explore the Neterun Galaxy – Traverse multiple unique star systems, each filled with danger and intrigue. Play in first person or third person perspective as you overcome the challenges of this dangerous backwater of space.
Experience a Deep and Epic Sci-Fi Horror Story – Neterun is full of monuments and relics left by an ancient civilization and the galaxy is haunted by their ghosts. Unravel the reasons for their presence and fight for survival against their supernatural threat in a story inspired by the dark and twisted tales of Heavy Metal and 2000AD.
Take on the Fearsome Colossi – Overcome the odds in fierce multi-stage boss battles against ancient God-like creatures composed of organic matter and space debris.
Make Your Mark – Trade and craft new ships and ship equipment using powerful and customizable ship modification tools—create and buy new weapons, shields, cargo containers, engines and more. Stunning ray tracing effects and immersive audio put you in the heart of the action like never before.
Play Your Way – In Haunted Space, the innovative co-pilot system allows you to choose the level of control you prefer, from a complete space simulation, through to a more arcade style experience. At its maximum level, the co-pilot makes the game accessible for blind and visually impaired users, and it also supports eye-tracking.
Sub Rosa
Sub Rosa is a multiplayer first-person shooter about tense deals, double-crosses, and the occasional high-speed car chase.
It is in Early Access on Steam right now.
Martha Is Dead
Martha Is Dead is a first-person psychological thriller coming to the PS4, PS5, Xbox One, Xbox Series X, and PC sometime in 2021.
The game is set in Tuscany in 1944. As conflict intensifies between German and Allied forces, the body of a woman is found drowned. Her twin sister must alone deal with the acute trauma of loss, while the truth of the brutal murder is shrouded by mysterious folklore and the extreme horror of war which draws ever closer.
Sifu
Developer Sloclap reveals more about their upcoming game, Sifu.
It is slated to release for the PS4, PS5 and PC via Epic Games Store sometime in 2021.
Kena Bridge Of Spirits
Ember Labs has released a new showcase video for Kena: Bridge of Spirits featuring new gameplay footage.
It is slated to release for the PS4, PS5 and PC via the Epic Games Store on 24 August 2021.
You can watch the almost two-hour-long Future Games Show Spring Showcase 2021 live stream presentation below: