Recently, I wrote all about who or what Invincible is, and why everyone should watch the animated series or read the source material. In my in-depth but spoiler-free article, I explained how Invincible is both a celebration and deconstruction of the genre. The Invincible comics even preceded the comics of the now-immensely-popular The Boys.
Now that I've watched the first three episodes of Amazon's Invincible, I'm happy to say that it's a pretty faithful adaptation (albeit with some changes) and one that captures the essence of the original comics by Robert Kirkman and Cory Walker/Ryan Ottley.
My Name Is Mark Grayson…
Mark Grayson (Steven Yeun) is the protagonist of Invincible and at first, he seems like just an average ordinary American teenager, but he's also the son of Omni-Man (J.K. Simmons), this world's equivalent of DC Comics' Superman. When he finally gets his own powers, Mark wants to follow the footsteps and legacy of his father by taking on the mantle of Invincible. That's basically the gist of the show's premise.
Compared to the likes of The Walking Dead or The Boys, Invincible is more comics-accurate, pretty much following the events of the comics almost beat-by-beat so far (three episodes in). These are minor changes that fans of the comics wouldn't be troubled with, including making Mark Grayson and his mother, Debra Grayson (Sandra Oh), as well as several other characters (like Amber Bennett, Mark's early love interest voiced by Zazie Beetz) into people of colour. This is an attempt at diversification, but it's an apt one, considering that the characters are now the same race as their voice actors.
However, some viewers may find the overall pacing in Invincible slower than they're familiar with in other animated shows. Other animated shoes often only have episodes that are less than 30 minutes long, while Invincible's episodes are almost one hour long each, which is closer to the length of live-action TV series out there. That's not surprising, as Invincible is R-rated and for adults, not only covering heavy subject matter but also sexual content and gory violence.
I won't spoil what happens, but the creative teams certainly did a great job in making sure that there's enough action in each episode. Even the first episode begins with an explosive and action-heavy introduction to the Guardians Of The Globe (the series' equivalent of the Justice League) apprehending the supervillains knowns as the Mauler Twins. The narrative balances the action with quieter scenes of dialogue between Mark and his family/friends.
It's these moments of drama that add depth to these characters, but I still feel like Amazon's Invincible animated series is perhaps stretching the source material while glossing over some of the details. For example, the very first episode already features one of the comics' iconic plot twists, but I felt like it came a little bit too early for it to have much of an emotional impact, though it certainly adds a lot of shock value and an intriguing cliffhanger for those who haven't read the comics. To clarify, this plot twist arrived early on in the comics run as well, but it felt like more deserved there.
… And You Can Call Me Invincible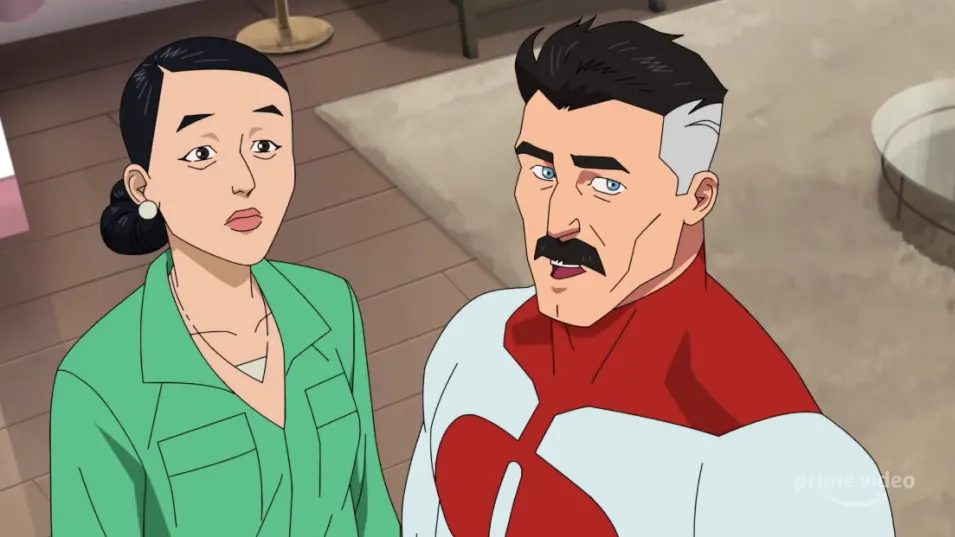 As for the animation, Amazon's Invincible looks good visually but they're sort of a mixed bag. The animation is best during action scenes and when the characters are in motion, which is clearly where the animators spent most of their time and resources (and for very good reason). They're kinetic and gory, with blood and guts just as gory and visceral as in the comics. The animators aren't holding back when it comes to that. If you like the blood and violence in The Boys, you're essentially getting the same thing but in animated form with Invincible.
However, the animation looks much less impressive and lacks polish during the non-action scenes when the characters are just speaking with each other. They're expressive enough but just seems a bit too stilted and static for someone like me, who's grown up watching countless other comic book animated adaptations over the years.
Sometimes, even the flying scenes look weightless. It's not bad, mind you. It just could've been a lot better. An example of this would be the better-animated DC Comics and Warner Bros. Animation's Young Justice.
You Ain't Seen Anything Yet
Still, all of my opinions so far are based on only the first three episodes, and there are still five remaining episodes of Invincible's first season. It's an amazing start, though that's from the perspective of an existing fan of the source material. Those who are not familiar with the comics might think differently, but the shocking ending of the first episode will surely be enough to either keep them watching until the very end (or turn them off, depending on their opinion of the twist).
The best that I could describe Invincible is that it's like The Boys but with a ton of more heart and a lot less cynicism overall. Ultimately, both the comics and the animated series on Amazon Prime Video are best experienced for the first time with little to no knowledge of what will happen. If you think that Invincible's first-episode-twist is mind-blowing, you ain't seen anything yet.
Trust me, you will NOT be ready for what's coming. As for my fellow fans of the comics, this is exactly what we've been waiting for, so let's enjoy the ride. It's not perfect, but it's a good start.
FINAL SCORE: 80/100
Invincible's first three episodes are out now on Amazon Prime Video. Subsequent episodes will premiere every Friday on the streaming service.
Related