Bravely Default 2's Jobs are quite an assortment to experiment with. But did you know that there are a few optional ones you can score if you put in the extra hour or two?
One of them is the Gambler Job. You can only get this in a sidequest chain early in the game. Here's how you can get it (via Reddit), as well as learn how to play the B'n'D card game that comes with it.
Slight story spoilers in Act 1; here's your warning.
Talk To Shirley In The Gambling Hall
Once you fought Annihal the Beastmaster, you can now play the sidequests that will lead to you getting a Gambler Job. Head to the Gambling Hall, talk to the lady standing by the card table. That's Shirley. After a few cutscenes, you will be able to play Bravely Default 2's card game: B 'n' D.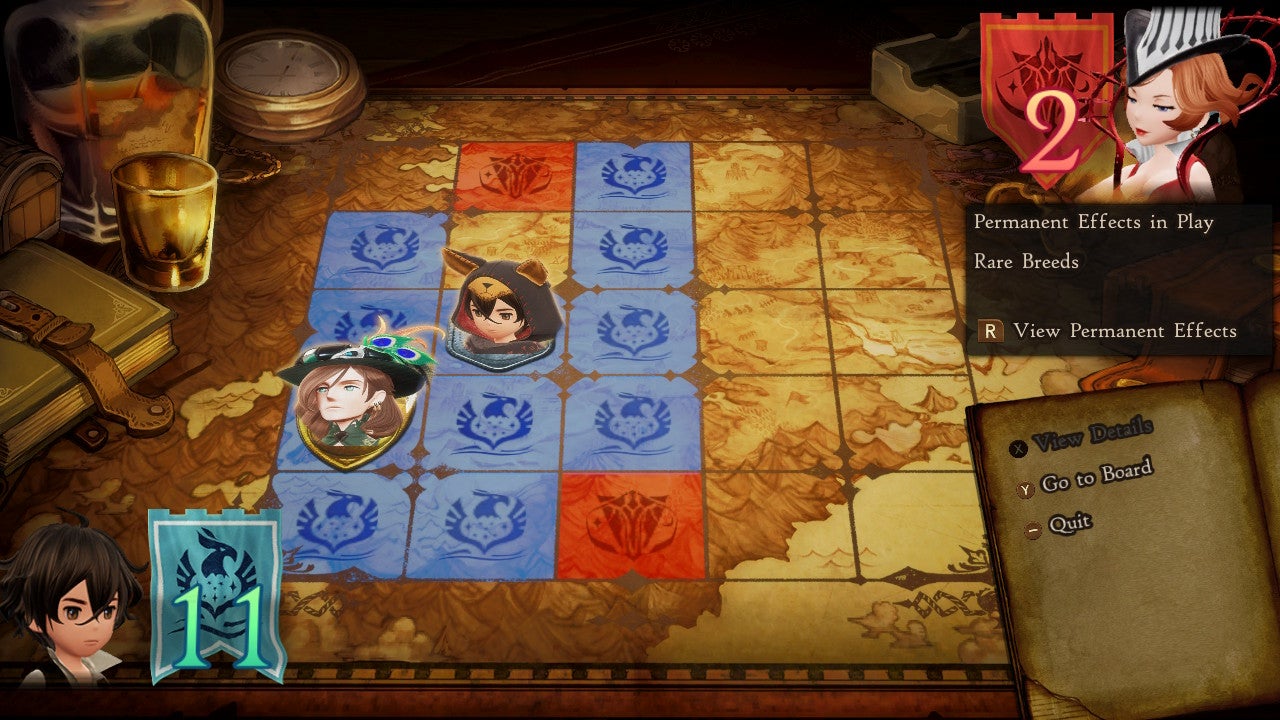 The game is similar to Final Fantasy VIII's Triple Triad, but on a bigger board. Your objective is to get more territory than your opponent. You hamper your opponent's efforts by either eliminating his/her red squares with your own cards, or "flank" them by sandwiching two blue squares in-between one or more red square(s).
Powerful cards usually cover more territory or add different temporary/permanent effects like stopping certain cards from being played for one turn, or weakening/strengthening card types. The permanent effects are represented by character tokens on the board; you can eliminate them and their effects by eliminating that particular square. Simple, but fun!
Boost Your Rank To B & Get More Cards
Once you get your freebie deck from Shirley, you can fight her, but only if you're at B rank and if you have a great deck to beat her. So fight folks in the Gambling Hall to boost your rank to B. Fight the old lady standing next to the bar (left side of the room), fight and beat her to accumulate points, then buy off her cards with said points. The most important one you need is the Bard card.
Once you're done, fight the boy sitting at the card table on the right part of the Gambling Hall. This boy is tougher than the old lady because he loves to use wide flanking techniques. Just get the hang of the AI and avoid situations where you would be flanked. Protip: the boy will ALWAYS use the Beastmaster card on his first turn; use a card like the Vesp to eliminate it and cover more ground. Buy off all his cards; his top prizes are the Gelaflan and Horten cards.
Once you have beaten the two and bought all their cards, just keep fighting any opponent, either in the Gambling Hall or outside. You'll eventually get your rank to B soon enough.
Talk To Orpheus In the Gambling Hall
Once you get your rank to B, you can now fight Shirley. Being an obviously shrewd bitch, she will have a deck as stacked as her bod. You'll need an awesome card to swing things in your favour. Talk to Orpheus, who is skulking at the top part of the Gambling Hall. After a conversation, he will give you the Orpheus card that will weaken all humanoid and beast cards.
Beat Shirley At Her Own Game
Before you initiate a card battle against her, be sure to get your party ready for an oncoming fight. It's best that you're at level 17 or above before attempting this, as well as get the following Jobs buffed up and items for any of your four party members (main/sub):
Vanguard/Bard.
White Mage/Bard.
Black Mage/Beastmaster (with ample supply of beasts & monsters).
Monk/Freelancer.
Ether, Mini Ether, Phoenix Down, Stones, any throwable weapon items.
Any equipment with Sleep Immunity.
Once you're prepped, you can fight Shirley in a card battle. Since you took all cards from most of the NPCs in the room, you can add or change the rules of the card game. Add the "first to 15 points on the rule board" stipulation.
When editing your deck, make sure you have the following ready:
Orpheus
Gambler/Bard
Horten
Vesp
Gelaflan
Any Aqua element card
When fighting her, she will always play the Shirley card. Use the Orpheus card to counter that, attempt to do wide flanks on her red squares, and just be aggressive overall.
Once you beat her, she will fight you alongside Orpheus and two lackey soldiers. Here are some protips:
Shirley is weak to Swords, Staves, Lightning, and Wind. She has no immunities and other benefits.
Default to 3 will all characters save the White Mage. He/She needs to heal.
Have your Black Mage cast Blizzara or Blizzaga to kill off the soldiers and weaken Orpheus. Alternatively, you can use Stones or Thundara for this.
Orpheus will counter your healing, spells, and attacks with Lilting Lullaby, which puts you to sleep. Since you have equipped items that give you Sleep immunity, you don't have to worry about that.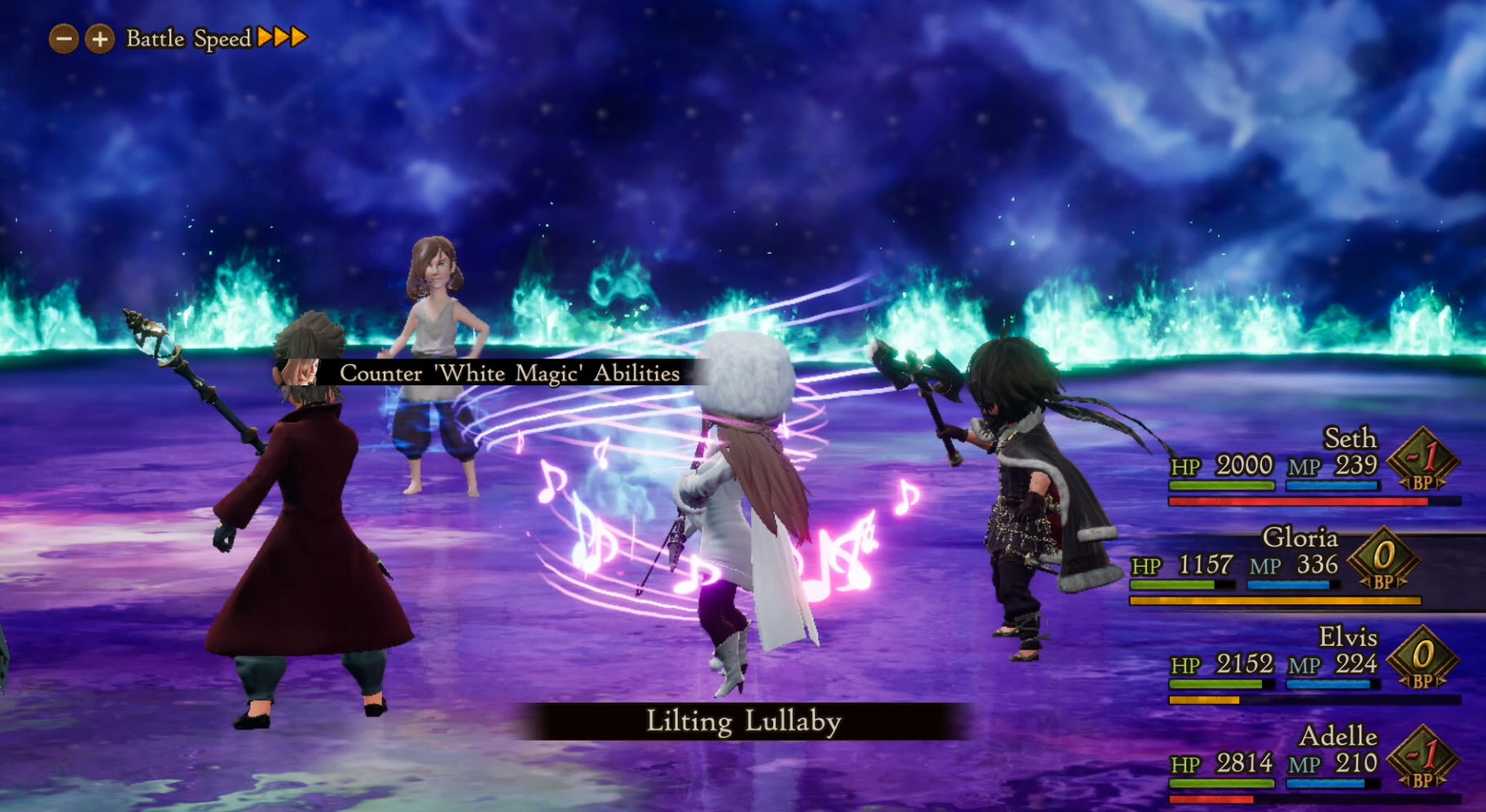 Finish off Orpheus with a Monk's Strong Strike or any powerful you have at your disposal. Use your 3 Brave Points and a Freelancer's Luck+ buff to achieve this.
Use the Vanguard/Bard to buff your party with "Don't Let 'Em Get You" and "Don't Let 'Em Trick You".
You can cast Poison on Shirley.
Whenever Shirley Defaults, you should Default too.
Also, keep your HP above 1,500 whenever possible. That's what your White Mage is for.
Once you beat her, congrats: you now have the Gambler Job!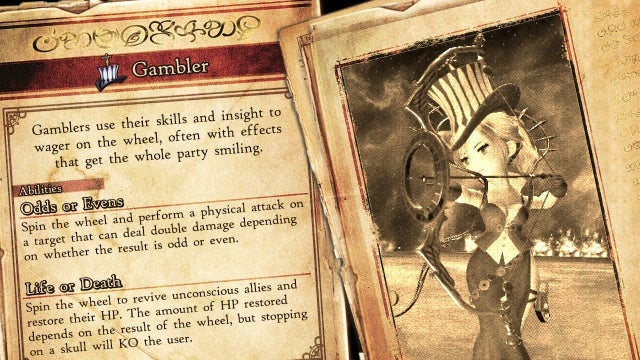 | | | | |
| --- | --- | --- | --- |
| Ability | Job Level | Cost | Description |
| Odds or Evens | 1 | 200 pg | Spin the wheel and perform a physical attack on a target that can deal double damage depending on whether the result is odd or even. |
| Life or Death | 2 | 666 pg | Spin the wheel to revive unconscious allies and restore their HP. The amount of HP restored depends on the result of the wheel, but stopping on a skull will KO the user. |
| Flash the Cash | 3 | N/A | Spend 50 pg multiplied by the user's level to deal 1.3x that amount of damage to a target. |
| Spin the Wheel | 5 | 1 BP | Spin the wheel and receive 77 times the result in pg. |
| Elemental Wheel | 6 | 300 pg | Spin a double wheel featuring both numbers and elements, and perform elemental attacks on random targets based on the result. |
| Triples | 7 | 500 pg | Spin the wheel and perform a physical attack on a target. Landing on a number in the range selected will result in triple damage. |
| Bold Gambit | 9 | 777 pg | Spin the wheel featuring the numbers one to ten. Landing on ten will result in all allies or enemies earning three BP. |
| High Roller | 11 | 10000 pg | Spend 10000 pg to perform an extremely powerful physical attack on a target. |
| Dealer's Choice | 12 | 1 BP | Trigger random effects that can affect enemies, allies or both. |
That's it for the Gambler Job. For more guides, here's the optimal way to farm Speed Buns early in the game.
If you want to max out the Gambler Job quick, we have a guide for JP farming too!