Netflix Geeked Week is a free five-day event that runs from 7 June to 11 June 2021. There will be tons of exciting announcements and exclusive first-looks to new trailers, celebrity appearances and so much more.
ALL THE NEWS & SNEAK PEEKS FROM DAY 4
Fret not if you can't watch Geeked Week live because we're compiling all of the latest news, hottest clips and lots more this week to keep you up-to-date and on top of the action. You can check out all the highlights and announcements from Netflix Geeked Week Day 1 here, Day 2 here and Day 3 here.
Masters Of The Universe Revelation Trailer
Check out the first epic teaser trailer for Masters Of The Universe Revelation. The animated series will premiere on 23 July 2021.
Five episodes are planned for its Part 1 of the series, with production duties by Powerhouse Animation (the same team who did the Castlevania animated series).
The show boasts the following voices and actors for the show:
Mark Hamill as Skeletor.
Lena Headey as Evil-Lyn.
Chris Wood as Prince Adam/He-Man.
Sarah Michelle Gellar as Teela.
Liam Cunningham as Man-At-Arms.
Stephen Root as Cringer.
Henry Rollins as Tri-Klops.
Alicia Silverstone as Queen Marlena.
Jason Mewes (Jay) as Stinkor, because it's a Kevin Smith production.
The Loud House Movie 
The Loud House Movie will premiere on 20 August 2021.
Twilight Of The Gods
Twilight Of The Gods is an original anime series by Zack Snyder.
It will star
Sylvia Hoeks as SIGRID.
Stuart Martin as LEIF.
Pilou Asbæk as THOR.
John Noble as ODIN.
Paterson Joseph as LOKI.
Rahul Kohli as EGILL.
Jamie Clayton as THE SEID-KONA.
Kristopher Hivju as ANDVARI.
Peter Stormare as ULFR.
Jamie Chung as HEL.
Lauren Cohan as INGE.
Corey Stoll as HRAFNKEL.
Mobile Suit Gundam Hathaway
The story revolves around Hathaway Noa, who now goes by the name Mufti Nabiyy Erin, as he starts a terrorist group to stop the abuses of the Earth Federation.
However, there is no release date yet.
Shaman King 
Shaman King will premiere on 9 August 2021.
Edens Zero
Edens Zero will premiere on 26 August 2021.
Exception
The new space horror anime series is based on a new story by Hirotaka Adachi (aka "Otsuichi"), with character designs by Final Fantasy's Yoshitaka Amano.
Make My Day
On a cold planet of ice and snow, mysterious creatures suddenly have appeared from the dark underground and have begun to attack the inhabitants. Can humanity survive the terror lurking beyond the horizon?
Bright Samurai Soul
Izo, a Ronin, and Raiden, an orc, work to bring a young elf girl and the wand she carries to the land of the elves in the north.
Based on the Netflix movie, the anime film will be directed by Kyohei Ishiguro.
Godzilla Singular Point 
https://twitter.com/NetflixGeeked/status/1403025037980880898
Godzilla Singular Point will premiere on 24 June 2021.
Resident Evil Infinite Darkness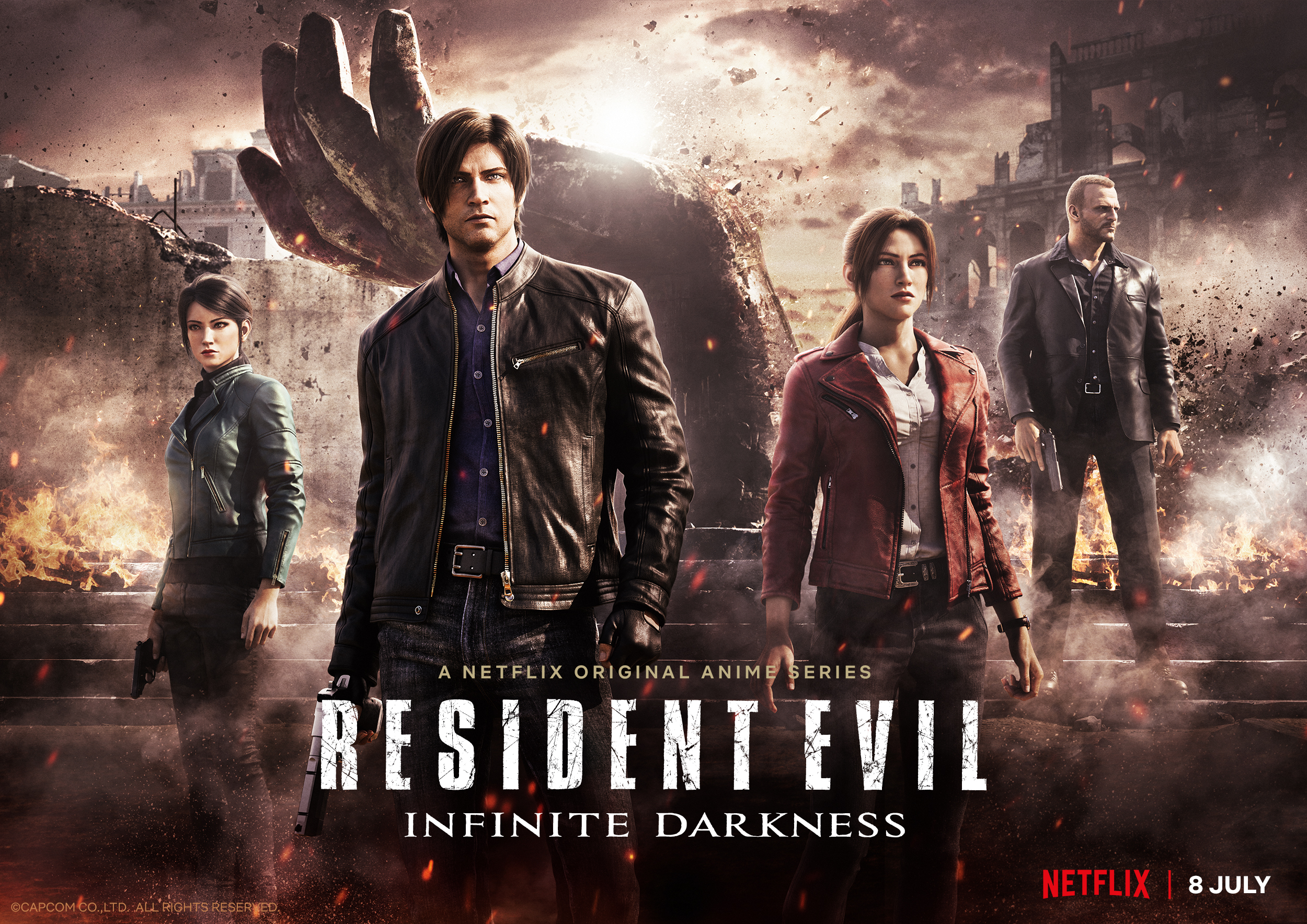 Check out the opening few minutes of the upcoming series. Resident Evil Infinite Darkness is launching exclusively on Netflix on 8 July 2021. The series takes place in 2006, two years after the events of Resident Evil 4.
The synopsis reads:
Six years ago (2000), the helicopter belonging to the U.S. special forces who were intervening in the Penamstan civil war fell from the sky.

The U.S. Army Mad Dogs, who were in the same battleground, refused orders from the command center to stand their ground and instead went to save survivors of the crash.

However, the special forces were already annihilated. The Mad Dogs, led by their captain Jason, were also forced to escape in order to survive.

However, in that place, Jason and his unit saw the supposedly dead special forces moving in strange ways…

In the present (2006), a hacking incident occurs on a top secret White House file. Four agents, including Leon S. Kennedy and Jason, the "Hero of Penamstan," are invited to the White House to investigate this incident.

However, when the lights suddenly go out, they are forced to take down a horde of mysterious zombies alongside the SWAT team.

Afterward, the top secret file is found to be related to a biology laboratory in Shanghai, which Leon and the other three agents decide to investigate for clues.

As they head to Shanghai in a cutting-edge submarine, a swarm of rat-like Bio Organic Weapons (B.O.W.) suddenly attacks, pushing them into a life-or-death situation.

Meanwhile, while staying in Penamstan to provide support for refugees, Terra Save staff member Claire Redfield encounters a strange image drawn by a nonverbal boy.

Haunted by this drawing, which appears to depict a victim of viral infection, Claire starts her own investigation.

She eventually finds a terrifying experiment that was conducted during the Penamstan civil war.

Leon and Claire draw closer to an unimaginable truth that all began in Penamstan.

They also discover that a terror that can shatter peace is slowly approaching…
Transformers War For Cybertron Kingdom
Transformers War For Cybertron Kingdom will premiere on 29 July 2021.
You can watch the entire Netflix Geeked Week Day 4 live stream below: