Ratchet & Clank Rift Apart is out now for the PS5 and to no one's surprise, it's another brilliant game from Insomniac Games (you can check out my 4000-word spoiler-free review of Ratchet & Clank Rift Apart here). It's been years since we last saw the dynamic duo from the same continuity as the PS2 and PS3 titles (2016's Ratchet & Clank was a standalone remake of the first game).
With lots of accessibility options and multiple difficulties to choose from, Ratchet & Clank Rift Apart is a game that everyone from younger children to adults can play. Still, the least I can do is tell you which weapons are worth upgrading, as well as several tips and tricks I've learnt after obtaining the Platinum. Oh, yeah, I Platinum-ed the game.
If you'd rather discover all the weapons and most of the game for yourself, I've added some spoiler warnings below:
Ratchet & Clank Rift Apart Best Weapons
There are 20 weapons in total in Ratchet & Clank Rift Apart, with some of them being more useful than others. While the game does encourage players to use a variety of weapons instead of using just one or two, your Bolts and Raritanium are scarce, especially at the beginning.
Keep in mind that weapons have two names here because when a weapon reaches level 5, it changes its name and gains new abilities. A weapon gains a level when it accumulates enough experience from regular usage. Here are the best weapons that you should totally spend your heard-earned Bolts to purchase, Raritanium to upgrade, and time/effort to upgrade:
1. Lightning Rod / Lightning Strike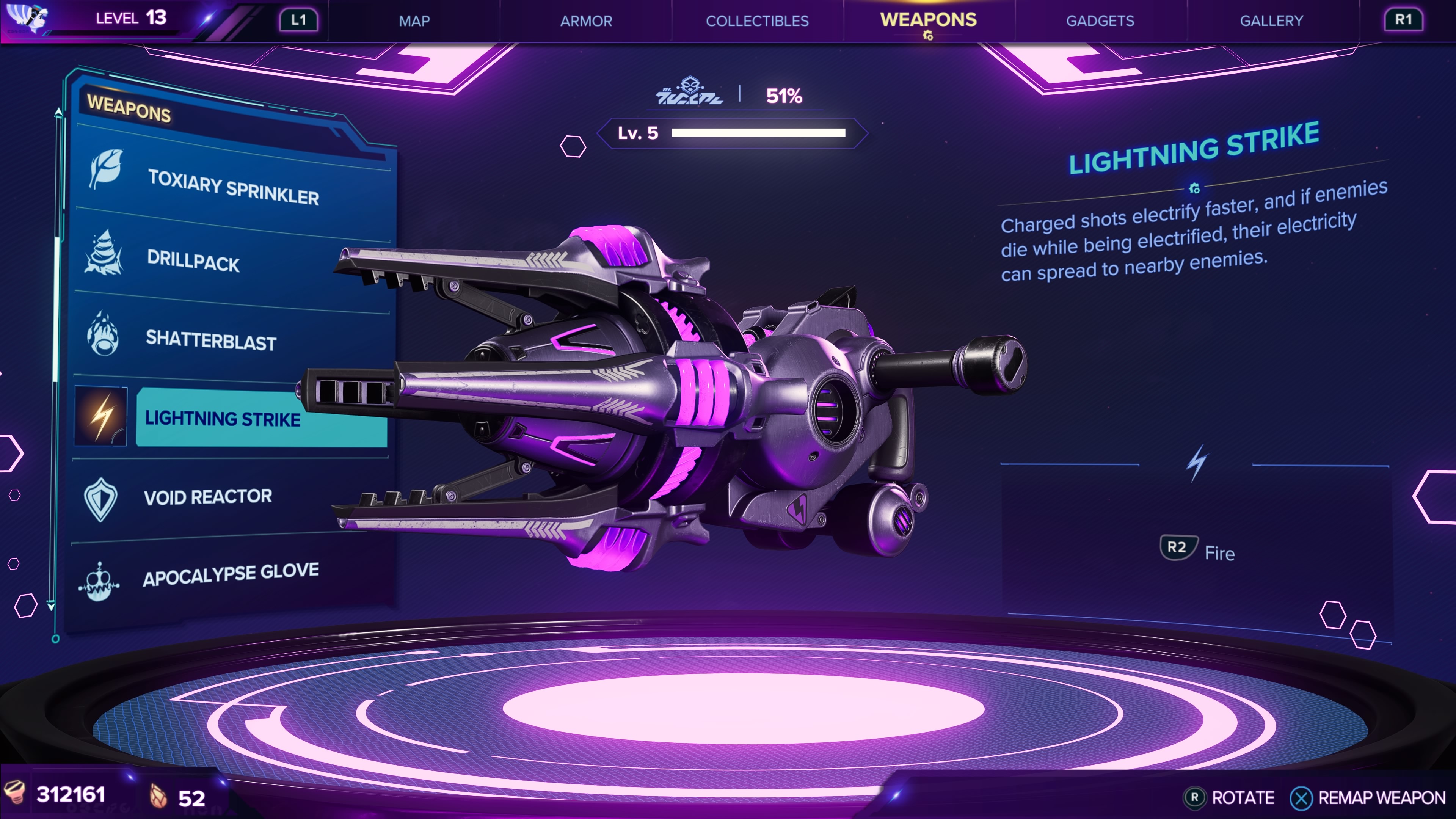 In Ratchet & Clank Rift Apart, the only weapon that you get for free is the Burst Pistol / Blast Pistol at the very beginning of the weapon. It basically shoots lasers in continuous rapid bursts, like a machine gun. The Lightning Rod / Blast Pistol works similarly, but instead of laser beams, it shoots lightning that can even spread to nearby enemies and damage them.
Best of all, using this weapon on enemies (even bosses) will result in a special effect. They will react as if they're electrocuted, causing them to be temporarily unable to attack you while in this electrocuted state. It's a very hilarious effect too; imagine when cartoon characters get electrocuted, it's exactly like that.
2. Mr. Fungi / Ms. Fungal
There are several weapons in Ratchet & Clank Rift Apart that are support weapons. Instead of directly damaging enemies, they are usually summoned or passively/automatically attacks enemies for you. You can likely buy Mr. Fungi pretty early in the game, and you should, because once summoned, he can not only help attack enemies but also distract them.
As you upgrade this weapon, he'll get more powerful and even gain a partner in the form of Ms. Fungal for double the firepower and distractions once this weapon reaches level 5. Unfortunately, one downside of this weapon is that Mr. Fungi/Ms. Fungal don't really last long once they're summoned. Also, there's a trophy tied to using this weapon.
3. Negatron Collider / Large Negatron Collider
This is another weapon you'll get pretty early on but is pretty strong even until the end of the game. The Negatron Collider essentially charges up (when the Adaptive Trigger is pushed halfway) and releases a massive destructive beam once the button is pushed all the way. It is especially useful against swarms of enemies and is even useful for long-range assaults on flying enemies.
Once it becomes a Large Negatron Collider, the massive beam will end in a just-as-massive explosion that annihilates any nearby enemies. A tool of destruction, indeed. Also, there's a trophy tied to using this weapon.
4. Ricochet / Wreckochet
Don't let this weapon's simple design or name fool you. This weapon does exactly what its name states. The Ricochet shoots a projectile that can strike enemies. What's so special about that? Well, if you time your shots well, the projectile will repeatedly strike the enemy multiple times by ricocheting itself against the enemy. Each hit will result in the enemy reacting to it and being unable to attack you.
This weapon is especially powerful against bosses and stronger individual enemies, as it deals a lot of damage. However, it's not ideal against swarms of enemies at a single time.
5. Void Repulsor / Void Reactor
This is one of the more unique weapons in the entire game. Pressing the R2 Adaptive Trigger halfway (or just aiming using L2) will result in a protective shield that covers Ratchet or Rivet's front. Rushing the R2 Adaptive Trigger to the end will result in the shield exploding and bursting forward; thus damaging enemies.
This makes this weapon perfect both offensively and defensively. Plus, once it becomes the Void Reactor at level 5, the shield can even catch enemy projectiles and shoot them back at them. Also, there's a trophy tied to using this weapon.
6. The Headhunter / The Migraine
This is basically just the game's version of a sniper rifle. What makes it special is that not only is it extremely powerful at dealing damage, aiming and zooming onto an enemy will cause time to literally slow down, allowing you to line up a headshot. It's bullet time, essentially. Also, there's a trophy tied to using this weapon.
7. Topiary Sprinkler / Toxiary Sprinkler
This looks and feels like a gag weapon. It's one of the earliest weapons you can get. It's a support weapon, which when unleashed, will spawn a sprinkler turret that turns enemies into plants. It doesn't even really do much damage. What's the point then? Well, both enemies and bosses will turn into plants when this weapon is used, causing them to go immobile and unable to attack you.
While they're in this state, you can take advantage and unload your most powerful offensive weapons on a petrified enemy. Don't sleep on this one, trust me. Also, there's a trophy tied to using this weapon.
8. Ryno 8 / Ryno Infinity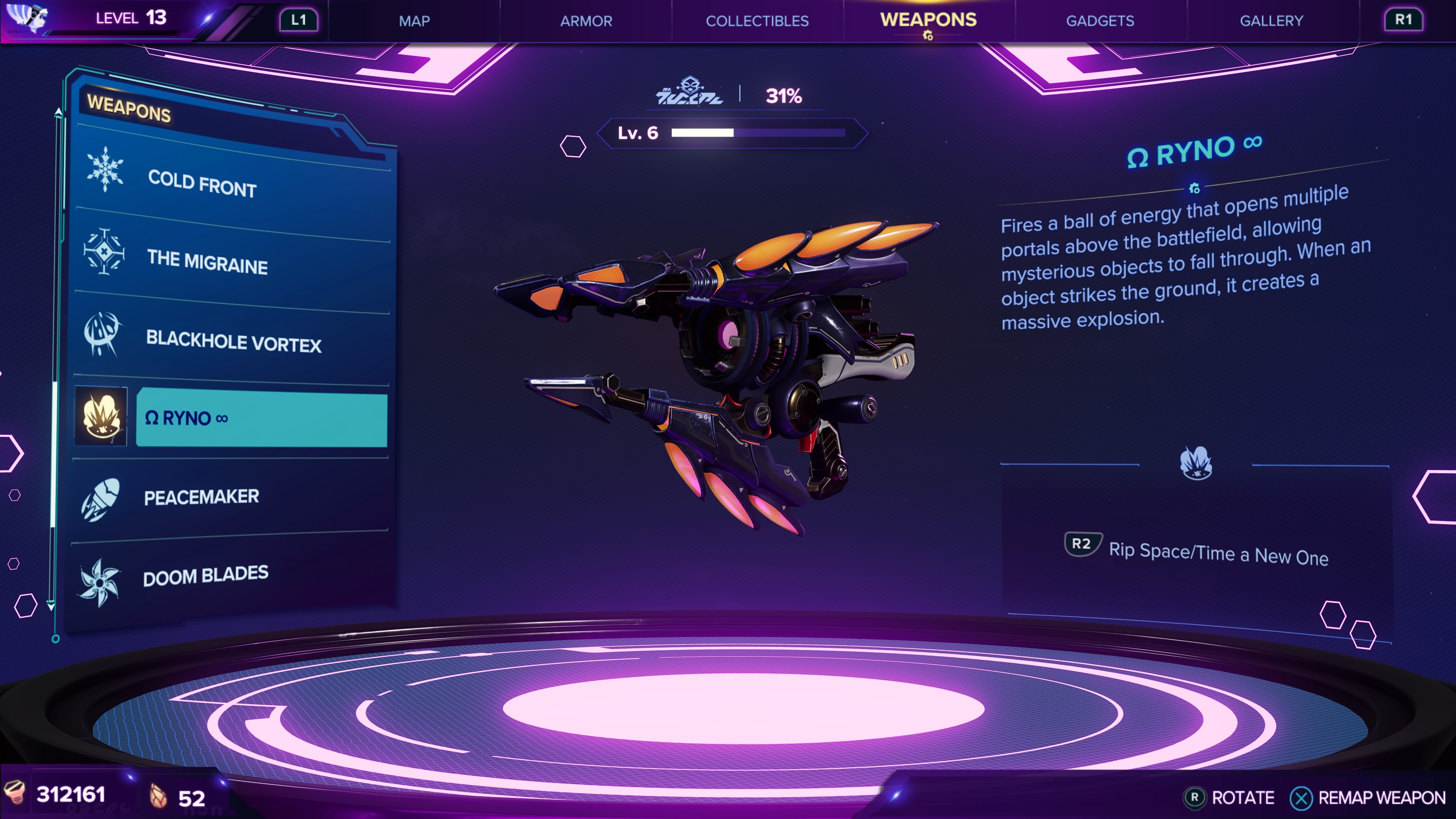 Of course, what's a Ratchet & Clank game without a Ryno weapon? The Ryno has been a mainstay of the franchise since the original 2002 game on the PS2, essentially being the most powerful endgame weapon of each game. It's almost always the most expensive weapon in each game as well, and for good reason: they're always overpowered as heck.
In Ratchet & Clank Rift Apart, Ryno 8 opens portals that spawn and drops random objects, which results in massive explosions that obliterates everything in the vicinity. When it becomes Ryno Infinity, the portals and explosions become bigger, but best of all is what comes out of the portals (check out my easter eggs article to find out). Plus, there's a trophy tied with just buying a Ryno.
In this game, Ryno 8 won't just become available to purchase. You have to collect all optional Spybots on every planet before it unlocks at Ms. Zurkon's vendor. This also involves completing all the Battleplex challenges and finding them via alternate pathways on planets. Don't worry, they're not that hard to find with a little time and effort.
You won't even need a guide to find the Spybots because…
Almost Every Collectible And Resource Is Marked On The Map
Insomniac has made it easier for all of us. Almost every collectible and important resource in the game is marked on the map. This includes Raritanium (used to upgrade weapons), Gold Bolts (to unlock cosmetic rewards and cheats), Dimensional Rifts (to obtain armour set pieces) and Spybots (collect them all to unlock the Ryno 8).
Only one collectible type aren't marked on the map, and those are the Craiggerbears. What's funny is that these are useless and don't unlock anything. They're only important to trophy hunters looking to get a Platinum, since you need to find them all to obtain two different trophies.
Of course, just like most games, you'll have to actually uncover the map by exploring the planets and walking around before the collectibles are marked on the map. Just walking and exploring will fill out the map, causing the collectibles to pop up. However, you usually have to be pretty close to a collectible before it's marked on the map.
Fortunately, there's one unique optional item that can solve this problem.
Do The Optional Quest On Ardolis ASAP & Grab The Map-O-Matic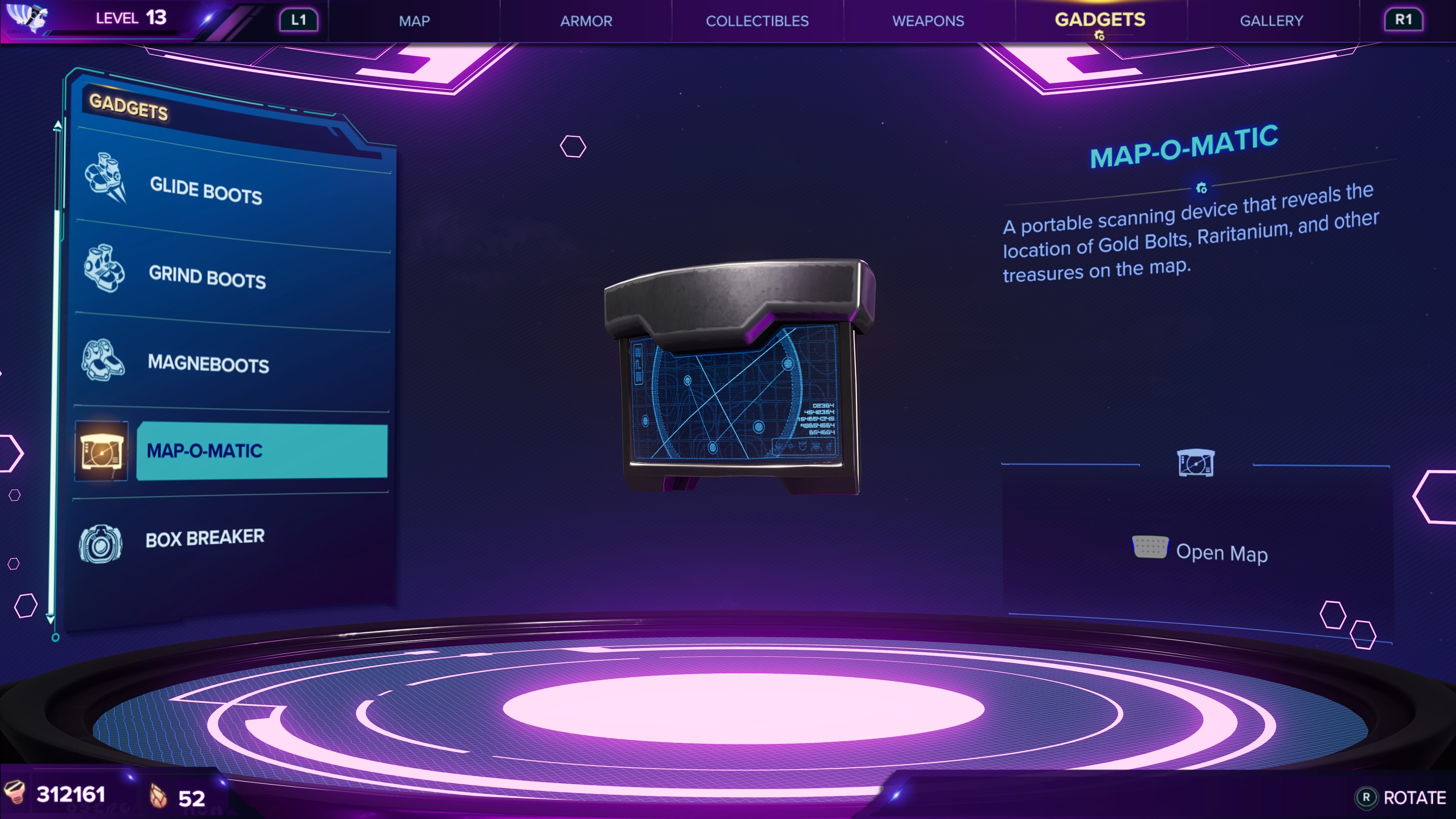 Once you can go to the planet Ardolis, I recommend that you immediately go there ASAP. This is because there's an optional quest there that will net you a very helpful item/gadget. The Map-O-Matic is an item that reveals the location of every Gold Bolt, Raritanium, Dimensional Rift, and Spybots on every planet the second that you arrive on them.
What this means is that you won't have to uncover the map before the collectibles are marked. They're all automatically marked for you with the exception of the Craiggerbears (which once again, are useless, except for trophies).
In Fact, Do All Optional Side Quests/Objectives ASAP If You Care About Armour Sets & Other Useful Items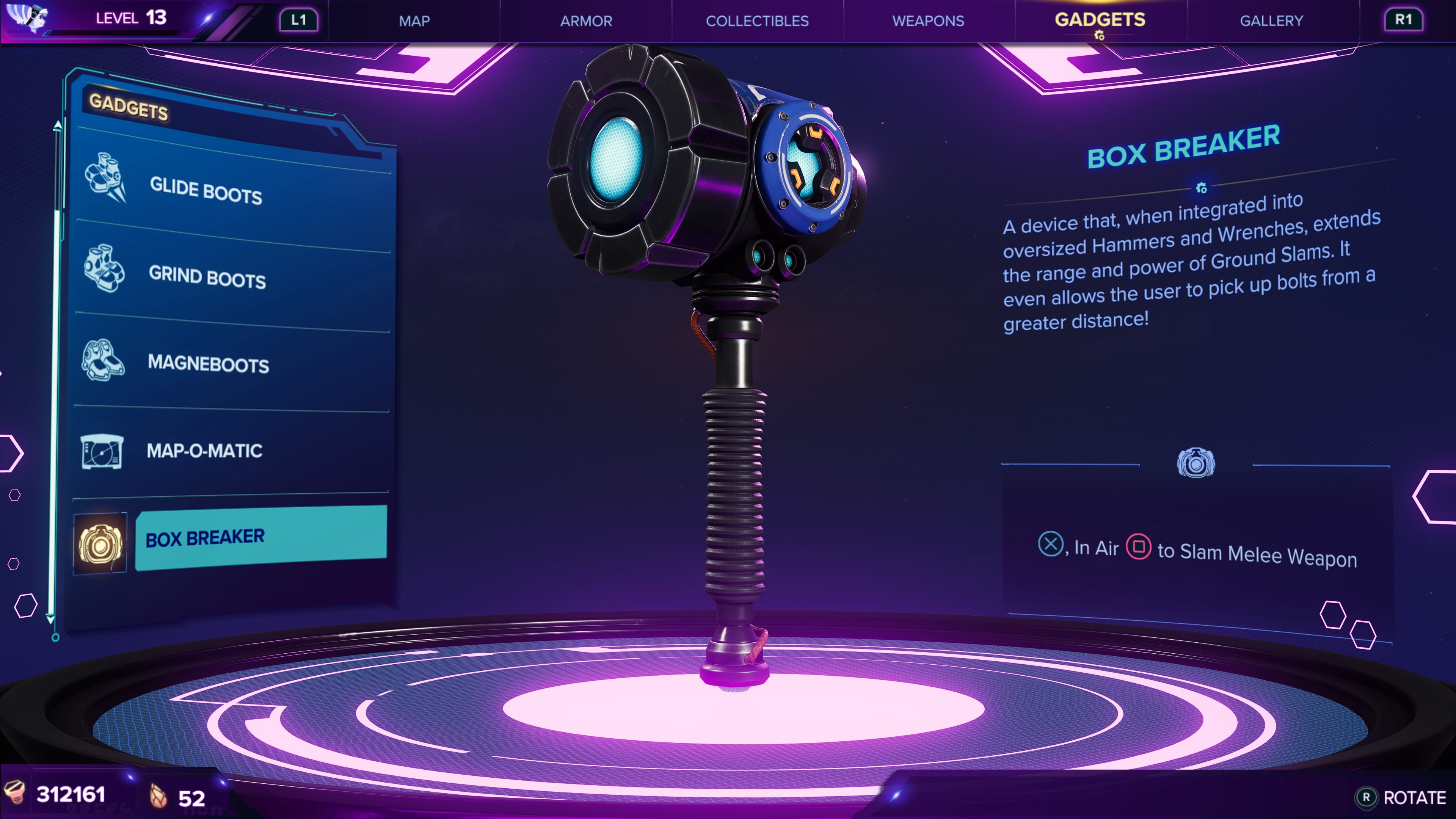 There are several optional pathways on the planets in the game that lead to optional side quests. These side quests often yield useful items, armour set pieces and easter eggs. Well, most of the time, the rewards are just armour set pieces, so if you care about collecting all the armour sets in the game, you should complete all the side quests.
Some of these take more time and effort, like collecting all the Zurpkon crystals on planet Sargasso, collecting all the Lorbs on Savalis, and finishing all the challenges at the Battleplex. Most of them can be completed immediately, but some will require you to come back at a later time before they're capable of being completed, especially the Battleplex.
One very useful reward, which can be obtained from one of the Battle Arena's challenges, is the Box Breaker (see picture above). The Box Breaker will extend the force of your melee ground slams, allowing boxes to be destroyed and bolts to be collected from a distance.
Ratchet & Clank Rift Apart: How To Get Infinite Health & Infinite Ammo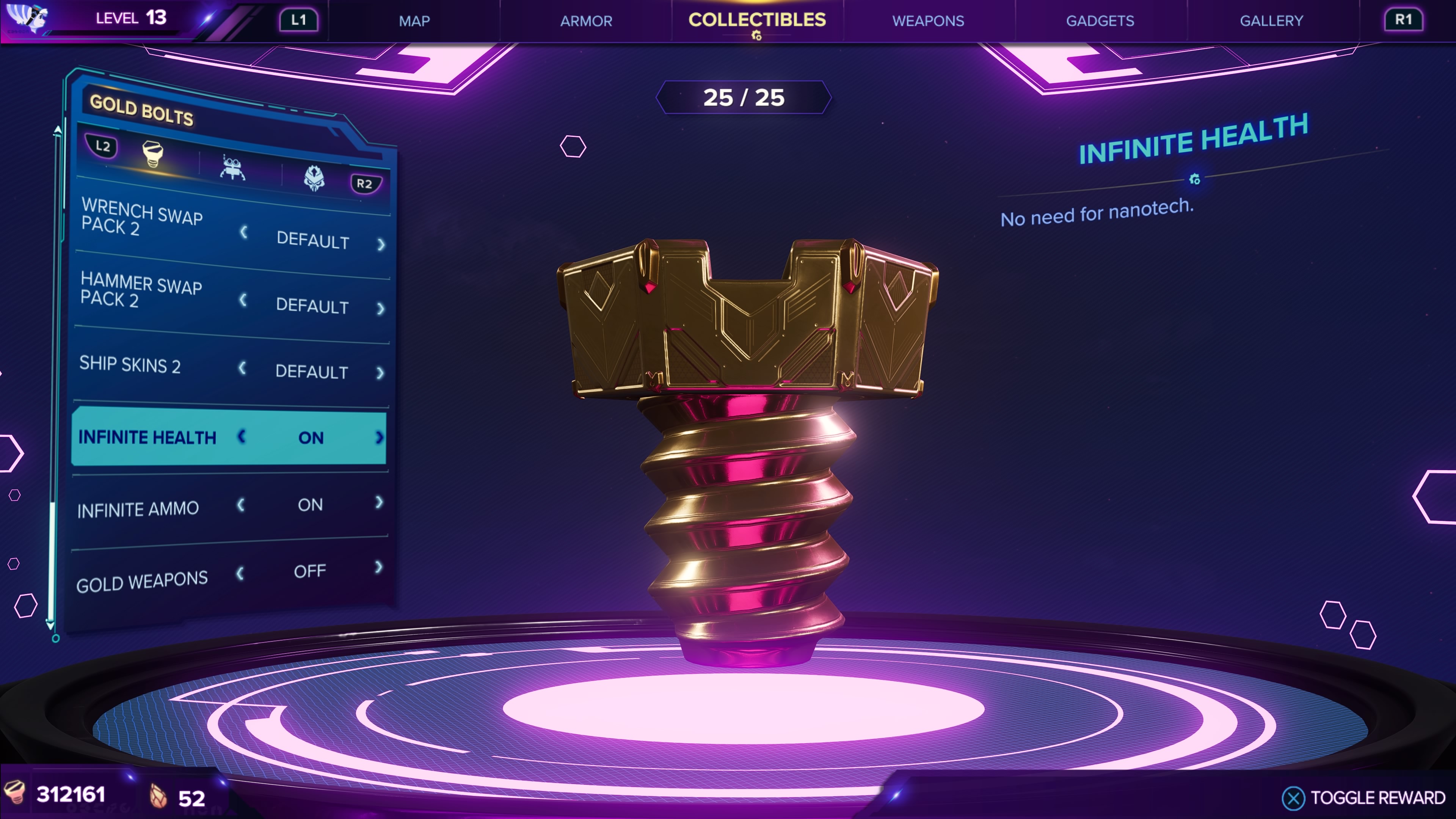 Yes, you can unlock Infinite Health and Infinite Ammo in this game. Best of all, even with these cheats activated, you can still obtain the story and all progress still counts. To unlock Infinite Health and Infinite Ammo, you just have to collect all Gold Bolts in the entire game.
That's right, ALL the Gold Bolts. They aren't useless like the Craiggerbears, so be sure to look out for each and every one of these Gold Bolts if you want to be an unstoppable god in Ratchet & Clank Rift Apart.
Armour Sets Are Mostly Cosmetic, They All Share The Same Stat Boosts
Another incentive for collecting armour set pieces is that each armour set piece will unlock a specific permanent stat boost for Ratchet/Rivet. What this means is that no matter what armour set you're wearing, all of the stat boosts still apply. You can mix and match to your hearts' content without thinking about which armour set will give you the best stats or abilities.
How To Solve Clank Puzzles
Battleplex Challenges Walkthrough