E3 2021, or the Summer Of Gaming 2021 online edition according to us at the KKP virtual offices, is not done yet pretty much done & dusted. But among all the 100 games we've seen and played, we already have our top picks and best of show.
Here they are, based on our staff picks. And if you need the best E3 2021 schedule for Southeast Asian timezones, head here. If you want to hear our own content director Mr Toffee wax audio about E3 2021, check out the BFM podcast segments below:
Shin Megami Tensei V (Nintendo Switch)
It's been a long time coming given its announcement years ago, but we're going to get our demon-summoning fix soon enough this November thanks to Atlus' next mothership Megami Tensei entry.
This Nintendo Switch exclusive JRPG seems to hit all the right notes with its initial showcase: new demons, new game engine, press turn combat system, lovely aesthetics & rockin' soundtrack, and a dangerous post-apocalypse world filled with hazards and demons to fight and recruit to your cause. Your hero, Nahobino, is also rocking a sweet and sleek blue-haired-and-blade look, establishing his/her place as the next godlike being to transform the world for good, or ill.
In any case, I'm interested to see how this sequel will surprise us story-wise. – Jonathan "Mr Toffee" Leo
Coromon (PC)
[videopress ujtOl6xL]
If you're like me and you haven't really been feeling the vibe of the new 3D Pokemon games, Coromon will make you nostalgic for the good old days of classic 2D Pokemon. Developed by TRAGsoft, Coromon is a modern monster taming game with retro pixel art. It has a lot of familiar elements, but also modern improvements to the gameplay that makes the game unique and refreshing; including epic JRPG-style bosses and more.
Coromon is slated to launch on Steam sometime in 2022, but the demo is free to download and play. In the meantime, check out my full preview of the game here. – Alleef Ashaari AKA ComicsLord
Metroid Dread (Nintendo Switch)
The stink of Metroid: Other M seems to have cleared out of Nintendo HQ, to the point where they're going to take another stab at a mothership Metroid title.
Metroid Dread, or Metroid 5 for those keeping count, will retain the 2D "search action" action-adventure gameplay that has influenced countless of indie and metroidvania titles out there. With a 3D coat of paint and a lot of new mechanics like the E.M.M.I segments, we're in for a wild 2D ride later this October. This and the next SMT has proven that 5 is indeed Nintendo's lucky number. – Jonathan "Mr Toffee" Leo
Mario+Rabbids Sparks Of Hope (Nintendo Switch)
2017's Mario+Rabbids Kingdom Battle was surprisingly a great game, successfully mixing the thrilling strategic turn-based combat of XCOM with a crossover between Mario and Rabbids of all things. It remains one of the best Nintendo Switch exclusives out there, and I can't wait for the sequel, which looks like it's going much bigger with a space theme. It reminds me of Super Mario Galaxy and that's definitely a good thing.
Mario+Rabbids Sparks Of Hope is slated to arrive sometime in 2022. – Alleef "ComicsLord" Ashaari 
Halo Infinite (Xbox Series, PC)
Was there any doubt? Time and time again, Microsoft always delivers when it comes to Halo, at least based on the latest reveals.
While the most recent mainline release, Halo 5: Guardians somewhat underdelivered, it was more of an outlier rather than the norm. Halo Infinite appears set to close the Master Chief saga with a loud bang with what we could only describe as 'befittingly next-gen' in terms of graphics and overall experience. Now let's hope the story and writing matches up.
And how can you NOT get hyped with the game hitting GamePass on launch with the multiplayer being offered as a free-to-play service? At the very least, the weapons in the sweet-looking multiplayer reveal seem to deliver all the "oohs" and "aahs". – Kenn Leandre
Marvel's Guardians Of The Galaxy (PS4, PS5, Xbox One, Xbox Series X/S, PC, Nintendo Switch)
Square Enix's Marvel's Avengers was admittedly a disaster, even for comic book fans like me. Not even the upcoming Black Panther expansion will make me return to that game. However, the publisher can still redeem themselves later this year with Marvel's Guardians Of The Galaxy from developer Eidos Montreal. From the trailers, it already looks better than Marvel's Avengers, with what seems to be a bigger emphasis on the single-player experience and a more interactive narrative with dialogue options.
Marvel's Guardians Of The Galaxy will release for the PS4, PS5, Xbox One, Xbox Series X/S, PC and Nintendo Switch on 26 October 2021. – Alleef "ComicsLord" Ashaari 
Redfall (Xbox Series)
I've been a fan of co-op games rather than straight-up multiplayer lately so it goes as no surprise that this morning's reveals got me excited with a number of games where I'll get to squad up with my mates. However, one reveal stood out heads and shoulders above the rest: Redfall.
We were only shown a theatrical trailer but the premise of being able to shoot at vanishing, amped-up vampires instead of shuffling zombies instantly hooked me in. Call it zombie fatigue if you will – Redfall seems to offer an interesting twist to a classic four-person co-op horde/ tactical shooter genre. – Kenn Leandre
Forza Horizon 5 (Xbox Series, PC)
Vroom goes the dynamite. Xbox's flagship racing title has wowed us with its fifth Forza Horizon game and let its in-game footage and gameplay do all the talking. Fast cars, awesome landscapes, new courses, a bunch of gravity-defying arcade side games, and new present-gen luxury/prototype car additions. And it's slated for this year to boot!
While it looks like it may be ditching a feature or two from past Forza Horizon titles -where's the weather system?- the new location and instant-loading nature of this next-gen game may host some surprises for racing game fans. Me? I'm just fine cruising across the Mexican landscape in 4K glory. – Jonathan "Mr Toffee" Leo
Avatar Frontiers Of Pandora (PS5, Xbox Series X/S, PC)
I know what you're thinking. "Avatar, really??? Come on!" Yeah, I totally understand, but this game might surprise us when it eventually comes out sometime in 2022. We've only really seen a cinematic trailer, albeit a gorgeous one at that, but at least it shows that the new Snowdrop Engine looks extremely good. Plus, this is one of the few games at E3 2021 (and even on this list) that's truly next-gen, since it's apparently not coming out on PS4 or Xbox One.
It's easy to be cynical and think of this as a movie tie-in (since James Cameron's Avatar 2 is coming out next year too), but developer Massive Entertainment deserves the benefit of the doubt for now. If you remember, Lucasfilm and Disney are also entrusting them with the next major Star Wars game, so they have that going for them. – Alleef "ComicsLord" Ashaari 
Elden Ring (PC, Xbox Series, PS5, Xbox One, PS4)
F*** me if this isn't one way to start an E3 game showcase. We know the game is coming, but we know nothing of it safe for that one time the gameplay trailer leaked. But we're here now, we know what the game looks like, and when it's coming out.
Granted, it's more Dark Souls, but it's got a few bells and whistles like mounted combat and a wide-open world spaces. Everything shown here is just glorious since it's delivering what we all want from our hardcore action RPG dungeon crawlers: more opportunities to fight tough bosses, badass weapons, a rich world with its own backstory (this time about being a Tarnished and being an Elden King), and plenty of ways to die from its challenges.
As someone who cherishes the first Dark Souls and Bloodborne, I wouldn't want it any other way. – Jonathan "Mr Toffee" Leo
Starfield (Xbox Series X/S, PC)
Of course, Starfield is probably one of the most anticipated Bethesda games after The Elder Scrolls 6 (which was weirdly absent at this year's E3). Not only will it be a true next-gen game and an Xbox exclusive, the game will also be the first original IP from Bethesda in decades, so they're exactly playing around. This might just be the ultimate open-world space game for sci-fi fans out there wanting to live out their dreams of being Han Solo or Captain Kirk.
It's coming on 11 November 2022, so better mark your calendars for a potential GOTY or even a game of the generation (like Skyrim was). – Alleef "ComicsLord" Ashaari 
Metal Slug Tactics (PC)
The best E3 showcases are the ones full of gaming surprises, whether it's a brand-new title or a fresh take on an old game. In Metal Slug Tactics' case, it's the latter.
The trailer above shows off some gameplay and 2D pixel art/hand-drawn portraits that fit the style of Marco's gun-totting adventures, but now in turn-based form ala XCOM. Arguably just as hard, but we'll see how the full game pans out. -Jonathan "Mr Toffee" Leo
The Outer Worlds 2 (Xbox Series X/S, PC)
2019's The Outer Worlds was an excellent albeit low-budget Fallout in space. We have little to no details about this sequel, but it was one of the biggest surprises during Xbox Bethesda's presentation. Obsidian Entertainment is already busy working on Avowed, but now they're also working on The Outer Worlds 2? Look out, world, they might just become the next Bethesda.
It would also be remiss of me not to mention that The Outer Worlds 2 probably had the best and most memorable trailer of the entire E3 2021 event, featuring a tongue-in-cheek tone that pokes fun at video game trailer tropes. Do yourselves a favour and check it out for yourself above. – Alleef "ComicsLord" Ashaari 
Death Trash (PC, PS4, PS5, Xbox One, Xbox Series, Nintendo Switch)
Developer Crafting Legion made themselves heard with this 1970s blood-filled sci-fi top-down RPG during the Guerrilla Games 2021 showcase. Features a ton of grotesque imagery, real-time combat, some gameplay design choices like using puking as a skill, and player freedom. As someone who likes Planescape Torment and Fallout, this is one CRPG that I'll keep my eye on. – Jonathan "Mr Toffee" Leo
Trek To Yomi (PC, Xbox Series, PS5)
It's a 2D action game featuring a black-and-white Kurosawa filter and a ronin tale. We're sold. -Jonathan "Mr Toffee" Leo
Wizard With A Gun (PC, Nintendo Switch)
This may be the next isometric multiplayer open-world shooter fix we will probably replay over and over next year. With a unique Western-meets-magic mix and co-op shooter gameplay featuring loads of customizable guns used by your Vivi lookalikes, Devolver Digital's latest has piqued my interest. – Jonathan "Mr Toffee" Leo
Riders Republic (PC, Xbox Series, PS5)
I'm not a fan of the Ubisoft showcase just because there's no Beyond Good & Evil 2 updates. Having said that, the French company did highlight some interesting titles, chief among them is the open-world extreme sports title Riders Republic.
Not only can you do skateboarding and dirt biking, but you can also participate in jet-powered wingsuit gliding and gyrocopter aerial stunt showboating. And probably a bunch of physics-defying sports that hearken back to a time when Tony Hawk Pro Skater and SSX titles were mainstays. Who woulda thunk this would be coming from Ubisoft, a company that plays it safe with open-world shooters and Rainbow Six alien tactic shooters that would make Tom Clancy spin in his grave? – Jonathan "Mr Toffee" Leo
Stranger of Paradise: Final Fantasy Origin (PC, PS5, Xbox Series)
This Square Enix and Team Ninja collaboration could be a fresh take on Final Fantasy: make it a co-op action RPG that's reminiscent of Dark Souls and Nioh in terms of combat and tone. It probably won't be as punishing since FF games are meant for all skill levels, but it probably won't be too easy.
In any case, it's good to know Team Ninja will be on board with making another well-made action game. Now if only we can get the generic-looking characters & not-so-hot Square Enix presentation out of the way. – Jonathan "Mr Toffee" Leo
Eiyuden Chronicle: Hundred Heroes (Xbox, PlayStation, Nintendo Switch, PC)
This is the Suikoden game people wanted, but Konami couldn't promise to deliver. The game's hybrid art style looks killer, and if the battles look this good for the whole game, we may have a killer RPG for 2023.
Yes, it'll be a while until the game is done, but at least the additional 2D side-scroller action spin-off Eiyuden Chronicle Rising will sate your thirst next year. Colour us interested, just like the art style in this 90s throwback. – Jonathan "Mr Toffee" Leo
Anuchard (PC)
Remember Quintet, the JRPG group that made classics like Illusion of Gaia and Terranigma? The game that made you focus more on getting humanity back on track and that there's no real focal antagonist except the force of nature and death itself? Indonesian developer stellarNull is making a game similar in concept and design with its upcoming 2D top-down title Anuchard.
It looks promising, I'll say this much. With puzzles galore and a vibrant art style, as well as a creationist tale involving lost civilizations, there's a sense of mystique surrounding this title that will entice you in its indie grasps. – Jonathan "Mr Toffee" Leo
SacriFire (PC)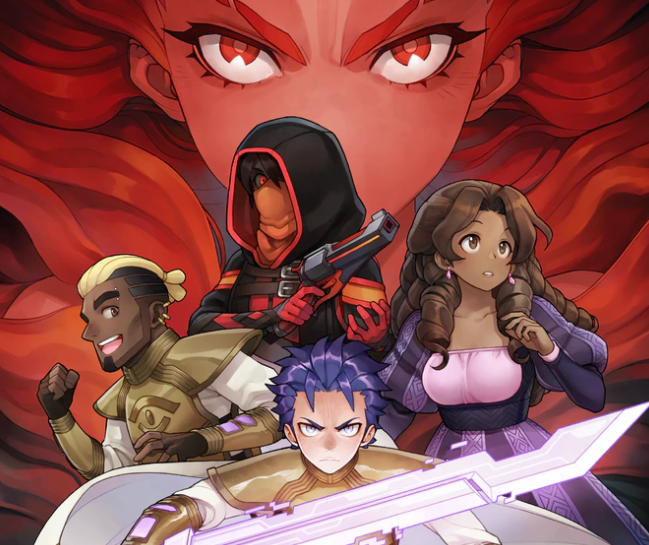 While we're on a JRPG bender, let's talk about this E3 2021-announced Kickstarter project SacriFire.
From the looks of it, the game will be a throwback to late 90s PS1 JRPGs but with a real-time-slash-turn-based combat hybrid & complex morality and narrative choices, with influences from titles like Vagrant Story and Xenogears. Made by the same folks who created Regalia: Of Men and Monarchs and Warsaw, this may be another stacked JRPG hat thrown into the neo-retro ring. It even boasts original music from Valkyrie Profile/Star Ocean composer Motoi Sakuraba.
Just check out these GIFs, for goodness sake!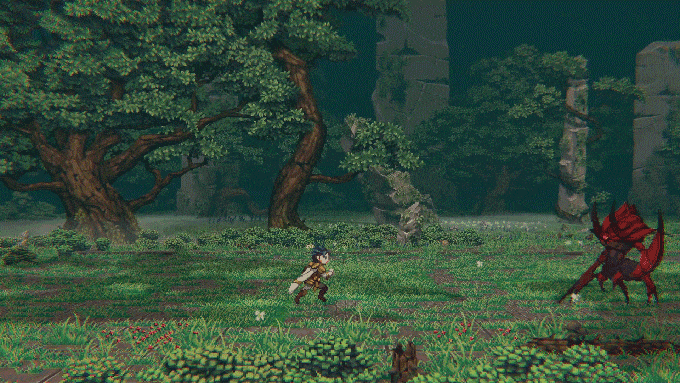 This one's slated for 2022 since it's still pretty early in development. But you can chip into the Kickstarter right now! – Jonathan "Mr Toffee" Leo
Fuga: Melodies of Steel (PC, PlayStation, Xbox, Nintendo Switch)
Remember that pretty cute RPG Solatorobo eons ago? This is the follow-up of sorts. Featuring furries, tanks of mass destruction, and a lot of exploration and combat, this game is proving the fact that developer CyberConnect2 is alive and well despite being kicked out of the FFVII Remake project. This one's definitely worth watching out for since it's coming out 29th July for PC and consoles. – Jonathan "Mr Toffee" Leo