PUBG MOBILE and Gamers without Borders have revealed the first-ever PUBG Mobile World Invitational (PMWI), which will see 32 teams representing their countries for a US$3 million charity pool starting on 22 July 2021.
The PMWI will be an online event split into two divisions, East and West, with a champion being crowned for each. The top teams from each division will be able to choose from multiple Humanitarian Aid organisations to receive its prize pool share, supporting PMWI and Gamers Without Borders mission of fighting COVID-19.
James Yang, Director of PUBG MOBILE Global Esports said:
"Following the success of PUBG MOBILE World League Season Zero and PUBG MOBILE Global Championship in 2020, I am excited to share that we are yet again expanding our global tournament offering with the World Invitational.

We are dedicated alongside Gamers Without Borders to continuing the fight against COVID and thrilled to announce the US$3 Million charity donation being made as part of the tournament."
Gamers Without Borders will be making a US$3 million donation to the overall prize pool. It's a charity esports festival organised by SAFEIS (the Saudi Arabian Federation for Electronic and Intellectual Sports) and ESL, which helps the mission to deliver COVID-19 vaccines to underdeveloped countries.
Turki Al Fawzan, CEO of the Saudi Esports Federation added:
"It's great to see a partnership between PUBG Mobile and Gamers Without Borders to unite gamers for a good cause.

The impact Gamers Without Borders had in its first edition motivated us to continue the journey this year.

Now, with Tencent supporting the cause through this partnership, we can further spread the message to leave no one behind while delivering a unique esports competition for our viewers."
The PMWI will be held from 22 to 25 July 2021 and divided into East and West tournaments with US$1.5 Million awarded to each team. The 16 teams in each tournament will go head to head across 20 matches and three maps including Erangel, Sanhok and Miramar.
Here is the full list of teams that will be competing:
PMWI East Teams

A1 Esports (Bangladesh)
Bigetron Red Aliens (Indonesia)
BlackList International (Philippines)
DRS Gaming (Nepal)
DSGaming (South Korea)
D'Xavier (Vietnam)
Fanatic Zombies (United Arab Emirates)
Geek Fam (Malaysia)
NASR Esports (Jordan)
Natus Vincere (Russia)
REJECT (Japan)
Stalwart Esports (Pakistan)
Team Myths (Algeria)
Valdus Esports (Thailand)
Yalla Esports (Saudi Arabia)
ZEUS Esports (Mongolia)

PMWI West Teams

19 Esports (Canada)
Alpha7 Esports (Brazil)
Chivas Esports (Mexico)
Team Destiny (Germany)
Ghost Gaming (U.S.A)
Team GODSENT (Ukraine)
GUNZ Esport (Iraq)
Konina Power (Kazakhstan)
Lakonostra MVP (United Kingdom)
Next Rüya Gaming (Turkey)
Team QLASH (France)
RA'AD Esports (Egypt)
RTG Esports (Morocco)
Team ONYX (Georgia)
Team Queso (Argentina)
UDR Killers (Spain)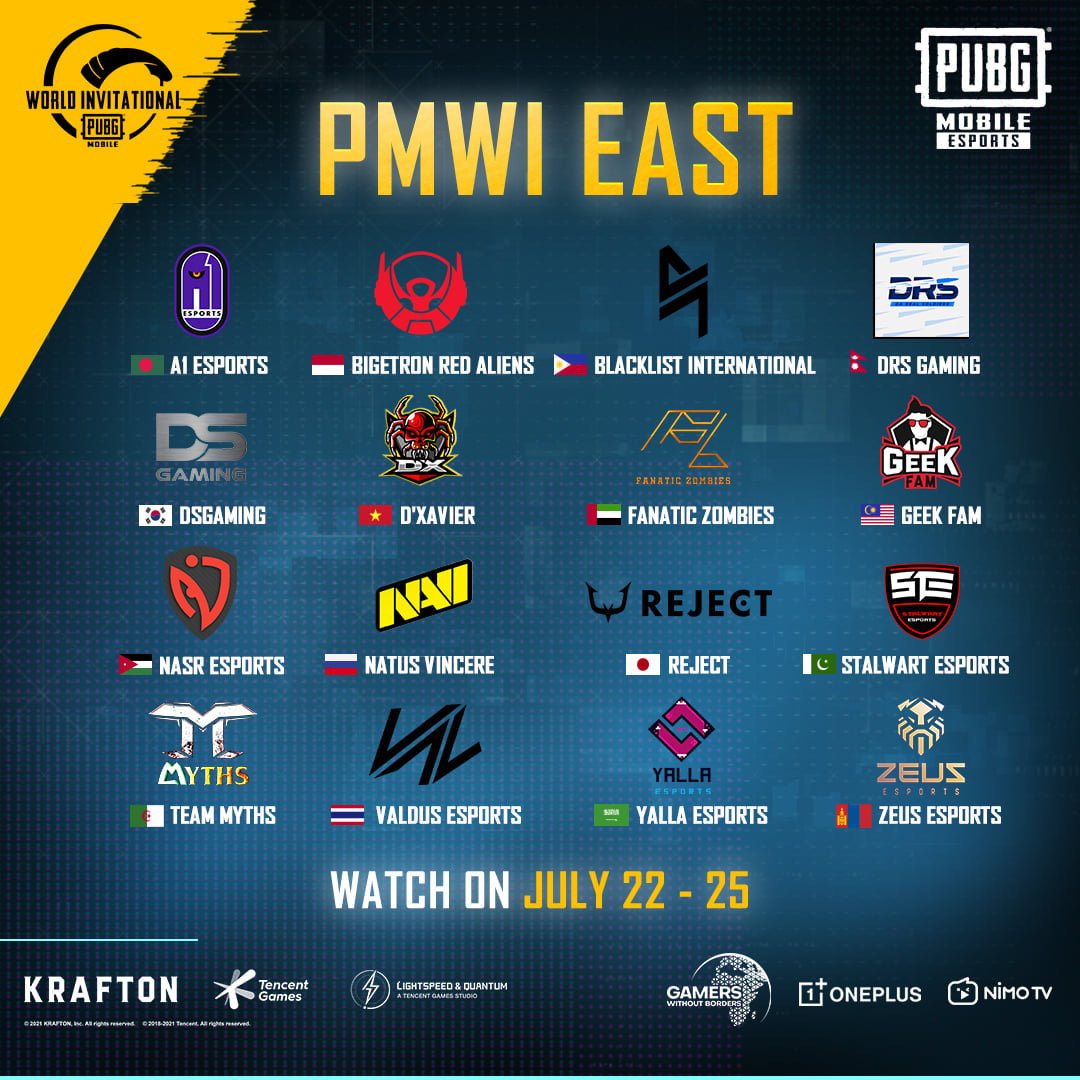 You can watch the PMWI on PUBG MOBILE Esports' YouTube, Facebook and Twitch channels, with PMWI East going live at 6pm GMT+8 and PMWI West going live at 10.30pm GMT+8.
With OnePlus as the official smartphone partner, viewers can also win a OnePlus 9 series that delivers a flagship-level mobile gaming experience, by participating and predicting the PMWI champion on PUBG MOBILE Esports social media. With just a few days left to PMWI 2021, PUBG Mobile Esports has introduced a theme song, BREATHING FLAME, to further enliven the tournament.
Check that out below: