The second volume of the crossover event between the open world doomsday survival game LifeAfter, and the famous Japanese manga and anime franchise Ghost In The Shell SAC_2045 goes live today on 22 July 2021.
The first volume of LifeAfter x Ghost In The Shell SAC_2045 Crossover in February has aroused an enthusiastic response from the players. Players are fascinated by the combination of future science fiction and doomsday survival styles, as well as the exclusive collaboration outfits and items. This time, in addition to the content of the first crossover event, a new series of outfits and items would be added to the game, as well as a special quest – stealth operation with Major.
In order to bring players a brand-new cyberpunk plus post-apocalyptic experience, LifeAfter created new content for the second volume of crossover, including outfits, sports car appearance, drone appearance, furniture sets and sprays.
Players can not only put on Public Security Section 9 themed outfits and feel the pride of becoming a counter-cyberterrorist specialist but also give their best companion — pet dogs, a new look of bionic mask and suit. The mechanical retro style furniture sets, flashing blue and purple sports car, new drone appearance resembling Tachikoma and other supporting items will give players an immersive cyberpunk doomsday survival experience.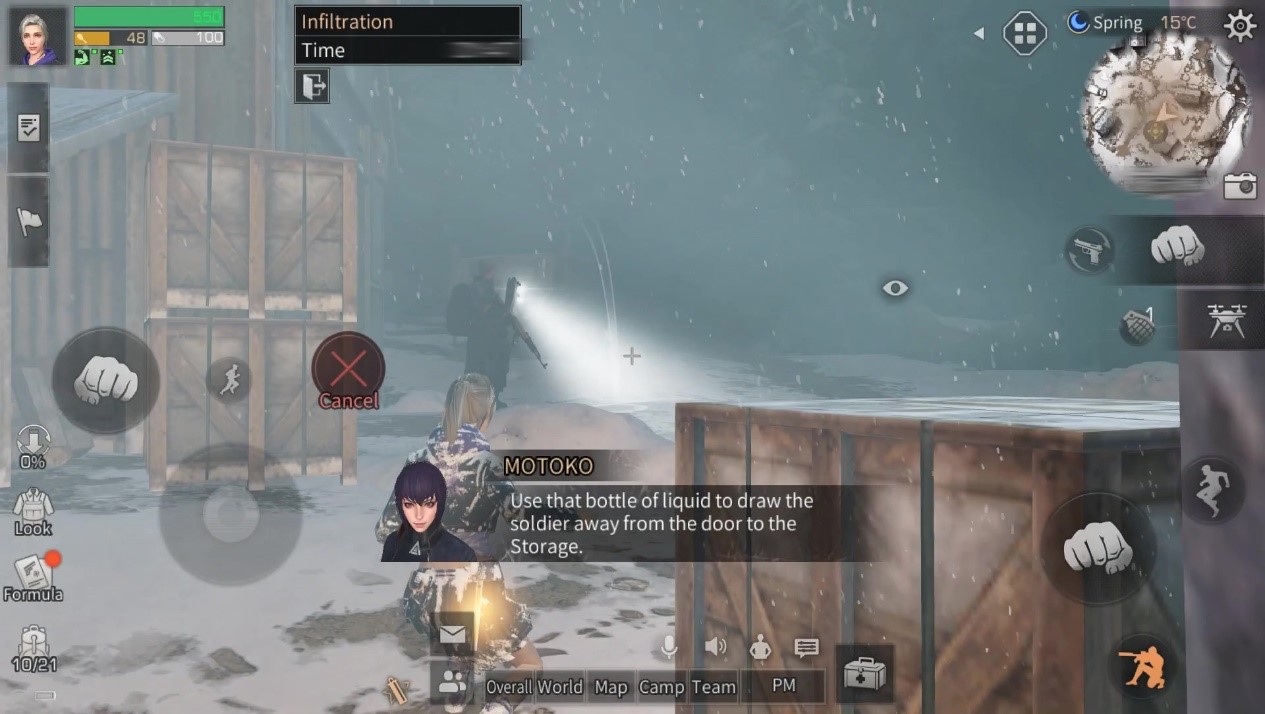 There are also lots of benefits for participants this time! During the event time, players can receive the collaboration limited item "Combat Motoko Spray" by logging in. Permanent outfit "Cool Breeze – Motoko" would also be given to players who stay active during the event for free. In addition to a wealth of collaboration items, players can also experience a collaboration-themed stealth quest this time, in which they need to complete a stealth operation under the instruction of Motoko Kusanagi, the elite from Public Security Section 9.
In the operation, the player's mission is to infiltrate the Imperial Barracks and get the access card undetected. There is always the possibility of being spotted by the flashlights of imperial soldiers, so players must not let up for a moment! As an expert in this area, Motoko Kusanagi would give instructions to players throughout the mission. With the guidance of the elite combatants, players will be able to improve their stealth techniques and complete the mission successfully.
Furthermore, there will be some benefits for players who want to try out the new crossover event. From 22 July to 28 July 2021, follow the LifeAfter official social media account on Facebook (@LifeAfter.en) or Twitter (@LifeAfter_en). If you click like to the related posts, you'll have a chance to win a US$50 Google Play gift card.
The event officially starts on 22 July 2021, and ends on 5 August 2021. You can download the game by heading over here.
In the meantime, check out the trailer below: