If you want the ultimate dual-screen setup, you should consider at least buying a 34″ monitor with all the refresh rate perks of a gaming setup. Huawei's sole widescreen gaming monitor option, the MateView GT, is hefty fine in that regard.
Giant Glamour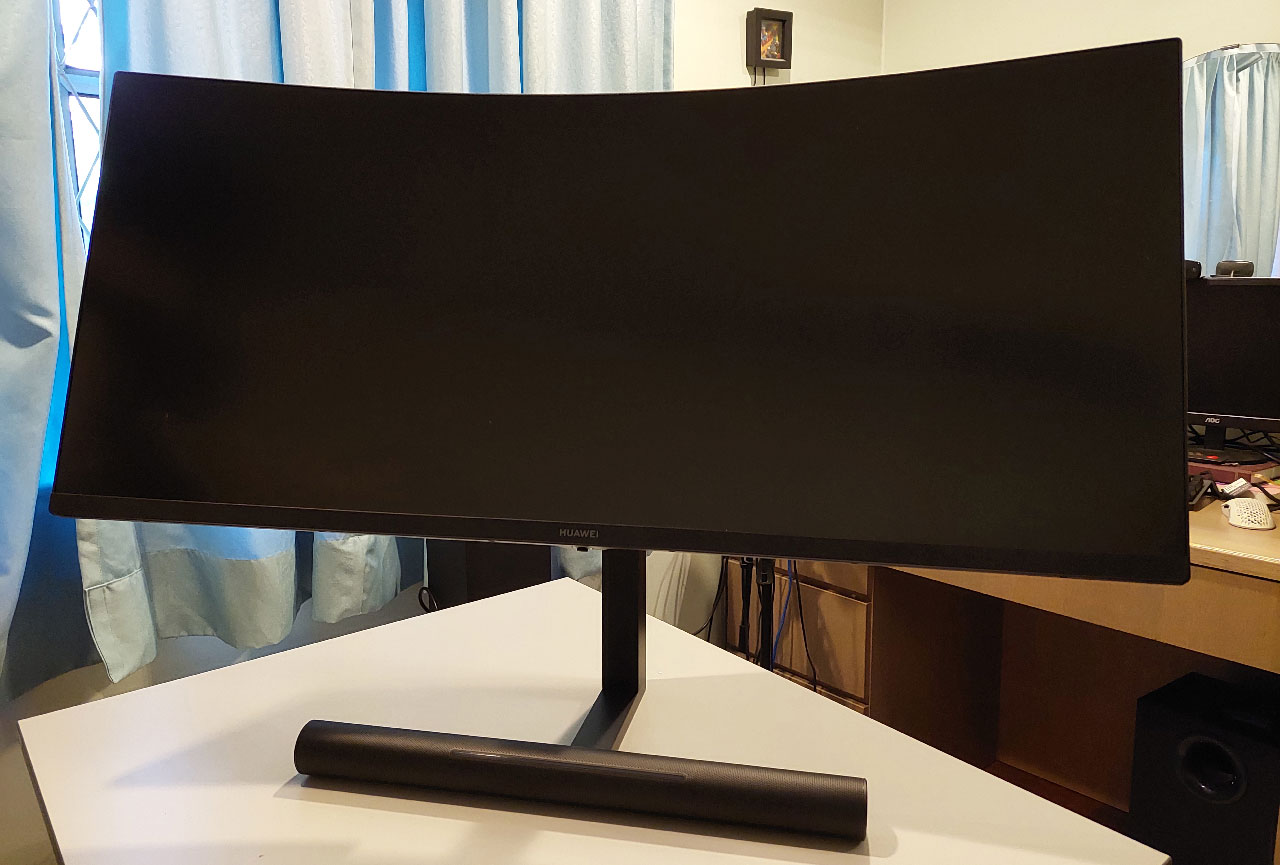 After some painless setup (just make sure you have ample space around you), you can see and experience the richness and display quality the Huawei MateView GT offers. Loads of colours, great saturation, impeccable contrast, 4K goodness coming to life in front of your eyes, the impressive 165Hz refresh rate, widescreen options for your first-person shooters, and dark field controls that make your blacks on-screen pitch-dark.
And most importantly, low blue light options to rest your eyes once you're done with all of that. And also an adjustable stand to position your giant display as you see fit. No "tate" mode though, which is a real shame.
The knob at the bottom of the monitor lets you fiddle around with the plethora of options easily. Given that you'll be the sole person using this, switching the saturation to your preferred levels and adjusting black levels is painless after a few minutes of getting the hang of it.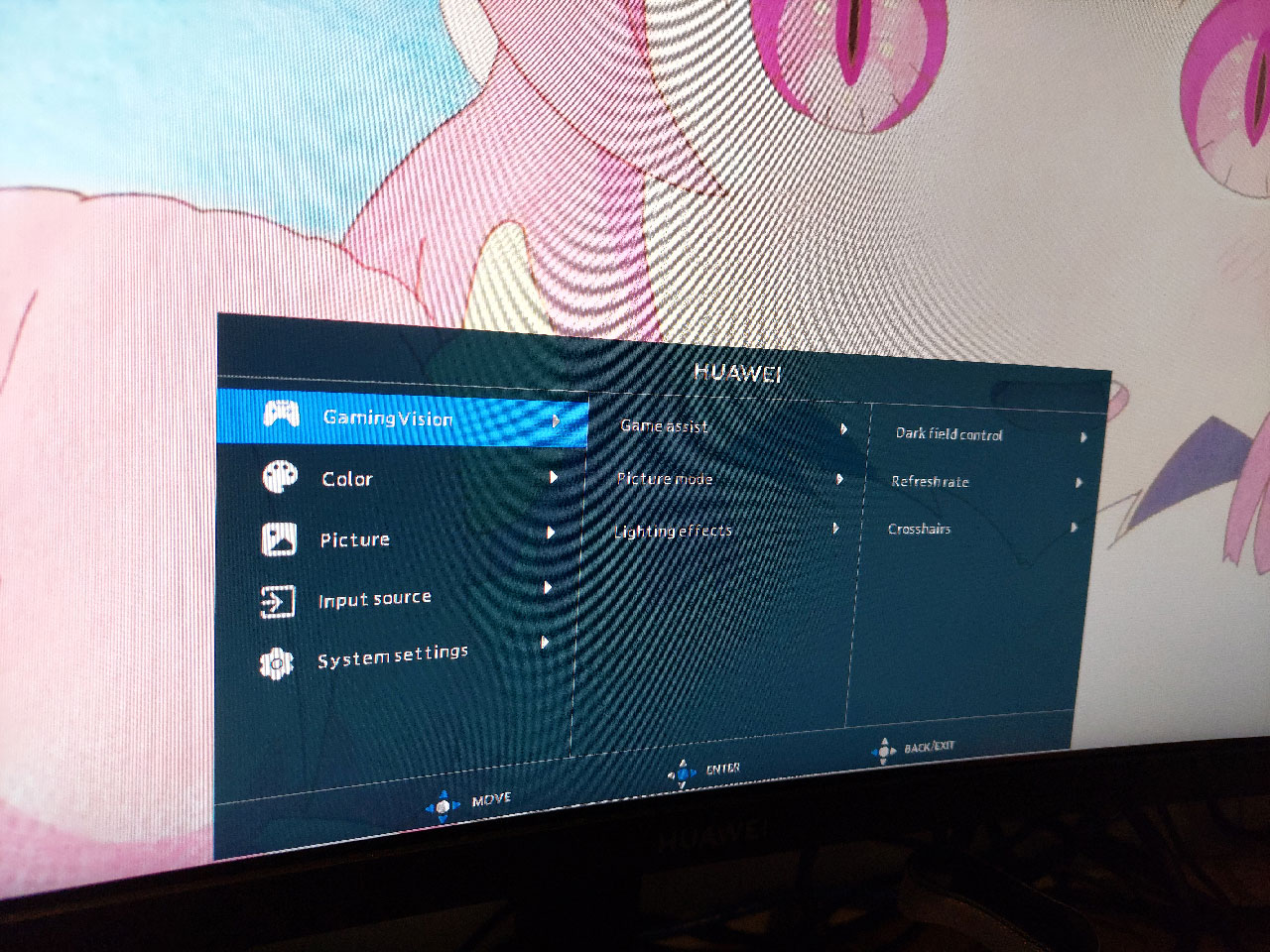 Some nitpicks: there's some blurry motion in faster situations in gaming even when you have a maxed-out gaming PC that supports high-end 165Hz displays with all the details. And if you're a real esports gamer who needs the highest available refresh rate, the Huawei MateView GT may not cut it.
You'll still get rich colours and great refresh rates along with size; just not the highest pinnacle of it. Protip: head to the options and set the Overdrive levels to 4 for the smoothest viewing experience so far, at least for fast FPS gaming.
As someone who creates videos and content, having the Huawei MateView GT as one of your screens to complement a 24″ (or bigger) monitor on the left or right is a boon. In terms of screen real estate and having colours pop out while working on your video and graphic editor of choice, this brand-spanking-new monitor will sort out those needs.
Beyond The Screen
There's also a bunch of useful features beyond just the lovely giant screen. You have an additional USB Type-C port that can charge your newfangled phones. The monitor's 5W-powered soundbar features great audio quality and packs quite a punch volume and bass-wise. Using my list of "songs to play to test out your speakers", it passed the test for most of the tunes when it comes to bass and room coverage.
It won't beat your really high-end Marshall external speakers in terms of top-notch crispness & mid-range balance. However, it's a worthy add-on especially if you rather not go out of your way to get an extra pair of speakers. And there's a headphone jack at the back if you feel like you need to keep your sounds to your headphones of choice.
The internal mic itself does a decent job of picking up your voice while you're playing. Fair warning though: if you have your own dedicated setup, you may not get much use out of it. In fact, my audio input/line mic setup somehow conflicts with the Huawei MateView GT's internal mic to the point where my PC doesn't recognize the latter. However, if you don't have anything specific up and running, you're in the clear. After all, you're paying oodles of money for a kick-ass display rich monitor with a soundbar attached to the base.
What A Pal
Speaking of which, you'll be spending RM2,488 for this bad boy. I'd say go for it if you need to make the 4K HDR widescreen jump: the Huawei MateView GT is a hefty and powerful gaming monitor that comes with a ton of rich colours, displays, and great refresh rates for your all-purpose gaming needs.
Still, I do wish the refresh rates were better than its 4ms response time; other displays like the MSI MPG Artymis still have it beat with its 1ms response times. By comparison though, the Huawei MateView GT is cheaper. Huawei's debut entry in the 34″ gaming monitor arena deserves an ovation for going big.
Pros
Great vivid colours.
Intuitive five-way joystick for on-screen display.
Decent soundbar.
Much-need QoL additions like Dark Field Control and low blue light.
Cons
Internal microphone issues.
Refresh rates not as high as it should be.
Final Score: 90/100
---
Vital Statistics
Display Type: 34″
Aspect Ratio: 21:9
Panel Type: LCD
Resolution: 3440 x 1440
Screen Refresh Rate: 165Hz
Colour Gamut: 90% DCI-P3/covers 121% sRGB
Colours: 1.07 billion colours
Colour Accuracy: Delta E<2
Curvature: 1500R
Brightness: 350 nits
Contrast Ratio: 4000:1
Screen-to-body Ratio: 91%
Eye Comfort Mode: TÃœV Rheinland Low Blue Light and Flicker Free certification
Connectivity Ports: USB port: USB-C port x 1 (only for power supply), Full-function USB-C port x 1, Display interface:, HDMI x 2, DisplayPort x 1
Audio Port: 3.5mm headset and microphone 2-in-1 jack x 1